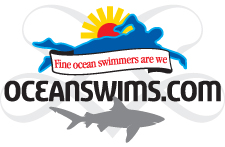 Vanuatu, Fiji open for booking


You can swim here, just like this: Port Olry, Santo, in Vanuatu. We'll swim here in June.
Good to report that we've opened bookings for both legs of the Vanuatu swims in June, and for the Mana Fiji SwimFest and our Yasawas oceanswimsafari in September.
In Vanuatu, in Port Vila, we've obtained a very good deal for accommodation at our partner resort, Le Lagon Resort & Spa, for the Vanuatu Open Water Swims from June 11-14, and in Santo, we have Stay 6/Pay 5 deals at a number of resorts for Espiritu Santo Swim week, June 16-21. These deals are available only through oceanswims.com/oceanswimsafaris.com. If you book your accommodation through us, your swim entry package will be included at a discount to online rates.
Vanuatu... click here
We also have Mana Fiji open for booking with a deal offering Stay 5/Pay 4, or Stay 10/Pay 8. This also means, Stay 6, Pay 5, etc. Again, this deal is available only through us. And if you book through oceanswims.com/oceanswimsafaris.com, your swim entry package is included at a discount to the online rates. Mana Fiji is a new format this year: the 10km Nusa Mana swim is on Thursday, and distances of 5km (a new event), 3km, and 1km on Saturday. So you have a day to recover and enjoy being on a tropical island in Fiji between swim days.
Mana Fiji... click here
After the Mana Fiji SwimFest, come with us on our oceanswimsafari to the Yasawas, past the horizon up north, for five days of magical swimming in some of the world's best water and reefs.
Yasawas oceanswimsafari... click here
Swim Samoa
Starting July 29... Three swims over three days, with a couple more tacked on at either end. This is a terrific opportunity to live cheek-by-jowel with like-minded ocean swimming enthusiasts as you bus out to different swim venues each day from swim HQ in Apia. Samoa is a beautiful place, largely untouched by tourism. If you have time, add a few days on the neighbouring island of Savai'i, where you find a new definition of remoteness.
Samoa... click here
---
Great Barrier Reef Swim, Heron Island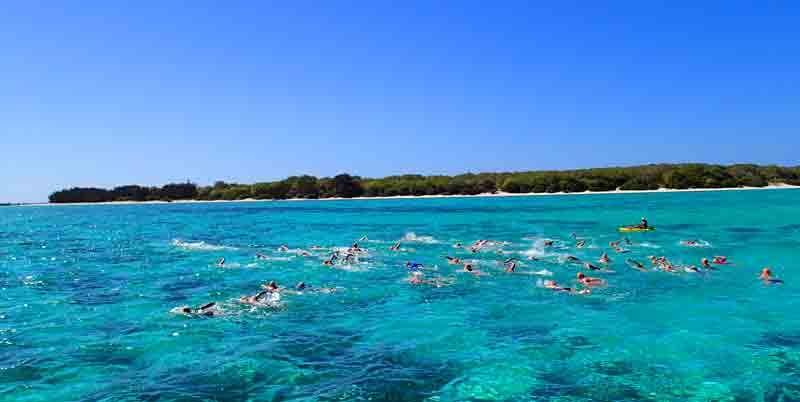 Bookings are open for the 2014 Great Barrier Reef Swim on Heron Island from October 23-27. Don't miss this one. More of the world's best reef. And sea life. Two main events: 1km around the wreck, and c. 3km around Heron Island itself. This will be a cathartic experience.
Coach Graeme Brewer will be there to provide you with open water coaching: there'll be a dry land session and a second session in the water.
Heron Island... click here
---
Last charnce to swim in March

Eight swims around the place this weekend, three on Sat'dee, and five on Sundee. And they're spread all over: four in NSW, two in New Zealand, and two in Queensland -
Sat, March 29 - Wollongong (NSW), Raglan (NZ), Hervey Bay - a two-day event (Qld)
Sun, March 30 - North Steyne, Coffs Harbour, Jervis Bay (NSW), Hervey Bay, Coolangatta (Qld), Napier (NZ)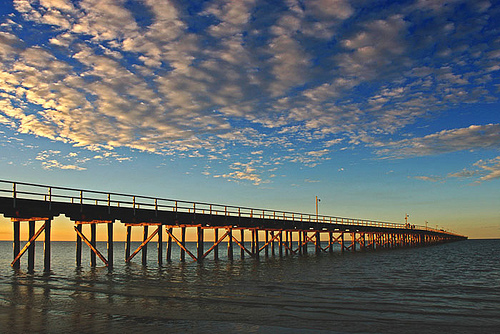 We're taking entries Wollongong, Hervey Bay, and North Steyne.
Of the others, Coolangatta is part of the Weekend Warrior Series in Queensland, now working with retired sprinter Michael Klim, and Coffs Harbour offers an array of distances inside Coffs Harbour Harbour.
Wollongong is a series of distances catering to a wide array of swim ages and capacities. The shorter swims are run in Wollogong Boat Harbour, which means it's protected. The longest swim runs from Boat Harbour, across the ocean to North Wollongong. There's plenty of choice here.
Wollongong... click here
Hervey Bay is running over both days of the weekend, which means it's possible to do both their distances. In the past, they've run almost concurrently. Do 1.6km on Sat'dee, then 3km on Sundee. It will make the most of your weekend in which, by all accounts, is a magical place.
Hervey Bay... click here
We're very excited by the North Steyne swim: we're doing it for the first time in years. Over the past few years, it's clashed with other events. There's a 1km circuit off the beach, but the flagship event is the best: 2.8km from North Steyne across the Cabbage Tree Bay and back. This means you have two reaches of over 1km each. Nice, long slogs, giving you the opportunity to really work on that stroke. And, with a bit of luck, you'll see all kinds of sea life in Cabbage Tree Bay on the turn. it truly is a triffic swim.
North Steyne... click here
Long Reef
A great pity about Long Reef's cancellation. They had just under 100 online entries on Friday morning, but organisers felt it wasn't enough to justify the expense and commitment from club members to mount the swim on Sat'dee. The organisers will be refunding entries directly to online entrants.
Lake Macquarie, South West Rocks, Shark Island
We had the weekend in South West Rocks. It reminded us of how much we love this time of year, when we get to attend swims in places that we'd perhaps never otherwise get to. The water was some of the clearest we've swum in in Stra'a. The cloud formations were stunning. And the Riverside Tavern remains our favourite spot on the East Coast of Stra'a. We're a bit behind this week because of our weekend away, but we'll post our reports from these three swims in the next day or so. As well as us and Glistening Dave at South West Rocks, Glenn Muir and Jen Gwynne were at Shark Island, and Greg Hincks and Angela van Boxtel were in Lake Macquarie
So French
Our cobber, Dominic Dwyer, who wears a stethoscope around his neck when he's not swimming, is living in Paris for a few months. He went for a swim in a Parisian pool the other day, which left him tearing his hair out. We'll post his account of Parisian swimming in the next day or so. Watch out for it on oceanswims.com.
If you're heading to France, and you want to swim, check out nageurs.com, the website for swimmers in France. It has a directory of pools around the country, reviews of them, race listings, discussions, and lots of other stuff, too... click here
---
Chateau d'If and Marseille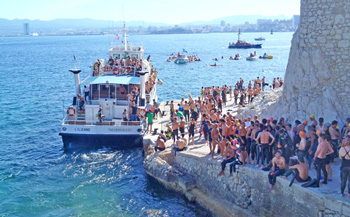 June 20-23... We're doing a long weekend in Marseille this year, the same weekend as Marseille's Solstice Festival, when the city gets a'jumpin'. Package includes accommodation at Hotel Carré Vieux Port and entry to the Escape from Monte Cristo swims, 1km and 2km on Saturday, and 5km, from Chateau d'If (above) into Marseille beaches, on Sunday. Great opportunity for a long weekend in France's second city.
Marseille... click here
Dalì, food, and swim France to Spain on the Costa Brava
July 2-10... One of our favourite oceanswimsafaris, a week on Spain's Costa Brava swimming, eating, and soaking up the local history and culcha, of which there is oodles. We'll do five very special swims, including the course of the Transfronterera Swim, from France to Spain (or Spain-France-Spain, if you're up for it), the Sunset Swim, Cala Montgo, Tamariu and Our Secret Spot (above). We'll visit Dalì's home in Port Lligat, and his museum in Figueres, and we'll have some of the finest food this world-leading culinary destination can offer. A week-long oceanswimsafari.
Costa Brava... click here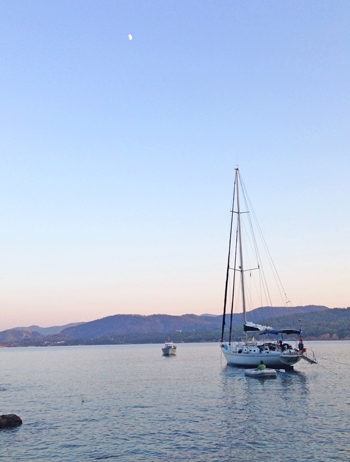 In the wake of Jason, Mama Mia and much, much more
oceanswimsafari 1 - July 15-23, and oceanswimsafari 2 - July 25-August 3... Imagine, diving into the sea, and as you push off the deck on the back of your yacht, you realise suddenly that you have no idea when you're going to hit the water... The water in Greece's Aegean Sea is so clear, your mind can't fix on exactly how far down it is...
This will be the second year that we offer our sailing/swimming oceanswimsafari in Greece, and this year we're offering two: one in the beautiful-but-almost-empty-of-tourists Northern Sporades Islands, the other in Northern Greece from the historic town of Kavala. We live aboard a yacht for the week, and the special element is that all your food is provided by one of Stra'a's finest Greek chefs, David Tsirekas, of Sydney's Xanthi restaurant. After brekker on board, we'll aim to have a meal each day on board, and the other at a local taverna, all prepared and/or supervised by David, with his unique insights into local food, culture and history. We'll swim each day. The region abounds in islands, straits, beaches, bays, all with the most glorious water you'll ever find. As with all our oceanswimsafaris, swimming is relaxed, and you swim as much or as little as you like. All food and local beer and wine aboard is included in the cost.
Greece... click here
---
View special in March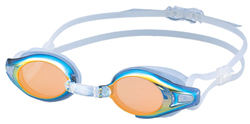 Buy two gogs in March, get free delivery!
We had a terrific response to our February View special -- Buy two sets of goggles from our online boutique, and we'll refund the delivery charge in full! So we're extending it into March.
Pick any goggles you like... Mix them up... Fully Sicks (at right), Selenes (below)... Xtremes... Solace... Platina prescription goggles... Whatever. If you don't see them on oceanswims.com and you know they come from View, ask us and we'll get them fView Seleneor you.
Order your goggles now from our Goggle Boutique... click here
---
Swims open to online entry on oceanswims.com...
Hervey Bay (Sat-Sun, Mar 29-30)... click here
Wollongong (Sat, Mar 29)... click here
North Steyne (Sun, Mar 30)... click here
Shellharbour (Sun, Apr 6)... click here
Balmoral (Sun, April 6)... click here
Coogee (Sun, April 13) fos series... click here
Forster (Sun, Apr 13)... click here
Mollymook (Sun, Apr 13)... click here
Nowra Culburra (Easter Sat, Apr 19)... click here
Terrigal (Easter Sat, Apr 19)... click here
Pacific Palms (Easter Sun, Apr 20)... click here
Inverell (Sat, Apr 26)... click here
South Curl Curl-Freshwater (Sun, Apr 27)... click here
Warriewood (Sun, May 4)... click here
South Head (Sun, May 18)... click here
Vanuatu - Santo (Mon-Fri, Jun 16-20)... click here
Mona Vale (Sun, June 22)... click here
Mana Fiji (Wed-Sat, Sep 10-13)... click here
Heron Island (Thu-Mon, Oct 23-27)... click here
Burleigh Heads (Sun, Oct 26)... click here
See you on the beach,
os.c