March swimming frenzy
Nine swims around the place this weekend spread between Sat'dee and Sundee. Five of them are in NSW, two in New Zealand, one in Victoria and one in Tasmania -
Sat, March 22 - Long Reef, Lake Macquarie (NSW), Mt Maunganui (NZ)
Sun, March 23 - South West Rocks, Cronulla, Dee Why (NSW), Bonbeach (Vic), Kingston (Tas), Hahei (NZ)
We're taking entries for Lake Macquarie, Long Reef and South West Rocks.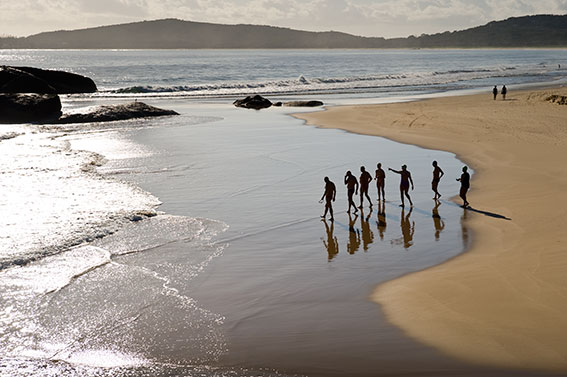 March and April are our busiest months, and this weekend proves it: nine swims this weekend, five of them in NSW alone. We have three months to run on our season in NSW, although in other regions -- apart from Queensland -- the season is nearing its close.
Having so many swims raises difficult issues, too. Not just how to choose amongst them, but how to fill the ranks for each swim so that they're worthwhile running for the organisers. Bear in mind, most swims are run by surf life saving clubs as fundraisers. And surf clubs have to lay out considerable funds to organise their swims, just to get to swim day. This season, we detect a mood amongst swimmers who are finding the vast array of swim options daunting, particularly in terms of cost. So many are making hard decisions about which swims to do, and which to miss. Added to that, now that we leave swim entries online open generally until noon the day prior to a swim (in NSW, generally noon Saturday), more and more swimmers are leaving their entry until Friday night or Saturday morning. It makes it very difficult for organisers to anticipate numbers to meet all kinds or organisational requirements.
One reason why swimmers are leaving it late to enter swims this year, we feel, is that we've had an unusually large number of postponements and cancellations in the last two seasons. Swimmers are smarting.
The upshot is that many swims are experiencing lower numbers this season. A case in point is Long Reef (above), whose Tour of Buoys runs on Sydney's northern beaches on Saturday. At this point, there are only 35 entrants to the Long Reef swim. Organisers say that, unless they get to 100 online entrants, they'll have to make a call about whether to run the swim. Unless they get more than 100, then the swim will cost the club money, not raise money, and they certainly can't afford that. Of course, when Long Reef chose their date, the weekend was nowhere near so congested, and there was nothing else scheduled for Saturday. It doesn't help that one of the Sunday swims is at the other end of Long Reef beach, at Dee Why.
What a pity, if this swim is cancelled. Long Reef is one of the friendliest swims you will ever do. It's one event when the organisers really go out of their way to make swimmers feel welcome; to make them feel that they love having you visit their beach. Long Reef always has struggled to find a stable date: time and again, it's picked a date, only to find other swims jump into it, as well.
If you want swims to continue, you must support them. At the very least, enter this swim now so that the club knows it has swimmers coming. Surf predictions for this weekend are easy: a bit over a metre. Nothing like last Sunday. You can afford to enter now with reasonable certainty that conditions will be ok.
Lake Macquarie also is on Saturday. A unique swim, it's 3.8km in a straight line across the lake. A terrific event, and down the gun barrel like that, it's a mind swim. Lots of CanTooers are doing this swim this year, because it offers them distance without having to worry about a nasty break.
We'll be at South West Rocks, getting out of gaol. It's one of our favourite coastal towns, and a great example of the glory of this time of the season: autumn is the time we visit all those beaches up and down the coast that we'd never get to otherwise. There are a few of us heading to South West Rocks. We'll be hanging out at the Riverside Tavern as well as at South West Rocks's many beaches. Do you know, the beach at Trial Bay Gaol, near swim start is the only west-facing beach on the Stra'an east cost. Just something to conjure with.
To enter Lake Macquarie... click here
To enter Long Reef... click here
To enter South West Rocks... click here
---
A tip on our new site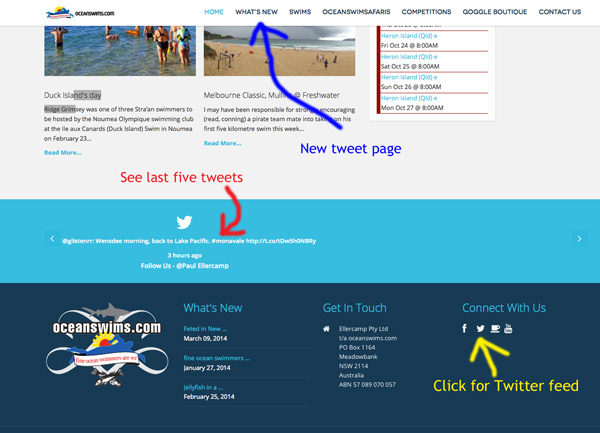 We had several pleas over the weekend, when the seas came up in NSW, asking where our Twitter feed was. Nice to find that you missed it. We use our Twitter feed for late-breaking news about swims, etc. It was an oversight on our part that we hadn't placed it more obviously, although a link was there if you looked. All you need to do on any page is to click the Twitter icon in the bottom right hand corner to get our feed (see the yellow arrow above). As a result of the pleas, we have another facility, too, now at the bottom of the home page, where a rolling feed displays our last five tweets (the red arrow). We've also now included a page under What's New where will soon be loading the feed itself (blue arrow). That should be enough to find out the latest if you're sweating on Stop Press-type news about that day's swim.
Online entries, emailouts, and you
When you enter online, you have the option to Save your details, so that whenever you come back to enter, you need only Fetch them (with your email address and a password of your choosing), and your entry will be filled in for you. All you need do is check and update as necessary. If you use this facility, it means you'll have only one record on our data base. It also means that, in time, you'll be able to look up all your results at once.
If you don't use this facility, then you'll appear in our data-base several times and both of us will have trouble tracking your swims.
The data base also is set to record one person per email address (if you elect to save your details). This helps us to tell who you are when you enter and when you need to find your own data. It's important that we can distinguish amongst you, particularly amongst those of you who have similar names. If you enter with multiple identities, then you'll be all over the place.
We use the entry data base also to send these emailouts, so if you've entered with several email address and identities, then you'll get several emails. We can always take you off the list, if you wish (there's an unsubscribe/subscribe facility at the bottom of this email), but its simpler all 'round if there's just one of you there in the first place.
---
oceanswimsafaris over winter

Vanuatu in June
June 11-14 (Port Vila), then June 16-21 (Espiritu Santo Swim Week)... Vanuatu is open for booking and online entry. We have packages for Espiritu Santo Swim Week (June 16-20) online now, and packages covering the swims in Port Vila (June 11-14) will be up in the next few days. The basic Santo packages all are based on Stay 6/Pay 5, which means if you book in for six days (the entire Swim Week) you'll pay for accommodation only for five days. The deal is the same for all Santo resorts, and it's available only through oceanswims.com/oceanswimsafaris.com. If you book your accommodation through us, your swim entry package will be included. If you make your own accommodation and travel arrangements, you still will need to enter the events online through oceanswims.com.
Santo packages are at Aore Island Resort, Beachfront Resort, Hotel Santo, DecoStop, and (very soon) Turtle Bay Lodgge and Coral Quays Resort.
More info and booking... click here
Chateau d'If and Marseille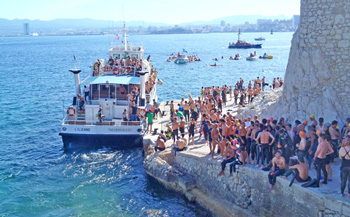 June 20-23... We're doing a long weekend in Marseille this year, the same weekend as Marseille's Solstice Festival, when the city gets a'jumpin'. Package includes accommodation at Hotel Carré Vieux Port and entry to the Escape from Monte Cristo swims, 1km and 2km on Saturday, and 5km, from Chateau d'If (above) into Marseille beaches, on Sunday. Great opportunity for a long weekend in France's second city.
More info and booking... click here
Dalì, food, and swim France to Spain on the Costa Brava
July 2-10... One of our favourite oceanswimsafaris, a week on Spain's Costa Brava swimming, eating, and soaking up the local history and culcha, of which there is oodles. We'll do five very special swims, including the course of the Transfronterera Swim, from France to Spain (or Spain-France-Spain, if you're up for it), the Sunset Swim, Cala Montgo, Tamariu and Our Secret Spot (above). We'll visit Dalì's home in Port Lligat, and his museum in Figueres, and we'll have some of the finest food this world-leading culinary destination can offer. A week-long oceanswimsafari.
More info and booking... click here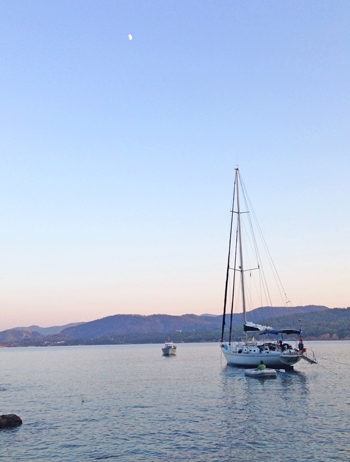 In the wake of Jason, Mama Mia and much, much more
oceanswimsafari 1 - July 15-23, and oceanswimsafari 2 - July 25-August 3... Imagine, diving into the sea, and as you push off the deck on the back of your yacht, you realise suddenly that you have no idea when you're going to hit the water... The water in Greece's Aegean Sea is so clear, your mind can't fix on exactly how far down it is...
This will be the second year that we offer our sailing/swimming oceanswimsafari in Greece, and this year we're offering two: one in the beautiful-but-almost-empty-of-tourists Northern Sporades Islands, the other in Northern Greece from the historic town of Kavala. We live aboard a yacht for the week, and the special element is that all your food is provided by one of Stra'a's finest Greek chefs, David Tsirekas, of Sydney's Xanthi restaurant. After brekker on board, we'll aim to have a meal each day on board, and the other at a local taverna, all prepared and/or supervised by David, with his unique insights into local food, culture and history. We'll swim each day. The region abounds in islands, straits, beaches, bays, all with the most glorious water you'll ever find. As with all our oceanswimsafaris, swimming is relaxed, and you swim as much or as little as you like. All food and local beer and wine aboard is included in the cost.
More info and booking... click here
Swim Samoa
Starting July 29... Three swims over three days, with a couple more tacked on at either end. This is a terrific opportunity to live cheek-by-jowel with like-minded ocean swimming enthusiasts as you bus out to different swim venues each day from swim HQ in Apia. Samoa is a beautiful place, largely untouched by tourism. If you have time, add a few days on the neighbouring island of Savai'i, where you find a new definition of remoteness.
More info and booking... click here
Mana Fiji SwimFest
September 9-14... A new format for the Mana Fiji SwimFest, with a rearrangement of distances and a day of rest in between events -- recovery time -- so you can enjoy them all. The Mana 10km swim this year is on Thursday, September 11, then swims of 1km, 3km and 5km on Saturday, September 13.
Our accommodation packages have been provided to us exclusively from Mana Island Resort: Stay five nights, but pay only for four nights. Or Stay 10 nights and pay for eight. That means, if you stay six nights, you pay for five, etc. Our deals are the base packages on offer. We can vary them pretty well however you'd like to fit your needs. No-one else can offer you these deals, so check them out. We'd love to see you on Mana Island.
It's the best island in Fiji for an ocean swim... click here
Yasawas oceanswimsafari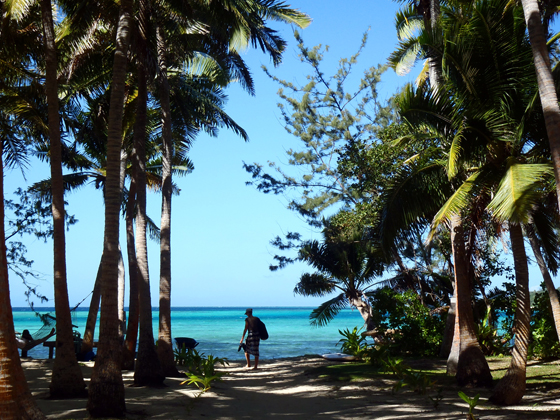 September 14-20... After Mana Island, come with us on an oceanswimsafari to the most beautiful swim location on earth, the Yasawas. There are five days and nights of relaxed, informal swimming over some of the most beautiful reef you'll ever see. Our oceanswimsafaris are limited to around a dozen punters. No races, just a relaxing, informal, adventure.
More information and booking... click here
Great Barrier Reef Swim, Heron Island
Bookings are open and filling for the 2014 Great Barrier Reef Swim on Heron Island from October 23-27. Bookings are open. Don't miss this one. More of the world's best reef. And sea life. Two main events: 1km around the wreck, and c. 3km around Heron Island itself.
Coach Graeme Brewer will be there to provide you with open water coaching: there'll be a dry land session and a second session in the water.
It's a triffic long weekend... click here
---
View special in March
Buy two gogs in March, get free delivery!
We had a terrific response to our February View special -- Buy two sets of goggles from our online boutique, and we'll refund the delivery charge in full! So we're extending it into March.
Pick any goggles you like... Mix them up... Fully Sicks (at right), Selenes (below)... Xtremes... Solace... Platina prescription goggles... Whatever. If you don't see them on oceanswims.com and you know they come from View, ask us and we'll get them fView Seleneor you.
Order your goggles now from our Goggle Boutique... click here
---
Swims open to online entry on oceanswims.com...
Lake Macquarie (Sat, Mar 22)... click here
Long Reef (Sat, Mar 22)... click here
South West Rocks (Sun, Mar 23)... click here
Hervey Bay (Sat-Sun, Mar 29-30)... click here
Wollongong (Sat, Mar 29)... click here
North Steyne (Sun, Mar 30)... click here
Shellharbour (Sun, Apr 6)... click here
Balmoral (Sun, April 6)... click here
Coogee (Sun, April 13) fos series... click here
Forster (Sun, Apr 13)... click here
Mollymook (Sun, Apr 13)... click here
Nowra Culburra (Easter Sat, Apr 19)... click here
Pacific Palms (Easter Sun, Apr 20)... click here
Inverell (Sat, Apr 26)... click here
South Curl Curl-Freshwater (Sun, Apr 27)... click here
Warriewood (Sun, May 4)... click here
South Head (Sun, May 18)... click here
Vanuatu - Santo (Mon-Fri, Jun 16-20)... click here
Mona Vale (Sun, June 22)... click here
Mana Fiji (Wed-Sat, Sep 10-13)... click here
Coming soon... Terrigal (Apr 19), Burleigh Heads (Oct 26)
See you on the beach,
os.c