Bondi. Oh, Bondi.

Controversy Corner

- Check feedback on "illegal cossies" and have your say... Click here
Benign seas pose little threat to weekend swims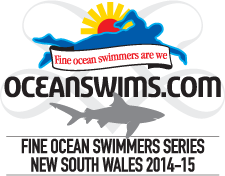 Two more rounds of the fine ocean swimmers series this weekend, one in NSW, the other in NZ. And towards a weekend chock full of swims, at last there appears no threat from heavy seas, particularly in NZ, where our series swim is in Lake Taupo. Mind you, Taupo can sport a nasty chop if the wind is right. But there won't be groundswell. Benignity appears the order of the weekend. The major threat we see is that, in Victoria, there are four swims all on Sat'dee. How ridiculous is that! There are 13 swims this weekend, nine of them on Sat'dee alone.
Sat, Feb 28 - Caves Beach (e) (NSW), Taupo (fos series, NZ), Moorpanyal Park, Sorrento-Portsea, St Kilda, Phillip Island (Vic), Devonport (Tas), Port Elliott (SA), Bunbury (WA)
Sun, Mar 1 - Evans Head (e), Freshwater (e, fos series) (NSW), Wellington (NZ), Cohuna (Vic)
As the "e"s above indicate, we're taking online entries to Caves Beach on Sat'dee, and to Evans Head and Freshwater on Sundee.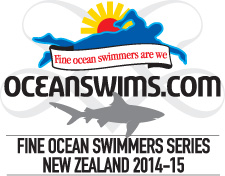 Caves Beach always turns on a good day, with the lawn in front of the surf club providing an ideal critical mass venue for gatherings, preso, and a band after the swim. It's a 15 minute walk from rego at the surf club to the start at the foot of the breakwater out to Spoon Rocks, then a 1.5km swim along the breakwater, then along the reef towards the beach, then into the beach. It's a spectacular swim, with the cliffs, the rockshelf and the hills offering a dramatic backdrop to the swim.
Online entries to Caves Beach close at 3pm Friday, February 27... Click here
The Barney Mullins Classic at Freshwater on Sunday is also Round 7 in our fine ocean swimmers series NSW. Just one distance: 1.5km. This season, the Freshie awgies are offering an Elite/Open division for the faster swimmers. That should make for good racing at the front, particularly given this is the home beach of The Baby Faced Whippet, John de Mestre. Now in his 50s, de Mestre makes winning this one his specialty, irrespective of the age of his rivals. With the Open/Elite wave, now all you lot who fancy yourselves can have a go at knocking him off. Good luck to youse.
Online entries to the Barney Mullins Classic close at 3pm on Saturday, February 28... Click here
Evans Head, on the Far North Coast, has been searching for an ideal date since it's inception five or six years ago. They ran on the June long weekend for the first few years, and were plagued by bad weather. Not just bad weather, but atrocious weather. Then they switched to January, still in search of holidaymakers to boost their numbers, and now they're in March. We hope this works for them. It's a terrific community swim with the Evans Head SLSC marshalling support from around the town to make the swim memorable for incoming punters.
An open beach with a breakwater at one end, protecting the creek entrance, this can sometimes be used as a fast route to sea, with the runout by the rocks. Two distances: 750m and 2km, in circuits off the beach.
Online entries to the Evans Head Swims close at 3pm on Saturday, February 28... Click here
In New Zealand, Across the Lake in Lake Taupo (above) on Sat'dee is Round 4 in our fine ocean swimmers series NZ. Three distances, 1km, 2km and 4.2km across the lake. See below for more details of the fine ocean swimmers series. Everyone who takes part in the longest swim will earn points in the series. Find out more... Click here
For all these swims, keep your eye on oceanswims.com for updates, the Stop Press box on our home page and on our Twitter feed (@oceanswims). And watch magicseaweed.com, seabreeze.com.au, and coastalwatch.com.
---
Coaches call time on "fake" FINA
Carlile calls for committee to work for reform
A call by the head of the World Swimming Coaches Association (WSCA) to push for reform of FINA, the world aquatic sports controlling body, has drawn a response from Australian coaching icon, Forbes Carlile, that a committee should be set up working to a manifesto to reform the organisation.
In an email to members on Monday, WSCA executive director John Leonard says FINA is "a fake democracy" whose leadership ignored decisions of its congress.
In his email, headed "We all deserve better", Leonard told WSCA members that FINA was "fake because (its) Congress makes rules (often 'guided' by the Bureau (FINA leadership)) and then the FINA office appears to ignore those rules... in Anti-Doping, in award procedures, and various other operations".
Read Leonard's challenge to Marculescu last year over allegations of doping by Russian swimmers... Click here
Cornel Marculescu, FINA head (left) and WSCA's John Leonard (right).

While surveys purported to show that 208 aquatic sports federations around the world were "happy" with FINA, Leonard said this was because the surveys covered only officials at the top of those federations... "if the 'Federation' is defined as the 2-3-4-5 people at the top who benefit directly from FINA largesse on travel, accommodations and assistance.
"Until the federations express discontent with the FINA culture and operation, NOTHING WILL CHANGE (sic)," he wrote.
Leonard's letter drew a response from Australian coaching icon, Forbes Carlile, calling for a committee to be set up to run a campaign for reform of FINA working to a manifesto for change.
In an email responding to Leonard, Carlile said a manifesto should define "aims for reform... with a reminder of the history of FINA's prolonged inaction to doping by the East Germans and then the Chinese(...) The Bureau seemingly being reluctant to take action, even today with Russia under serious allegations of doping infractions.
"FINA's history and its integrity are also permanently compromised by the 'fast' swim suits (2008) debacle, where at the 2009 Congress, the Bureau fought to the bitter end to allow the manufacturers' blatant fraud to continue," Carlile said.
"Chances for reform in the foreseeable future may appear to be slim, but with no action, by complaining and sitting on our hands change will be a vain hope.
"It is time to set up a committee with the aim of safeguarding the integrity of the sport."
Leonard called on coaches around the world to lobby their national aquatic sporting federations with evidence of problems with FINA, and pushing for change.
Carlile (left, pic from The Australian) said "alas, nobody" in Australia was doing this.
"At first up to 99.9+ per cent effort with federations will fall on deaf ears for the reason, as you say, of self-interest of a few at the top.
"However, gradually, I believe, an understanding of FINA's ill-deeds will get through to some, even in unexpected places, and the flame that will be kindled will bring about change," he said.
"Of course this can hardly be expected to be driven, unsupported, by a one-man crusade. Could a committee not be formed, to lead the charge aimed at transforming FINA into a more democratic, transparent and competent, day by day governance? This is not happening with the Bureau where (FINA executive director) Cornel Marculescu is clearly in control.
"I feel sure such an initiative generated in America, will gather support there and beyond.
"This will lay the basis for a wider demand for a movement aimed at changing FINA's culture which lies fundamentally in reforming, in changing the Bureau," Carlile wrote.
---
The "Illegal Cossie" Rule - Fair or over the top?

This will surprise you, but punters sometimes question us about "the illegal cossie rule" that we apply to the fine ocean swimmers series, to wit –
"In order to qualify for points in the series, swimmers must wear conventional cossies. This means, budgy smugglers for boys and normal, no-arms and no-legs cossies for laydees. No fastskins, no wetties, not even jammers. Indeed, no cossies made from hi-tech material or with any flotation property. We have to draw the line somewhere if we want to level the playing field: so just normal cossies it is."
The key is in the final sentence: "...we want to level the playing field".
Most of the questions follow the argument, Why bother? Why can't swimmers where whatever cossies they like? Or, Why can't you at least allow jammers (the knee-length gentleman's costume)?
Bear in mind, this rule applies only to our allocation of points in the fine ocean swimmers series. It doesn't affect any other swim, and indeed it doesn't affect series swims in so far as no-one will stop you wearing an "illegal cossie" in those swims. More's the pity. There are a few swims, including The Big Swim (Palm-Whale) and Byron Bay, last time we checked, perhaps also North Bondi, who have this as a rule, but no-one enforces it. Again, more's the pity. Few swims police anythng to do with start lines, either. Anyone could start anywhere in any wave and no-one would say anything. Does anyone care, apart from us?
In the fine ocean swimmers series in NSW, we identify wearers of "illegal cossies" as far as we can, and we don't allocate points to them. In the fine ocean swimmers series NZ, it's harder since so many swimmers there wear wetties. So, again as far as we can, we identify the wettie wearers and we give newd swimmers an extra 10 per cent time benefit.
As far as our series go, we're not trying to tell punters what to wear. We're simply saying, if you do wear cossies that don't comply with the fos series rules, then you won't qualify for points. It's really up to you.
It's usually boofheads who challenge the rule, boofheads in the habit of wearing "jammers" or more. Laydee swimmers generally wear only conventional cossies anyway. But at Bondi last Sundee, we were challenged by a laydee swimmer.

The rockshelf at Caves Beach - Our playground as littlies. We'll be there on Sat'dee.

We're not inclined to budge on it. And we're happy to defend the rule. But first, here's this contribution from Steve Hall, a regular on our circuit and a sometime contributor to oceanswims.com -
Curmudgeon?
Illegal costumes - there's a rather scary term, like queue jumpers and illegals. And, shock horror - I'm dobbing myself in - I have one. So on to the 12 step program, and the first step is to admit I have a problem -
My name's Steve Hall and I'm an illegal cossie wearer.
And yet - I don't admit it, or rather I dispute the definition of an illegal cossie. Why, pray tell, are my recycled compression running pants illegal? Because the otherwise admirable OSc says so? I think not.
Much as I admire all that OSc has done for Ocean Swimming, the long hours with little recompense, the personal sacrifices, the dedication to his sport, the lyrical (if somewhat Malcolm Turnbull-like florid) prose of his writings and the charm of the lovely, if taste-impaired, Mrs Sparkle, I feel on this occasion he has been a tad prescriptive.
Of course I'd never call him and obstreperous old curmudgeon, partly because I'm not sure he's know (sic) what that means, but on this occasion I venture to disagree.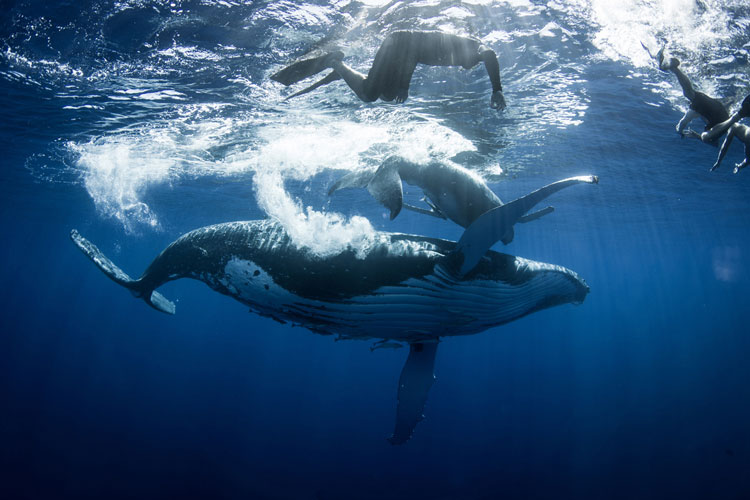 In Tonga, boats must stay 100m from whales, but swimmers may get close up. (File pic) Come with us on our 1st inaugural oceanswimsafari to Tonga to swim with whales... Click here

OSc's rationale for banning non-budgy smuggling variants of swimmers is based around his theory that he doesn't want people to feel they have to buy expensive costumes to compete. To a degree I understand this, but it also smacks of inconsistency. I hate to use myself as a case in point, but I will anyway.
My long, body-hugging black compression pants were bought in the days when I still had delusions of running medium length distances quickly, in a desperate attempt to avert the calf problems that cut my promising running career short at the tender age of 55. I recently discovered that I could swim in them - nay, that I was very comfortable in swimming in them - when I left my only pair of swimmers at a swim and it was them or nowt. And trust me, you wouldn't want to see me swimming in nowt.
So I wore them to a FOS swim, only to be accosted by some rotund old chap (not as old as me, mind you) saying "take his name Suanne, they're illegal" to words to that effect. Is this why we fought Hitler, to allow a swimming Führer to dictate what we can wear? I think not.
Let's look at the "keep ocean swimming affordable" argument. If you do all 9 FOS races the entry fees stack up to around $300 - more than three time the $100 my compression pants cost me. If, as many elite swimmers do, you choose to gain a competitive advantage by waxing off excess hairs, that costs significantly more than my poor old second hand running pants. If you choose to train with a squad at $20 or more a time, three squads a week, that's $1,800 over the main swimming season. Not to mention all the other "legal" swimming aids people can use to gain competitive advantage. So why is wearing a $100 pair of long pants deemed illegal while paying a lithe young lady to rip your hair out at the roots acceptable, nay, de rigeur?

Swim Freshwater this Sundee
I wear my long pants for several reasons;
1. They are very comfortable
2. I get rashes in the nether regions when I wear budgie smugglers
3. I'm scared of bluebottles and they cover more of me than budgies do
4. I lost my last pair of swimmers and these were all I had left
5. I'm extremely well equipped and I don't want to scare the horses
(OK, one of those could be an exaggeration).
The bottom line (if you see what I mean) is that I don't like wearing budgies and I object - mildly and humourously, but I still object - to being told what I have to wear, even by dear old OSc.
So I wore them at Malabar and I wore them at Bondi. As I have more hair on my chest than Russell Brand has on his face, I'm short, stocky, old, a Pom and scared of waves, the idea that I wear them to gain a competitive advantage is hard to swallow. Especially as my ambitions in most swims are a) not to drown; b) to finish without help from the lifeguards; c) to swim less than twice the time of the winner and d) to come in the top 80 per cent of the field.

The mob lines up at Nobbys, on the lookout for S-words.
Now, let's look at the unintended consequences of this policy.
As I age I'm more selective about which swims I go in. As OSc said to me at Bondi a while ago, I don't feel obliged to go in a swim just because there's one on. So this year - as with last year - I'm focusing on the FOS series and have only missed one swim, Dawnie, when I was in the UK with my dying dad. I like the FOS series because a) I think it's great concept; b) it gets me to beaches I wouldn't normally visit; and c) Chuck puts on a good do at the end of the season.
But if I'm disqualified because of my choice of swim wear then I may as well give up on the rest of series - and if there are others like me, the blanket application of this rule may have the unintended consequence of reducing the number of participants. Hardly a desirable outcome.
Finally, the proposed punishment - disqualification - is disproportionate.
I do understand that swimming aids that provide significant help - wet suits, flippers, outboard motors, water skis - shouldn't be allowed to affect the overall results. But for those of us who simply want to finish in the top 50 disqualification is a tad harsh, don't you think? (A good spanking might be ok).
My suggestion is as follows;
Let people (i.e. me) wear non-budgies if they want.
For those few swimmers who are seriously competing for a place by all means say they can't wear high tech swim gear (although I don't think my 6 year old running compression pants would count).
I'm very happy not to be allowed to win the series - even an outboard motor wouldn't help me do that - but it seems a tad unfair to disqualify me from the entire thing and I would like to be included in the end of season lucky draw, even though I didn't use my rather ironic (given the circumstances) budgie smuggler voucher that I won last year.
I rest my case, M'Lud."

Lee Howes, organiser of the Nobbys-Newcastle Swim, would be Awgie of the Year, if we had our way.
"The illegal cossie" rule
We set aside the gratuitous references. (Hall gives Malcolm Turnbull far too much credibility, but his line is merely a fatuous style device.)
The reason for the rule is to achieve a level playing field in the fine ocean swimmers' series.
We have long felt that one of the great beauties of our sport is its low entry cost: all you need is a pair of gogs, a pair of cossies, maybe pay an entry fee, and you're in. There are no time or age or gender qualifications, and there's little equipment required or available that might give you a competitive edge. There's little more to spend, so the entry cost remains low. This is particularly important for couples and families, who face entry costs multiplied by the number of heads in the family unit.
But then along came hi-tech cossies. They can cost hundreds of dollars, even close to a thousand (BlueSeventy, for example, offer them for up to $600), and they cost that much for a reason: they promise you a high-tech advantage.
They promise different things, but essentially it's –
Reducing friction, thus drag through the water
Supporting your core, thus improving your body position, thus reducing drag and allowing you to optimise your pull, thus your speed, in some cases, providing flotation to allow your body to sit higher in the water, thus to make you faster.
The BlueSeventy Core Jammers ($A149) are neoprene, designed to lift the hips to simulate wearing a wettie. Designed for training, it's not hard to imagine them commonplace on the ocean swimming circuit amongst the more "competitive" amongst us.
In order to gain these advantages, you must spend much more. Instead of less than $100 for a boofhead, and a bit more for a laydee, you're looking at hundreds of dollars to be "competitive" in the sport. Multiply that by the number of heads in the household, and suddenly you're feeling like a triathlete, who must take themselves very seriously indeed because they spend so much to get into their sport.
Look at Victoria, where probably 95 per cent of swimmers wear wetties. It's true that the water is a bit cooler there, but it's not prohibitively cold and plenty of Victorian swimmers could get by just fine swimming newd. Just ask Aquagirl, who's converted to largely newd swimming over the last few years. (We like to think we've had an influence there.) But punters in Victoria wear wetties because it's the thing to do, and because of a general perception that, if you wish to be "competitive", then you need to wear a wettie.
So, in Victoria, the entry cost to the sport already is in the hundreds of dollars. Add to that the popular gadgets, such as heart rate monitors – wandering around the start and finish areas of Victorian swims, you would be struck by the high usage of such devices – and you're talking real money.
High entry costs are a canker on any sport that involves any kind of egalitarian ethic.
We also have a romantic view: that there is a joy, a pleasure, a spiritual uplift in ocean swimming that comes from the feeling of being in the sea, alone, just you with the ocean on your skin. We cannot see the pleasure in swimming in a wettie, or any other high-tech cossie that covers more of the body than is necessary to keep one out of gaol, or that serves to separate the body from the water. It defeats the purpose.
People v. People
Another old-fashioned view, certainly too old-fashioned for Steve Hall – whom we regard as a good friend and very enjoyable company, despite his histrionics – is that the contest in swimming should be amongst people, not their equipment or the depth of their pockets. Our view is that if you allow a situation in which participants can gain a competitive edge by buying it, then the pressure is on everyone to do it to be competitive. Some can afford this better than others, and some are priced out of the sport.
And what are you trying to be competitive in? Some artificial, insulated, synthetic activity that, in the end, is just another race, which you can find anywhere.
The practical problem with the high-tech cossies is that they come in all shapes and designs, some covering just the thighs, some all the legs, some the entire body, etc, etc, and they come in widely varying materials, some with blatant flotation qualities. FINA's list of approved cossies now runs into the hundreds. It must be a nightmare to police.
If you wish to make the system fair, to achieve a level playing field, and to maintain that fundamental beauty of the low entry cost to a raw, primal sport that joins the human body with the sea, it seems to us that the only way to achieve that is to avoid everything other than absolutely basic cossies.
Bear in mind, we don't argue that everyone must wear these cossies. Swimmers can wear whatever they like. But if they wish to earn points in the fine ocean swimmers series – in NSW, nine swims out of 100 or so, in NZ, six swims out of 50 or 60 -- then this is the qualification. We at oceanswims.com – well, just us, really – want to encourage an egalitarian competition in a raw and as primal sport.
How do you draw a line between what is acceptable and what is not? If we move to "allow" or to "legalise" some form of high-tech cossie, then it won't satisfy every cossie, and it won't satisfy every swimmer. It simply will draw demands for even further liberalisation of the rule, and very quickly it will be a rule that's meaningless and the objective is lost.

Eye on the main game.
Kernel of reason
All that said, Hall may raise a reasonable point. Firstly, his suggestion that we allow swimmers like him -- slow, useless, unthreatening to anyone, lumbering through the chop -- to wear "illegal cossies" because they are no threat, while maintaining the illegality in respect of contenders, won't work because of the difficulty of determining who is a contender and who is not. It might be clear with Steve Hall, but it's not so clear with plenty of others.
But, taking Hall's argument that he likes doing the series and wants credit for his efforts, perhaps a half way approach would be to maintain the illegality when it comes to earning points, but to still count the swims, so that the law breakers retain credit for doing the swims and they remain on the leaderboard -- the "rank-and-file board" -- and are recognised for their efforts, but they cannot win the series.
We – all of us -- have a few opportunities in life to make a difference. One of the differences we wish to make is to encourage a culcha that nurtures ocean swimming as a raw, primal, egalitarian activity that offers all its participants the opportunity for spiritual uplift through maritime adventure. What makes our caper different, said Anne Perkins in The Guardian late last year, was "that combination of extreme loneliness and extreme jeopardy that has inspired some great writing about the sea".
Heady stuff, perhaps. But you need a philosophical framework if your life is to have meaning.
What do you all think?
Tell us... Click here
Controversy Corner
KISS
Agree with you blokes. Where do you draw the line? Only thing you can do is ''scrutineer'' fos competitors [I would help with ladies but wife would kill me!!!!???]
Swam Tathra and Broulee last 3 years, wetties allowed even if temp above 18c. Not sure I like that even though I am not a age or outright contender, but will still go to these events for venue, ambience and camaraderie, well run fun.
We all like to do our best with the gear we have. Budgies are fine by me. Agree with the kiss principle, cold water (16c at Gerringong!!) surf, buoancy, all part of the challenge.
Brett McCulloch
Weight suits
Fos series rules say wear Budgie smugglers, so that's what I will do. I can always race a 1 km in jammers/fastskins before the main race if i want to. (should add would personally prefer to as well)
As an alternative is it possible to let FOS entrants nominate there attire (budgie smugglers, jammers, fastskins, wetsuits) and have points allocated based on cossie type? Given the current FOS series points have an additional loading towards age why not load towards the cossie type you wish to enourage, eg person finishes 1st in age division wearing a wetsuit, points reduced by a quarter, or person finishes 1st in age division in fast skins, points reduced by a third, etc.
The only real problem with this is the administrative overhead of monitoring who has what cossie.
The next issue to consider is "should Titan " players be allowed to compete in FOS series given their "performance enhancement regimes"
Mark
Time penalty
Why not apply a 10% (15%? 20%?) time penalty to any swimmer wearing an "illegal cossie" who finishes in (say) the top 10 in their age group or top 30 overall? That way the contenders who wear high tech get no advantage from doing so, and the non-contenders can still feature in the series overall?
Daniel
Feel the cold
I'm pretty skinny and a slow swimmer. I "feel the cold" even in Sydney in summer. A volunteer Doctor for the Palmy to Whaley swim told me there are usually a couple of cases of hypothermia each race. So I choose to wear a wetsuit. For me it's either wear a wetsuit or I won't compete....
Mick
Fix your kick, Steve
I'm with you and want a level playing field. No jammers. It is cheating. Steve H stated a load codswallop. He needs to improve his swim kick!
Peter Nickless
It's just ego and vanity
I agree with you - keep the fancy swimmers banned. It's core to the philosophy of ocean swimming to wear as little as possible. If those people insist on wearing them, let them start their own series. I believe that what it comes down to for them, is ego and vanity - they believe that they look better in those jammers, etc, and are embarrassed to wear budgie smugglers. We're becoming a nation of prudes, and their desire to cover up more is just part of that undesirable trend.
Hugh Cross
Separate competitors
I prefer to wear a swimsuit that covers my thighs! During to process of having a family of 5 I gained a lot of weight and had a hard time making time for swimming (a passion not shared by my family unfortunately). Once the last of the kids hit school I quickly returned to swimming (even forked out for a bit of coaching for the first time in my adult life) and over the course of a couple of years managed to shed the 45kg I had gained .... Unfortunately at 45 years of age, my skin didn't bounce back quite as quickly as my swim fitness did!
The "to the knee" cossie I have is not FINA approved, because I chose NOT to spend money on it - I shopped around for the cheapest swimsuit I could find that would cover my thighs ... in fact it was cheaper than my preferred "normal swimmers" that I wear in the comfort and security of my own local pool (where the pundits are used to seeing the skin fly as I stomp up to the showers after a swim session).
I am not competitive .... I race only to give me something beyond myself to train for and an environment where I can compete with myself, my own times and because I LOVE the mash up of swimmers in an ocean race (and it's the only guise under which my family will be dragged to the "sandy" beach). I compete only with myself.
As we colour caps for age groups etc, could we not identify "non-competitors" this way also .... allowing us to swim among the throng in gear that we feel comfortable in, but without threatening the integrity of race results for those who are interested in competing with anyone other than just themselves?
That's my 5c worth anyway.
Kirsten
What did you do in the war?
I am a 61.75 year old new comer to the Ocean Swimming caper (last two years or so). I always wear "legal" swimming attire, irrespective of the season. The only comments I would like to make is that I'm not sure that Mr Hall has ever said boo to a Nazi let alone fought any, and shouldn't culcha be spelt with a capital K????
Allan Hutton
Melanoma
I used to wear conventional cossies, until last year when I had a melanoma cut out of my lower leg. Sadly, I thought my days of ocean swimming were over as I didn't want to be out in the sun anymore for an extended period of time.
I then went to my local swimwear shop and discovered that if I purchased a blue seventy full length swim suit this would cover up the back of my legs whilst swimming, and also whilst waiting for the swim to start.
There are increasing numbers of men and women in my age group discovering skin cancers and melanomas so it only makes sense that the way forward is to cover up and be sun safe. It's not about the swim time, it's all about being able to still participate in an event that exposes a person to the harsh elements of the Australian sun.
If long length swim suits were deemed to be illegal then that would mean for a lot of people their days of ocean swimming would be over.
If anything, sun safe/ long swimwear should be a market that is set to do well into the future.
Jane Bryant
Hairy Pom
As an instigator of the cossie debate I must express my dismay at one sad aspect of your response - your lack of an inventive nickname for me. "Hall" seems rather stern while "Steve Hall", beautiful though my name is, sounds less impressive than, for example, SuperPom.
On the tone of our many conversations, other than a brief instant this week when I was, I confess, just a tad miffed for an hour or two, I hope they've always been jocular and somewhat exaggerated - and I love you too.
With regards to your tentative solution, I'm not 100% sure I understand it.
If you're saying that anyone who, like me, wears an unapproved (sounds much nicer than illegal) cossie should still get FOS points and be shown on the leader board (perhaps with an asterix against there name to indicate naughtiness) but should be ineligible for any prizes then I think that's sort of what I suggested. And I heartily approve.
If your suggestion is different to that then, to quote a non-Malcolm-Turnbull politician, "Please explain".
Steve Hall
Plain and simple
I'm a newbie and have just started everything - swimming in the ocean, doing longer distances, working out what to wear etc.
I thoroughly enjoyed the debate but am happy to side with fos. I'm too old and too lacking in ability to spend extra money on a personal challenge. By all means, let all compete in whatever they want to wear - but if you want to feature on the 'winning side' of the competition, keep it as plain and simple as possible so everyone should wear as little as possible.
Suzanne
PS I am loving your column - keep it up!
Ditch the wetties
I couldn't agree more with the no wet suit policy.
I did a swim leg for a long course team triathlon (2ks) on the weekend. The water was a beautiful 22 deg. and clear and calm. Other than one other girl, I was the only one not wearing a wet suit. I wouldn't call myself a fast swimmer but I was even more disadvantaged not having a wet suit on.
It isn't an even playing field. I think all these hot shot triathletes should ditch their wetsuits when the water is 22 degrees.
Keep up the good work
Lesley Maher
Twisted budgys
I am a regular Ocean Swimma in Adulaide and was on the original organising committee for the Brighton Jetty Classic.
With the BJC we modelled the swim on the Lorne Pier to Pub and allowed wetsuits from year one. Ten years on we still have a mixture of wetsuits and budgies, with over 900 swimmas every year. In the early years we had any complaints about hose in wetsuits having an advantage over non-seal looking swimmas. The Committee stuck to its guns and we are the largest swim in Adulaide. The BJC attracts triathletes, wanna bees and lunch box legends. Other Open Water Swims don't attract triathletes.
As a Committee you set policy which will not placate every swimma. In Adulaide we have a diehard group of Ocean Swimmas and baring attacks by men in grey suits, you can pick the trifecta for every race.
Some people drive BMW's and some drive Holden EJ utes. Whatever floats ya boat (or body) go for it. Don't get ya budgies in a twist if the dude next to you looks like a USA Navy Seal.
Just keep swimming!
Alistair Baird
Talent and skill v. Pretenders
Illegal cossie- no thanks! Lets keep it even.. budgies it is and let the winner be someone with talent and skill...not a pretender.
That's coming from me..and I never win.
Regards
Jimmy A.
Zero sum
I'm illegal and I don't care whether I'm included in the FOS or not. I wear a stock standard rip curl rashie, because I've had issues with skin cancer in the past. I'm surprised the aspect of protection from skin cancer has not been raised in the discussion so far. The rashie slows me down, adding about 2mins to a 2K swim I reckon. So to compensate I also wear neoprene jammers, which cust my time by a similar margin. Net, net I'm about square I reckon.
Lindsay Coburn
Budgys are awful
I think its ridiculous. My kids don't own budgie smugglers. My husband doesn't own any either because they are just awful. They always where knee lenghth lycra. They are just lycra and lots of boys only swim in these now.I would have to buy a pair of swimmers especially to compete in your old fashioned rules. You give us a choice ....its not choice because you strip them of any points. Sport is about points and being competitive. My girls also where knee length lycra skins. They where them training and whenever they are swimming. it is because they are comfortable and do not rub. They are modest in all areas and they do not have to worry about the swimwear exposing them. They are not expensive, in fact I pay less for them than a pair of one piece costumes. So you are kidding yourself about costs. Yes admittingly there are many expensive swimwear you can purchase but in an ocean swim where there are so many factors influencing their performance the amount of benefit they will get is minute.
You can't avoid the swimwear issue, like everything else you have to make rules concerning them... but please make them relevant to our century. We would like our young people to feel they can participate in a sport where the acceptable clothing is from this century.
In fact I think it would be great to see more people covered up for the sake of the sun, stingers and especially to allow modesty.
Choice remember is not choice when you when you strip their points away... that's not choice. That disqualification. Disqualification is not a choice. You are trying to mislead us lying when you tell us that you are giving us choice.
P Johnson
Minimalist
I agree with your position on the illegal cossies. I disagree with Steve Hall's position.
Keep it simple, only budgie smugglers to be worn (and equivalent for females) if you want points for the FOS. It keeps Ocean swimming completely inclusive, basic, affordable and the playing field, level. It sets a standard that is minimalist and pure. I believe most will agree that this is the easiest way to maintain equal opportunity for all. You cannot make exceptions as there are too many variations as you pointed out.
Keep up the good work!
Alan
Off to BoP
I've been doing tris for years ... Only once was water temp above 25C and in that one and only race was I middle of the pack. With wetsuit legal races, I'm back of the pack (have always worn a traditional cos.) Of course it makes a difference!!
I agree that illegal cossies should remain as such if anyone wants to race. If the participant wants to wear an illegal or wetsuit - then that's what the back of the pack wave is for (which should be avail for every ocean swim). I've seen age groupers wearing wetties in ocean swims that I've participated in and it is what it is and that's called cheating. I don't know the advantages from jammers and fastskins but assume it's similar.
Besides, what is a more beautiful feeling than being immersed in the ocean with almost nothing except you and the sea ...
Sandy
Two contests
If you can swim in a cossie go for it I say. Create 2 comps like they do in Vic one for wetties & one for newds. Personally I get to chilled so I choose the swims carefully that I do newd and wear a wettie for the others. I'm not out to win just to enjoy the swim, the bay the ocean & the camaraderie.
Peter
(Vic swimmer)
Bad hierarchy
What a lot of none sense..... people want to enjoy their experience in the ocean; not have to worry whether or not their swimmers are acceptable to the hierarchy. More of an issue in the pool perhaps!
Col McCarthy
Flexibility
I get your point about the budgie smugglers and the comparison to triathlons.
I do ocean swims and triathlons and it's quite disheartening being a competent swimmer and coming out of the water in the top 20% of the field only to get off the bike in the bottom 20% of the field because I haven't spent over $3000 on a bike only to pass a good number of the field again in the run leg because it comes down to physical fitness/ability not expensive equipment.
I think there could be some flexibility in the swimwear and over time I think you'll find yourself more and more in the minority (I swim in budgie smugglers by the way). My kids do nippers (both are under 10) and the majority of boys wear bike pants more for fashion than a competitive edge.
I don't know enough about the technology but I also think the absolute majority of swimmers are swimming against themselves, not to win the race or for trophies and a bit more flexibility re swimwear would be reasonable.
I think banning wetsuits is a fair and simple rule to enforce or even creating a separate category for wetsuits. As for other swimwear, I don't really care. Over a 2k swim, if you're a slightly slower swimmer than someone else, a pair of bike pants aren't going to make any difference.
Steve
Order
Rules are rules. All sports (and businesses for that matter) have their own rules. If you don't want to play by the rules, don't play. Simple!!!
Margaret
---
Don't mention the S-word
Read our reports from last weekend's swims, when Nobbys-Newcastle organiser Lee Howes earned the Awgie of the Year Award, and Bondi went off without a hitch. Sadly, at The Big Bay Swim in Melbourne, a swimmer died, apparently of a heart attack, near the finish... Click here
---
Swims open to online entry on oceanswims.com...
Caves Beach (Sat, Feb 28)... Click here
Evans Head (Sun, Mar 1)... Click here
Freshwater (Sun, Mar 1)... Click here
Port Noarlunga (Mon, Mar 9)... Click here
Jervis Bay (Sun, March 15)... Click here
Fingal Bay (Sun, Mar 22)... Click here
Balmoral (Sun, Mar 22)... Click here
Stanwell Park (Sun, Mar 22)... Click here
Wollongong (Sat, Mar 28)... Click here
Forster (Sun, Mar 29)... Click here
Terrigal (Easter Sat, Apr 4)... Click here
Queenscliff (Sun, Apr 5)... Click here
Copeton Waters (Inverell, Apr 11)... Click here
Mollymook (Sat, April 11)... Click here
Shellharbour (Sun, Apr 12)... Click here
Coogee (Sun, Apr 12)... Click here
Black Head (Sun, Apr 19)... Click here
South Head (Sun, May 17)... Click here
Vanuatu (June 6 and 10)... Click here
Mona Vale (Sun, June 21)... Click here
Mana Fiji (Thu-Sat, Oct 15-17)... Click here
Coming soon... South West Rocks (Sun, Mar 22), North Steyne (Sat, Mar 28)
---
Late breaking news on today's swims...
It's swim day, and you want to know... Is the swim on or off?
We tweet all our latest news, especially on swim day. Follow us through our handle @oceanswims.
Our Twitter feed also loads on to oceanswims.com. Click the Twitter banner near the top of our home page. Or check the ticker of our latest tweets near the bottom of the home page.
If an affected swim asks us, we will also send an SMS to all online entrants.
And we post late-breaking news in the Stop Press box near the top of our home page on oceanswims.com
Mobile phone numbers
When we are informed of swim cancellations and postponements, we like to send an SMS to entrants letting them know, provided the swim awgie wants this. But we can send an SMS only to swimmers who leave valid mobile numbers with their online entries. Landlines won't do, and neither will those silly mobile numbers that some entrants leave with an international prefix (eg +61). That renders the mobile number inoperative for SMS purposes. Why anyone would think we'd be sending them an SMS from some foreign country is beyond us. So if you want to be informed about postponements and cancellations, do yourself a favrour and leave a valid mobile number.
---
Online entries of U18 swimmers
As we all know, online entries of swimmers under the age of 18 must be done with the consent of a responsible parent or guardian. Sometimes, the "responsible" parent or guardian evidently leaves it to the minor to enter online, and too often, the parental consent field in the online entry form is left containing only a phone number or maybe even only a first name.
This is not enough. It does not constitute parent's or guardian's consent.
For a minor's entry to be valid, it must contain the full name and the phone number of the parent or guardian. Leaving it to the kids, evidently unsupervised, is not good enough. Some parents have found this to their cost when their child has messed up their entries. One child recently entered four times in the space of six minutes, with four payments for the one event. We refund, but there's an admin fee attaching to refunds (the bank charges us for every transaction) and it can be costly.
Best if parents take responsibility themselves and make sure the entry is done correctly in the first place.
The child's entry will not be accepted unless and until the parental/guardian consent is valid.
---
Not getting our newsletters?
If you expect to receive our newsletters, but they're not turning up, or you know someone who isn't getting theirs, chances are they're being diverted into your Spam or Trash folders. Some ISPs put them in there because they think they're spam. Gmail does this sometimes, as does Hotmail, Optus, etc, and some of the larger business houses. So check your Spam and Trash folders. Often, that's where you'll find them.
You could also put oceanswims.com on your White List of approved email senders. You should be able to set up a white list by logging into your system settings.
---
Subscribe/Unsubscribe
If you don't wish to receive our newsletters, just let us know. Click the link below. Please tell us your name and the email address at which you're receiving our newsletters now. And tell us the name under which you're listed. You'd be surprised at how often someone asks to have their listing removed, but they give us a different email address and they've changed their name. If you don't tell us these details, we can't find you.... Click here
If you know someone who would like to receive our email newsletters... Click her