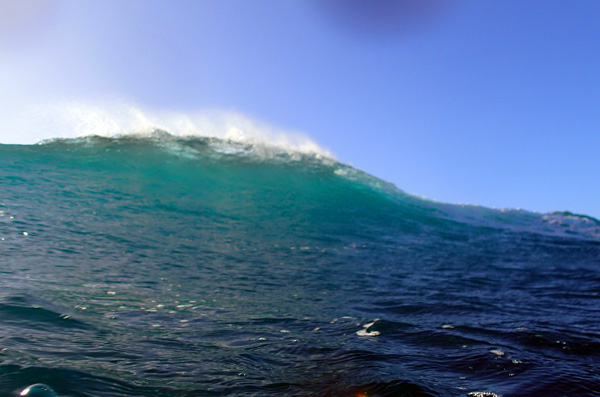 A peak at Waimea Bay, up close and personal.
Living in a child's dream
Since we were little children, our Holy Grail, our Mecca, has been the North Shore of Oahu, Hawaii's main island. That's where the real surf is. We grew up on a diet of Surfing World and Surfabout, our hunger building to a craving until each issue lobbed at Stamm's, the Swansea newsagents, with their reports from Sunset Beach, Banzai Pipeline, Makaha, and the biggest daddy of 'em all, Waimea Bay.
Reports of Bob Pike breaking his collarbone at Pipeline added a human dimension to something that otherwise remained the stuff of fantasy. Greg Noll standing on the beach at Waimea with his 12' gun, his horizontal striped black and white boardies, his motif, stark against the towering sea (some bloke sunning himself on Waimea Beach on Mondee was wearing Greg Noll boardies, but it wasn't Greg).
We got there this week, 45 years later, give or take half a decade. We holidayed for a week on Maui, then for two days on Oahu's North Shore. Living a dream.
And the gods smiled on us. Our arrival coincided with the biggest surf in years. Sun'dee, it was big, big, rising towards 25', the weather reports said, but largely blown out by a howling sou'-wester. The weather reports said Waimea Bay would reach its peak around 2pm. We spent the day cruising from Sunset to Pipeline then on to Waimea, then back to Sunset... Our entire day was scheduled around being at Waimea at 2pm.
While the breeze blew hard, it was one perfect day: cloudless, the wind across the swell, sometimes and some places slightly offshore. Sunset and Pipeline a couple of kilometres along the coast were unrideable. But Waimea... This swell was made for Waimea.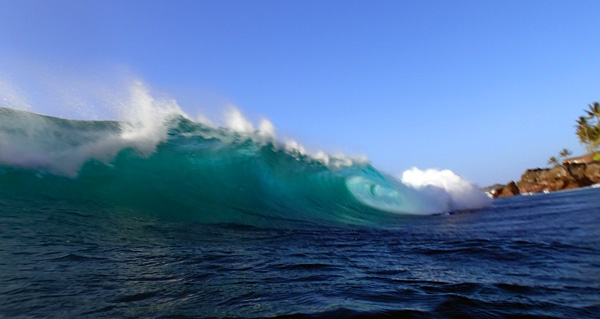 The point at Waimea Bay, the afternoon after the afternoon before.
And the lads and ladesses were out.
The weather reports had predicted surf of 25 feet.
We sat on the beach at Waimea as a peloton of about 30 boardies bobbed around the break about 250m offshore. It was big. Oh yes, it was big. But from our vantage point on the beach, we didn't think it seemed all that big. Certainly not 25'. You judge things such as wave heights from a distance by how many standing surfers it takes to make up the face of a wave. We'd have thought, even allowing for their crouch, that it was probably 15-18 feet, maybe 20. Much bigger than anything we'd ever seen, and certainly a factor or two greater than anything we'd ever ridden as little teenagers. But certainly not 25'.
And the rides, the rides... Such a drop, a steep, startling drop, but the rides were just a drop, maybe a turn, then a petering shoulder. Or a drop already on the angle, to the right, then the petering shoulder. They weren't long rides, and they weren't rides that offered a face, a barrel, or much opportunity to manoeuvre.
We marveled at the size, all the same, at the louche ease with which the boardies slid onto them, vertically, at the marvelous consistency of the swell, which seemed to just keep coming, wave after wave, set after set, every now and again one set a bit bigger than the rest.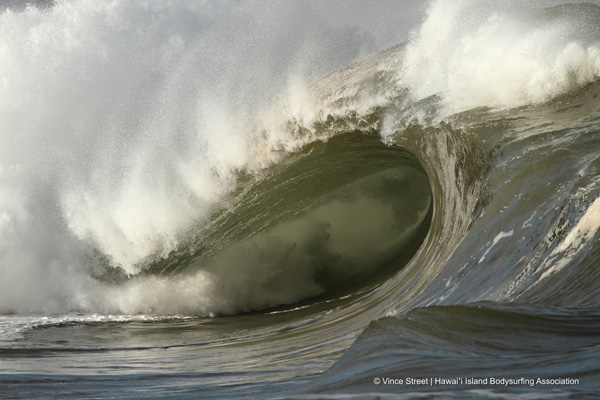 We trembled at the feared Waimea shorebreak. This isn't quite it (above), but it's close to the one that struck us from the pages of the surfing magazines when we were kids. All surfers have seen that pic of the Waimea shorebreak.
The shorebreak is more fearsome than the offshore break. It's absolutely stunning, the sets rolling in and, suddenly striking shallow water, a 15' wave rears up and just dumps down at once along the entire length of the beach. Mesmerising. Sobering. Frightening.
Waimea doesn't break until it reaches 10', we were told by Chris Gardner, who organises a series of swims along the North Shore over summer, when there's barely a ripple. Less than 10', it might break along the point. From 10', when it gets bigger, as on Sunday, it breaks on a deeper reef about 75m farther out and 50m farther across. The bottom on that reef is consistent, so the break is, too, governed by the size of the swell, the wind and the tide.
We fantasised about going out that day, not to surf but to swim out to the outer break with our Brownie Starflash-in-a-plastic bag, just to bob around off to the side of the break, where photographers bobbed, just to get a feel for what it's like, and maybe a pitcher or two.
Yes, it was a fantasy. We watched the shorebreak... We watched how the boardies entered the water in Waimea's eastern corner, through a minefield of boulders, mollifying the shorebreak and where the broken swells had run all the way in from the outer reef. Getting out at that spot didn't look hard, and the rip accelerated their passage to sea.
Coming back was relatively easy there, too. But the rips were terrible that day, my friends, and with no experience of the break, we weren't sure how they played out behind the shorebreak. Photographers have fins; we had none (we'd flown to Hawai'i with Jetstar luggage restrictions) and we reckoned, without fins, it could be problematic, not to mention reckless, to go out in that.
So we didn't.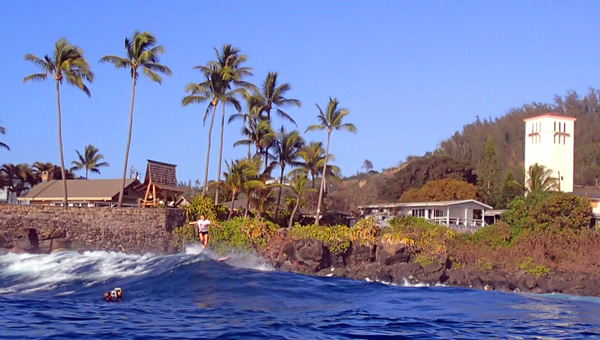 Next day: the swell had dropped, but when we drove along the Kam Highway there was a good posse of boardies on the point. We were heading to Sunset, at the far eastern end of the North Shore surf strip, and we made a mental note: When we come back this time, we're going out.
We didn't make it back to Waimea until late afternoon. The swell had dropped even more, and there were just three punters off the point in a 4-6' swell. Two of them were on boards; the third was filming them. So out we went.
Bravely, we set out from the middle of the beach through a shorebreak that was by then about 1/10 the size of the day before. It was like an easy day at Bilgola. Under a couple of minor dumps, into the deeper water, and we swam easily, equipped with gogs, cap, and the Brownie Starflash, towards the point, where we sat, bob, bob, bobbing for about half an hour, taking pitchers as the opportunity arose.
We took a pano of the bay from the sea. It didn't come out. The sea was still so high that, as we got to the pano's second and third frames, the swells rolling through changed the perspective to distort the knits between frames.
The surfers were a bloke and a girl. Each of them greeted us warmly, like cobbers, remarking on the quality of the day, revelling in it, like we were all part of the same club. We didn't expect that, us in our lime green oceanswimsafaris.com swim cap and our View Platina prescription gogs. They were very welcoming.
We shot a peak as it broke over our head, gently today, not with the anger of yesterday, although it still towered over us. From far away, we captured the girl as she shot out of the shoulder of a wave with such speed that she was left hanging in the air momentarily, dancing brisé like a ballerina as her feet suddenly found themselves with nothing beneath them.
We mooched a bit; we checked out the reef below; we sidled over closer to the break; we bobbed around. Then we swam back into shore, and we captured a few of the 1/10-size shorebreaks, today just pale imitations of yesterday's monsters.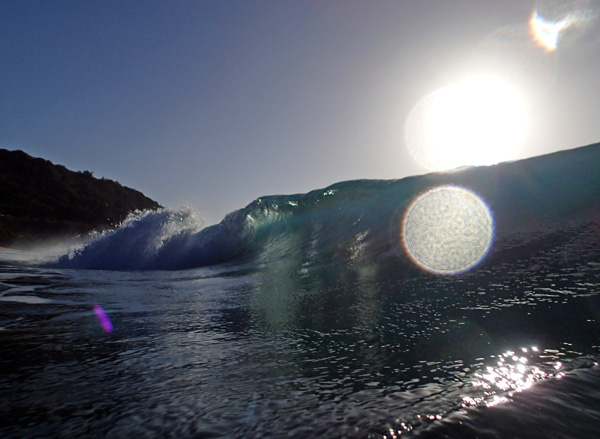 Waimea shorebreak, slightly less fearsome.
The day of the big sea, we asked a lifeguard how big he thought it was.
"Well, on the Hawaiian scale it's 25' with a 40' face," he said. "How big do you want it to be? It could be anything..." He was alluding to units of measurement.
Swell this size might come in twice a year, he said, or it may not come in at all. Sometimes, they'd gone seven years between breaks like this.
At Sunset on Monday, we asked the lifeguard over there how big he reckoned it had been. "Oh, 30 feet," he said. No ambiguity there.
Another remarkable aspect of Oahu's North Shore is that it's hardly developed (the loos are still connected to septic tanks, in the world's most affluent nation), and the parking is free. On days like these, a Sunday followed by the President's Day public holiday Monday, the Kam Highway is like a parking lot, bumper to bumper with surf pervs from the south shore out for a voyeuristic drive.
At Waimea, we came out of the water, we rinsed ourselves off under the outdoor shower, and we changed in the sheds. As we left, a voice back inside the sheds called, "Oh, sir... Excuse me, sir..." We turned on our heels as a bloke came around the corner of the shed, chasing us, holding up our straw hat, which we'd left on a peg in the change room.
Four days on now, it's all a bit dreamy. Did we really swim Waimea? Next time, we'll have fins, and we'll go out in bigger stuff. Next time, we'll have the experience of this time behind us, and we'll know the place a little better. Next time...
We'll tell you something about next time: it won't be 45 years from now.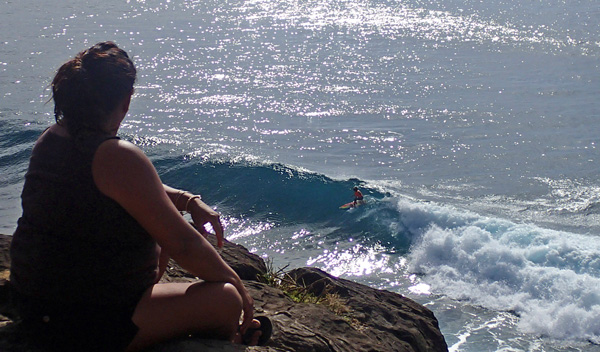 Mum watches her son at Honolua Bay on Maui. True story. The lad, we were told, is the US U12 champ. Mum was very proud, but she was making sure he was home in time for homework. Before this wave, she'd signalled to him, one more wave. He certainly surfed like a champ.
---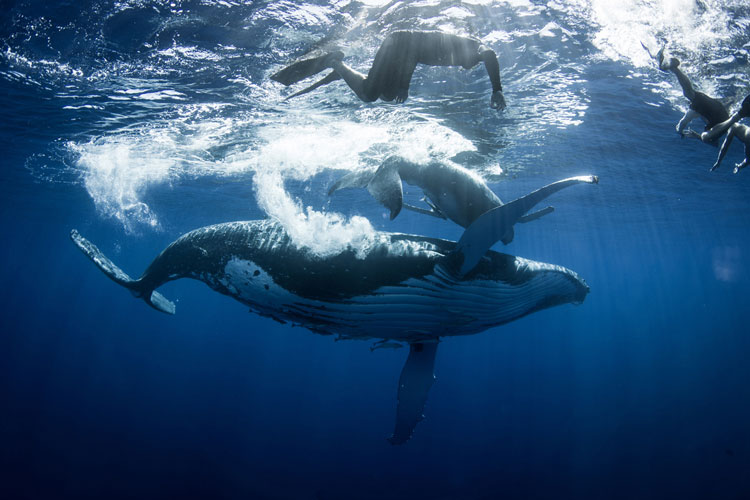 In Tonga, boats must stay 100m from whales, but swimmers may get close up. (File pic)
Swim with the whales in Tonga
Tonga is one of the few places in the world where it's possible, and legal, to get into the water to swim with whales, which (who?) migrate to the islands to breed in the winter. Come with us in July 2015 on a week-long oceanswimsafari to Vava'u where we'll swim from island to island, across reefs, and we'll go looking for humpback whales to swim with.
We're working with travel company, Dive Adventures, to bring you this oceanswimsafari that involves four days of swimming the waters around the Vava'u group of islands, Tonga's "second" island group, and a day out with the whales.
For info about our first inaugural Tonga Whales oceanswimsafari -- and about all our oceanswimsafaris in 2015... Click here
---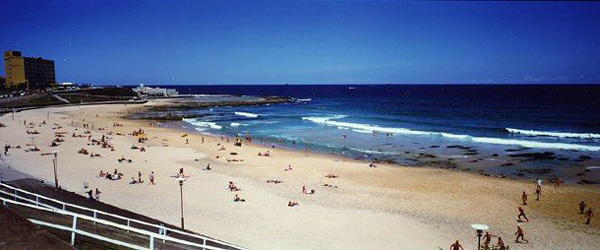 fos series in NSW, NZ this Sundee, but swell coming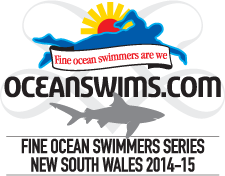 Two rounds of the fine ocean swimmers series this weekend, one in NSW, the other in NZ. And a big weekend overall, with one of the biggies, Rottnest Channel, happening on Sat'dee in the ocean off Cottesloe. Newcastle hopes to get its swim from Nobbys off the beach. We hope it does and we expect to know one way or another this afternoon (Fridee). It's one of our fave courses. But there are dark clouds, and rising swell, looming over the eastern states... Bondi says they'll make a decision by 2pm Sat'dee.
Let's not forget, though: we face nothing like the conditions of our siblings on the Central Queensland Coast and the Northern Territory right now. Our thoughts are with them.
Sat, Feb 21 - Nobbys-Newcastle e (NSW), Mooloolaba - POSTPONED (Qld), Auckland (NZ), Rottnest Channel (WA), Half Moon Bay (Vic)
Sun, Feb 15 - Bondi e (fos series, NSW), Red Beach (fos series, NZ), South Melbourne (Vic)
We're taking online entries to Nobbys-Newcastle on Sat'dee, and to Bondi, in Sydney's eastern suburbs, on Sundee.
Entrants to both these swims need to watch conditions carefully in the lead up. Seas are predicted on both days of the weekend, and if they transpire as they're forecast, then we may be looking postponements or cancellations. That's what happens in ocean swimming, of course. That said, as forecasts roll in, conditions may not be as heavy as initially predicted. There's cause for optimism.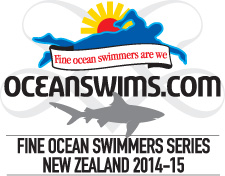 Nobbys-Newcastle follows the rock platform from the beach beneath the lighthouse at the entrance to Newcastle Harbour, around the Newcastle Ocean Baths, where we swam as littlies with the Newcastle Police Boys Amateur Swimming Club, afterwards, each Sat'dee morning, gorging ourselves on pluto pups dripping with tomato sauce. The swim skirts the baths and comes into Newcastle Beach (above). It's a beautiful course.
Newcastle organisers hope to make a call one way or the other on Friday afternoon. Swell is forecast at the moment to be around 2m at swim start time, although coastalwatch.com interprets this as a bit over a metre on the beach. If this proves accurate, there should be no problems. Keep your eye on oceanswims.com for updates. And watch magicseaweed.com, seabreeze.com.au, and coastalwatch.com.
We're aiming to keep online entries open until after the scheduled close (see below), if the decision is to go ahead. This is to allow you more time to enter if the decision is to go. Keep your eye on oceanswims.com, our Stop Press section at the top of our home page, and our Twitter feed.
Online entries to Nobbys-Newcastle close at 3pm Friday, February 20... Click here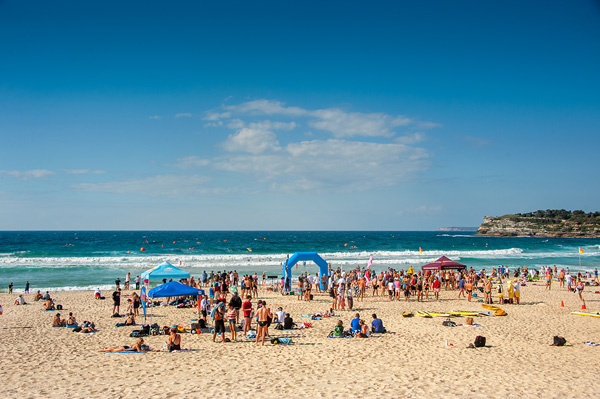 The Bondi Bluewater Challenge on Sunday is also Round 6 in our fine ocean swimmers series NSW. Two distances: 1km and 2.1km in circuits from the centre of Bondi Beach. This season, there's a new event for younger and new swimmers, a 500m swim with two categories, 9-12 years and 13+. It would be a terrific event for less experienced and younger swimmers to get a taste for ocean swimming, and for experienced swimmers to warm up for the longer events.
Ditto, pretty well, for our caution regarding Nobbys-Newcastle, although the swell on Sunday is expected to be up, whereas on Saturday it's still rising. The forecast websites are predicting swell on the beach of a bit over 2m from the SSE, which would bring it into Bondi, although some later forecasts have the swell lower than first thought. Things may be ok there, too. Check magicseaweed.com, seabreeze.com.au, and coastalwatch.com. That said, swell forecasts are fluid, as it were. Forecast now is dropping and swinging around to east-nor'-east, which may be good for south-facing Bondi.
If necessary, we will attempt to keep online entries open later than the scheduled close, if need be. As with Nobbys-Newcastle, check our Stop Press section and our Twitter feed.
The latest from Bondi is that organisers expect to make a decision by 2pm Sat'dee. If they postpone, they have a postponement date in mind on March 8, but that depends on a range of suppliers and services being available. We'll let you know as soon as we know.
Online entries to the Bondi Bluewater Challenge close at 3pm on Saturday, February 21... Click here
Across the Lake cancelled
In news of other NSW swims, awgies have cancelled the Across the Lake Swim, in Lake Macquarie scheduled for March 21, due to concerns about "the activity of marine life" (sharks) and advice from waterways authorities. The organisers are offering entry into next year's swim, their 56th, or a full refund of this year's entry fee. This will come from the organisers, not from oceanswims.com.
A statement from the organisers says, inter alia:
"Swansea Belmont Surf Life Saving Club Across the Lake Swim Committee along with the Swansea Belmont SLSC Directors have decided to cancel the 2015 Swansea Belmont SLSC Across the Lake Swim, scheduled for Saturday, 21st March 2015.
The cancellation is due to advice we have received of unprecedented activity of marine life within Lake Macquarie, off the Newcastle coast and through Swansea Channel.
The swim will not be held in 2015 but will return in 2016 for our 56th swim, date to be advised.
Swansea Belmont SLSC Across the Lake Swim committee have decided to take the necessary precautions due to recent marine activity and cancel the event for 2015. As lifesavers we are committed to maintaining a safe environment for the public. The safety of our competitors and water personnel is of utmost importance."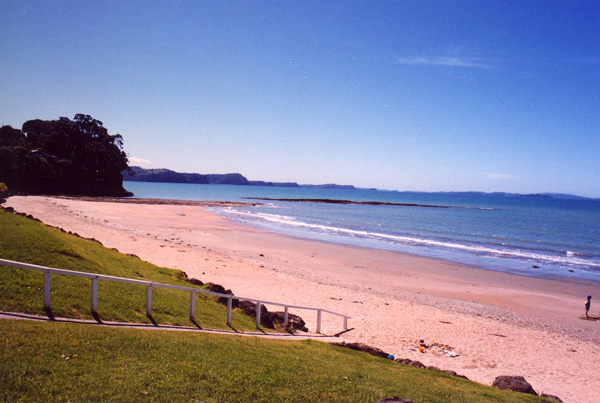 In New Zealand, Red Beach (above) runs on Sundee, Round 3 in our fine ocean swimmers series NZ. Two distances, 1.5km and 3km over a 1.5km course from the front of the Red Beach SLSC. See below for more details of the fine ocean swimmers series. Everyone who takes part in the longer swim will earn points in the series. Find out more... Click here
---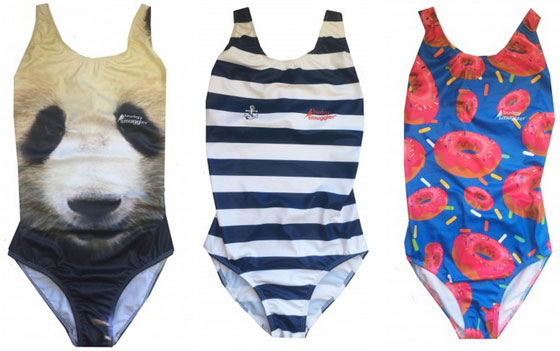 New budgys for laydees

A message from our cobbers at budgysmuggler.com.au...
Following some gentle encouragement from the team at oceanswims.com, Budgy Smuggler has now considerably expanded our women's one piece range to include the Fully Krispy Dremes, Pandamodiums and the Fully Sailor Striped amongst several other fun designs.
Click here to check them out at our website.
---
fine ocean swimmers rounds NSW, NZ this Sundee

Bondi this Sundee -- the longer swim, 2.1km -- is Round 6 in the fine ocean swimmers series NSW. All swimmers who finish the swim will earn points in the series, provided they're wearing "legal" cossies. There'll be random draws of a voucher from budgysmuggler.com.au and NSW Masters Swimming membership from all online entrants who also finish the swim.
In New Zealand, Red Beach this Sundee is Round 3 in the fine ocean swimmers series NZ. Same deal, except that the giveaway at Red Beach is just tyhe budgysmugglervoucher, which we're asking to be drawn at random from all finishers.
Remember, to qualify for points in the series, you must wear conventional cossies only: no fastskins, no jammers, no full body suits, no wetties. We try to police this rule, but we also rely on information from punters. Please feel free to dob... Click here
See our fine ocean swimmers series page for more info... Click here
---
Swims open to online entry on oceanswims.com...
Nobbys-Newcastle (Sat, Feb 21)... Click here
Bondi (Sun, Feb 22)... Click here
Caves Beach (Sat, Feb 28)... Click here
Evans Head (Sun, Mar 1)... Click here
Freshwater (Sun, Mar 1)... Click here
Port Noarlunga (Mon, Mar 9)... Click here
Jervis Bay (Sun, March 15)... Click here
Fingal Bay (Sun, Mar 22)... Click here
Balmoral (Sun, Mar 22)... Click here
Stanwell Park (Sun, Mar 22)... Click here
Wollongong (Sat, Mar 28)... Click here
Forster (Sun, Mar 29)... Click here
Terrigal (Easter Sat, Apr 4)... Click here
Queenscliff (Sun, Apr 5)... Click here
Copeton Waters (Inverell, Apr 11)... Click here
Mollymook (Sat, April 11)... Click here
Shellharbour (Sun, Apr 12)... Click here
Coogee (Sun, Apr 12)... Click here
Black Head (Sun, Apr 19)... Click here
South Head (Sun, May 17)... Click here
Vanuatu (June 6 and 10)... Click here
Mona Vale (Sun, June 21)... Click here
Mana Fiji (Thu-Sat, Oct 15-17)... Click here
Coming soon... South West Rocks (Sun, Mar 22), North Steyne (Sat, Mar 28)
---
Late breaking news on today's swims...
It's swim day, and you want to know... Is the swim on or off?
We tweet all our latest news, especially on swim day. Follow us through our handle @oceanswims.
Our Twitter feed also loads on to oceanswims.com. Click the Twitter banner near the top of our home page. Or check the ticker of our latest tweets near the bottom of the home page.
If an affected swim asks us, we will also send an SMS to all online entrants.
And we post late-breaking news in the Stop Press box near the top of our home page on oceanswims.com
Mobile phone numbers
When we are informed of swim cancellations and postponements, we like to send an SMS to entrants letting them know, provided the swim awgie wants this. But we can send an SMS only to swimmers who leave valid mobile numbers with their online entries. Landlines won't do, and neither will those silly mobile numbers that some entrants leave with an international prefix (eg +61). That renders the mobile number inoperative for SMS purposes. Why anyone would think we'd be sending them an SMS from some foreign country is beyond us. So if you want to be informed about postponements and cancellations, do yourself a favrour and leave a valid mobile number.
---
Online entries of U18 swimmers
As we all know, online entries of swimmers under the age of 18 must be done with the consent of a responsible parent or guardian. Sometimes, the "responsible" parent or guardian evidently leaves it to the minor to enter online, and too often, the parental consent field in the online entry form is left containing only a phone number or maybe even only a first name.
This is not enough. It does not constitute parent's or guardian's consent.
For a minor's entry to be valid, it must contain the full name and the phone number of the parent or guardian. Leaving it to the kids, evidently unsupervised, is not good enough. Some parents have found this to their cost when their child has messed up their entries. One child recently entered four times in the space of six minutes, with four payments for the one event. We refund, but there's an admin fee attaching to refunds (the bank charges us for every transaction) and it can be costly.
Best if parents take responsibility themselves and make sure the entry is done correctly in the first place.
The child's entry will not be accepted unless and until the parental/guardian consent is valid.
---
Not getting our newsletters?
If you expect to receive our newsletters, but they're not turning up, or you know someone who isn't getting theirs, chances are they're being diverted into your Spam or Trash folders. Some ISPs put them in there because they think they're spam. Gmail does this sometimes, as does Hotmail, Optus, etc, and some of the larger business houses. So check your Spam and Trash folders. Often, that's where you'll find them.
You could also put oceanswims.com on your White List of approved email senders. You should be able to set up a white list by logging into your system settings.
---
Subscribe/Unsubscribe
If you don't wish to receive our newsletters, just let us know. Click the link below. Please tell us your name and the email address at which you're receiving our newsletters now. And tell us the name under which you're listed. You'd be surprised at how often someone asks to have their listing removed, but they give us a different email address and they've changed their name. If you don't tell us these details, we can't find you.... Click here
If you know someone who would like to receive our email newsletters... Click here