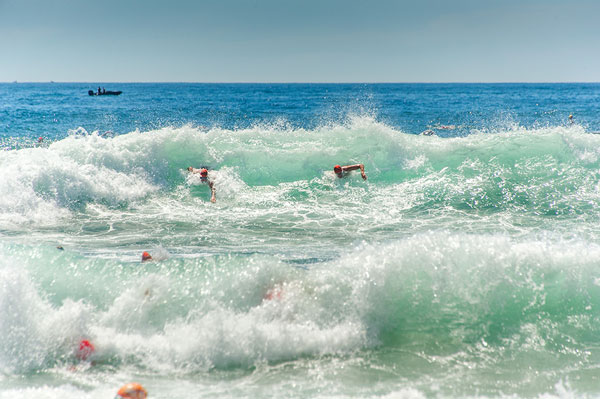 Dealing with panic attacks
Aquagirl's top tips
Rachael from the twitter verse threw up an interesting question this week regarding panic attacks: "Any tips on embracing the mid-race panic attacks? What can you do to get through it?"
Panic attacks could happen at any time, in training or when racing, getting in the water, running out at the end or smack in the middle of business. So why do we have them and what can we do about them?
Our bodies have the incredible instinct of the fight or flight mechanism, a natural, innate response that occurs when we find ourselves in a situation when we are acutely overstimulated. Open water swimming races are the perfect scenario for this to occur. In fact, the very conditions or combinations of conditions that we face when we open water swim are also the very draw cards that lure us this sport in the first place. The excitement, the exhilaration, the frenzy that we find ourselves in, the unpredictable nature of each race, the beach, the new location; these all make our sport fresh and new every time we enter the water.
These can also be counterbalanced by the hypnotic rise and fall of the water, the marine life that distracts us, the fun of being with friends, the competition, the solitude we feel while stroking away, etc. But for some, put these all together in one melting pot, or add in some unpredictable factors that we can't control, and the panic attack swoops in from nowhere and paralyses us in a possibly life-threatening situation.
So what exactly could tip the scales and bring this on?
For some, it's the new environment, vastly different from a pool or your regular training ground.
Wind can be an open water swimmers worst nightmare: it stirs up the waves and the swell. The temperature, particularly cold water, can shock your body and send your heart into overdrive. Speaking of overdrive, that rapidly increased heart rate at the start of a race can increase breathing and cause much stress. Add the restriction of a tight wetsuit and you have a perfect recipe for that heavy, suffocating feeling. This restriction can be overwhelming.
Overcrowded water and the cage fighting for space in the water, the odd kick or shove or toe tap messes with a person's mind. Poor navigation and lack of familiarity of the race course, that sudden disoriented feeling of being lost, or alone or caught in over powering water. Fatigue or fighting against your body and that voice in your head that all of a sudden just screams at you, "I CAN'T DO THIS!" Unexpected marine life like jelly fish, getting stung or swallowing large gulps of water...
Every single one of these plus loads more can tip any swimmer's stress levels over the top and bring on that gasping, out of control feeling that grips you from the insides. So, let's try to "embrace these", as Rachael put it so beautifully.
The faster you can ascertain what's bringing on the stress, the faster you can "get through it". First, breathe slowly, draw in big long ones and take a moment. Slow... it... down, but keep on gently swimming. When we're stressed, we tend to act quickly. It's the adrenalin talking. Try to curb it a little; harness it. Stroke slowly but long. Rein it in. Block out the noise around you and take it inside for five seconds. Find your inner voice. Listen to it quietly, and ask yourself simply, "What's up?" Straight away listen to the fearful answer that your inner self you tells you. Act on it now. If it's about being crowded, move out of the way of others and remove yourself from the chaos. Keep the breathing slow. Starting at the back of the pack may lose you a little time in the race, but it may give you clearer water without a panic attack kicking in, in the middle of your event.
The warm up swim is important before the race, even if it's just a small one. Try to read the water and decide how it's behaving. Watch other swimmers around you. Are they drifting out? Being pushed back in? Are there rips? Where are the waves breaking? Are the buoys pulling in one specific direction? This is all advantageous to your race and your coping strategies. Acclimatise to the water temperature. Wear a wetsuit if you feel the cold or just need the reassurance of extra buoyancy but be aware that when you heat up, it can feel tighter and restricting.
Find a swim buddy, talk to others on the beach who have swum there before. If you can't find anyone, look for the life savers or water safety: they should be experts at reading this beach. Swimming with someone is always reassuring. If you need to draft for some time to get yourself together, do it. At this point, it's all about survival not results.
Look for landmarks; pay attention to the course map; ask the water safety out there for directions (that's their job). For that matter, hang on to the water safety craft until you feel calm again.
Waves and swell: we can't control them but we can read them and use them to advantage. Rather than hope that the waves will change for us, we need to change for the waves and swell. Feel for the rhythm, for the rise and fall. On the crest or height of the swell, look ahead and sight your landmarks and buoys. Breathe on the opposite side to avoid drinking the salt water. Think of it as a drum beat to dance to: cha-cha-cha your way around the race.
I'll admit I'm no fan of jellyfish. In fact, I'm more afraid of them than sharks. They wig me out A LOT. What could motivate you more to swim faster than to get out of their way? If there are a lot around, try scooping them out of your way so they don't brush over the rest of your body, provided they're not the really nasty (stinger) type. Most will give a little tickle, just enough to let you know they're there. If it gets any worse, there's always the wave to the lifesavers to assist in removing you from the course if you just can't handle it. Personally, I'd rather not let a lump of jelly beat me on the day. It's mind over matter at its best.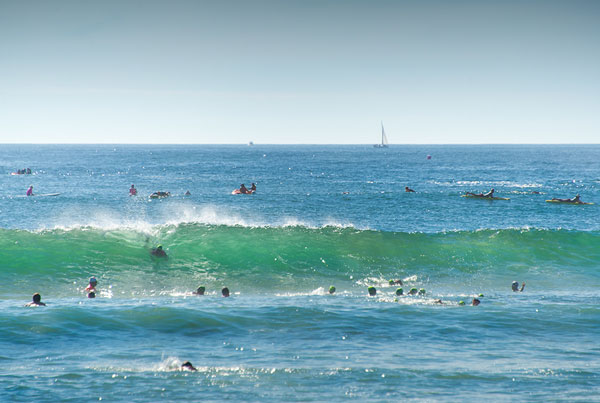 For the complete Glistening Dave photo essay from The Big Swim... Click here
Break the race down into compartments. Tick them off or close the lids as you go. Ask yourself, "How much worse can it get?" Fist pump the little things: you've gotten this far; you're already this part of the way through the race; it's not really too bad; this is kind of exciting; imagine the stories I can tell other people when I get back onto the beach, etc. Look for the positives: no dwelling on the negatives.
Think about what you do of an evening to unwind and sleep. Some people count sheep, deep-breathe, take their mind to a happy place. Do it now to change the balance from out of control, to in control.
Mantras: they work for some. Mine is "Strength in every stroke". Say it over and over again until it feels like you're on autopilot. If you need to get tough with yourself and take yourself into the room of mirrors to have a good hard look at yourself, try a flat out, "Stopping is not an option... Stopping is not an option".
Train in the conditions you're racing in. Marathon runners don't just run on tracks. Cyclists don't just train in velodromes. Ocean swimmers don't just swim in pools. They are vastly, vastly different. The times you do in pools also vary incredibly from those you will do in an ocean swimming race. Also make sure you can swim the distance of the race... and some. Mother Nature is excellent at sapping your energy. You always need extra in the tank when you're swimming in her back yard. Find a group of like-minded swimmers to train with. They'll surely be a wealth of information and a wonderful security blanket if you need them.
Writing a training/racing journal is also important. Mark down the location of the swim, the temperature both in the water and out, how you were feeling before the race, what you ate the night before and what you had for breakfast. These all are excellent elements to note down. Reflect on the race and look for patterns comparing them to others. Give yourself a rating out of five for bravery. Note down what you did to get yourself through the tough moments.
Look at the big picture. If all races were the same, calm, peaceful, flat, etc, and, well, "uneventful", we'd be bored. Look for the variations from one race to another and celebrate the differences. After all, that's the beauty of open water swimming. You can swim at the same stretch of water day after day and feel like it's a new experience every time. It's one of the gifts our sport gives us.
I hope all of these thoughts and ideas give Rachel and other newbies to the sport some valuable ideas that can help you enjoy this sport for all it's worth. Once these little hiccoughs are ironed out, you'll surely enjoy a long and prosperous time in the sport right until you're a ripe old age of "fossil".
Here's hoping for many, many more years to come in this amazing sport, panic free.
Nicole Chester
@AquaGirl72
---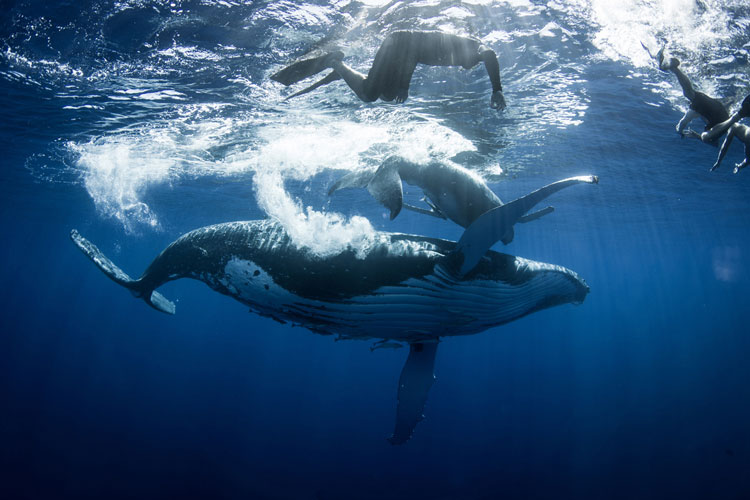 In Tonga, boats must stay 100m from whales, but swimmers may get close up. (File pic)

Swim with the whales in Tonga
Tonga is one of the few places in the world where it's possible, and legal, to get into the water to swim with whales, which (who?) migrate to the islands to breed in the winter. Come with us in July 2015 on a week-long oceanswimsafari to Vava'u where we'll swim from island to island, across reefs, and we'll go looking for humpback whales to swim with.
We're working with travel company, Dive Adventures, to bring you this oceanswimsafari that involves four days of swimming the waters around the Vava'u group of islands, Tonga's "second" island group, and a day out with the whales.
For info about our first inaugural Tonga Whales oceanswimsafari -- and about all our oceanswimsafaris in 2015... Click here
---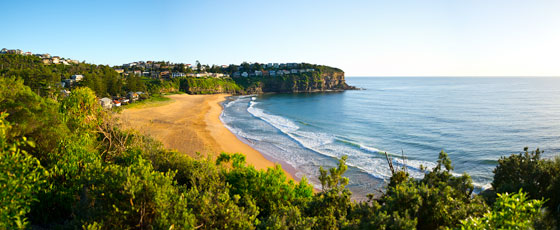 Billie faces seas, again
Sat, Jan 31 - Bilgola (NSW, fos series), Burnie (Tas), Noosa (Qld), Queenscliff (Vic)
Sun, Feb 1 - Manly (NSW), Brighton (SA), Perth (WA)
Oh Billie, what have you done wrong...? As we write, we've just been looking at the swell forecast for the weekend, and it ain't pretty. According to Willy Weather, swell around swim start time on Sat'dee morn is forecast to be around 3.6m offshore, and c. 2.2m on the beach, according to Hurley Surf. Mind you, magicseaweed.com predicts surf c. 1.2m, and seabreeze.com.au expects a break of 2.6m. How can they all be right? They're also predicting an offshore breeze, so it should be spectacular, and glorious if you manage to get out through it, if chunderous.
Tide will be dropping. Swim start (9am for the first event at Billie), will be close to half tide, and 10am and beyond is well towards the bottom.
The sharper amongst you will be aware that Billie's original date was December 14, when heavy seas forced postponement to this Sat'dee. And those of you with memories will recall Billie's December date in 2013 was abandoned due to seas, and its postponement date was touch and go, with one of the wildest storms in ocean swimming memory blowing through as the stragglers came home. Don't tell us that the climate isn't changing.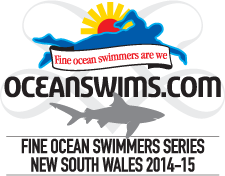 The Billie awgies are on to all of this, of course. They're keeping forecasts and actuality under constant watch. If you know Billie, you will know that heavy seas can wreak havoc on this beach, so awgies will be careful. Our advice to you is to leave your online entry as late as possible on Friday. And keep your eye on conditions and forecasts yourself, so that you, too, are informed. If need be, we can probably extend online entries on Friday a little. But we won't know until Friday.
It's possible that awgies won't be able to make a decision one way or the other until Sat'dee morning. Whatever they do, keep in mind that they are acting in the interests of safety for swimmers and for their water safety staff. When a swim is cancelled or postponed, the most disappointed people are the awgies, because they're the ones who've put the work in to get to swim day.
Free parking
Pittwater Council waives parking fees at Bilgola Beach carpark until 3pm, awgies say. But you must still park legally. The free parking areas are the beach carpark, the back carpark off The Serpentine, and the carpark at the northern end of Bilgola beach. You also can park hassle-free at Porter Reserve, Newport, from where a bus will shuttle to and from the beach.
Have a geek at Chris Ivin's course preview of the Bilgola swim... another stunning bit of movie making. To check it out... Click here
Online entries to The Bilgola Swims close at 3pm on Friday, Jan 30, although this may change if conditions leading into the swim warrant it. Keep your eye on the event site... Click here
Sighh... The Cole Classic
Those of you expecting us to lay into the Cole Classic, also on this weekend, may be disappointed. Let us just list a few points -
Bilgola entry is $30 online, $40 on race day, or $50 for both Billie's swims ($60 on race day)
Cole Classic 2km online entries are $65 and, for the first time under Fairfax Meeja's control, they say they're taking entries on race day, for $75 for the 2km and $65 for the 1km, $140 the double. You choose the value.
You can enter Bilgola online or on the beach on race day.
The Cole website says entry is online only, however a schedule published elsewhere on their website (see below) indicates they're taking entries on race day. Which is right?
You can rock up to Billie and do two swims, starting at 9am and 10am.
You can rock up to Manly, pay your $140 to enter both their swims on race day, start one of them at 8:15 and the other at 11:30. You choose the convenience.
You just rock up to Billie on race day.
You must rock up to the Fairfax Meeja forecourt on Thursdee to collect your "race pack", or to Manly surf club on Fridee or Sat'dee. No word as to whether they'll invite you in for a cuppa in the Fairfax canteen.
You can opt out of Billie and get a refund (subject to $10 admin fee) any time up to the close of online entries.
You can withdraw from the Cole and get 50% refund, if you do so by January 7 (sorry, missed it), and you're sick, as per -
I acknowledge that refunds will only be made prior to 5pm Wednesday, January 7, 2015 and will only be given where participation in the Event is not appropriate due to a medical reason that is supported by a current medical certificate outlining the condition. I understand that a 50% administration fee will be deducted and if a race bib has been sent out, I must return the race bib to Fairfax at my own expense, prior to the processing of a refund, by no later than 5pm Wednesday, January 7, 2015
You can transfer between events at Billie at no cost, up to race start time, either by email to us or in person on race day.

You can transfer between events at the Cole, "in Fairfax's discretion", up to 5pm, Wensdee, January 28... (er, sorry, missed it again)... for $10 and the difference in entry cost between the two events.


B

ilgola

awgies are prepared to postpone rather than cancel if conditions prevent the event on race day, and have postponed twice in the last two seasons

.




The Cole will not postpone; may only cancel.



Fairfax has not published their cap colours, as they have in previous years, as far as we can see, so we can't say whether they're planning to send you to sea again in the "lost-at-sea" range of cap colours.

Last but not least, by any means, when you enter Bilgola, you know the entry fee is going to the surf life saving club.
When you enter the Cole Classic, your entry fee is going to a multi-billion dollar multi-national corporation. Fairfax makes much noise about how much the Cole raises for charity, but not a single cent of that comes from Fairfax. It all comes from entrants raising funds through everydayhero. Fairfax pays Manly LSC a fee (we believe $25,000) for managing water logistics on swim day.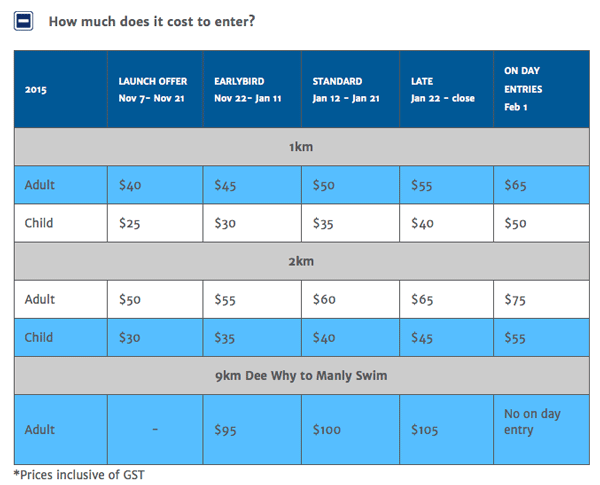 ---
fine ocean swimmers series, round 4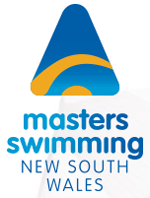 Bilgola is Round 4 in the fine ocean swimmers series NSW. All swimmers who finish the swim will earn points in the series, provided they're wearing "legal" cossies. There'll be random draws of a voucher from budgysmuggler.com.au and NSW Masters Swimming membership from all online entrants who also finish the swim.
The Big Swim last Sundee was Round 3 in the series. Results, series points, etc, are online now... Click here
The lead in the series changed last Sundee, with Judy Playfair supplanting Dori Miller at the top of the leaderboard, although there is less than a point between them. Consistency is being rewarded now, with those who've done all events pulling away from the more casual swimmers. But that's one of the points of the series: consistency is rewarded by accumulating points for each swim you do.
Most of the other leaders remained in situ, although there was a little change with one swimmer dropping down because he missed the swim on Sunday.
Last Sundee's random draws went to Bob Bowden (budgysmuggler.com.au voucher) and Robert Johnson (Masters Swimming NSW membership). We'll be sending out the prizes.
Mobile phone numbers
When we are informed of swim cancellations and postponements, we like to send an SMS to entrants letting them know, provided the swim awgie wants this. But we can send an SMS only to swimmers who leave valid mobile numbers with their online entries. Landlines won't do, and neither will those silly mobile numbers that some entrants leave with an international prefix (eg +61). That renders the mobile number inoperative for SMS purposes. Why anyone would think we'd be sendiing them an SMS from some foreign country is beyond us. So if you want to be informed about postponements and cancellations, do yourself a favrour and leave a valid mobile number.
---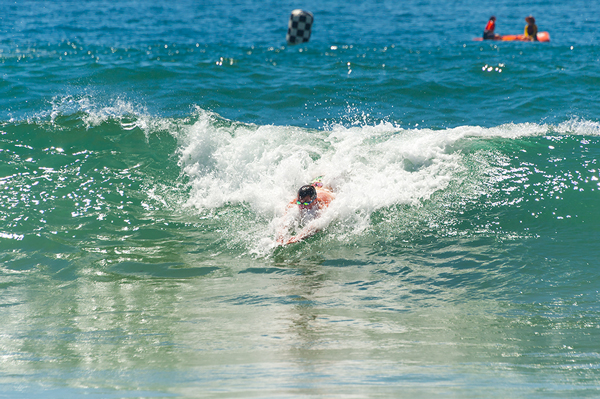 Last weekend... Exhausting Stra'a Day weekend
A busy weekend with swims on each day of the weekend in Sydney, and a plethora of swims in Melbourne alone. Also, Wellington (both days of the weekend).
We swam The Big Swim (Palm-Whale) on Sundee, then Sydney Harbour on Mondee... Click here
Aquagirl swam Mt Martha... Click here
Jodie Miners swam Williamstown... Click here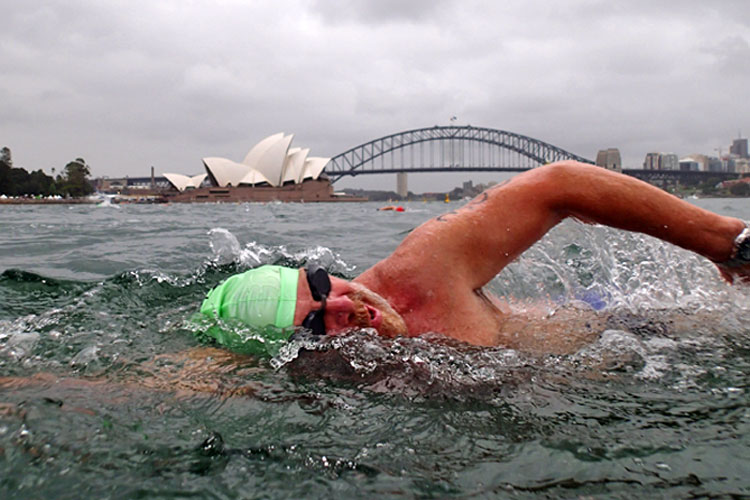 ---
Swims open to online entry on oceanswims.com...
Bilgola (Sat, Jan 31 - postponed date)... Click here
Avoca (Sun, Feb 8)... Click here
Ballina (Sun, Feb 8)... Click here
North Bondi (Sun, Feb 8)... Click here
Malabar (Sun, Feb 15)... Click here
Henley (Sun, Feb 15)... Click here
Nobbys-Newcastle (Sat, Feb 21 - postponed date)... Click here
Bondi (Sun, Feb 22)... Click here
Caves Beach (Sat, Feb 28)... Click here
Evans Head (Sun, Mar 1)... Click here
Freshwater (Sun, Mar 1)... Click here
Port Noarlunga (Mon, Mar 9)... Click here
Lake Macquarie (Sat, Mar 21)... Click here
Fingal Bay (Sun, Mar 22)... Click here
Balmoral (Sun, Mar 22)... Click here
Stanwell Park (Sun, Mar 22)... Click here
Wollongong (Sat, Mar 28)... Click here
Terrigal (Easter Sat, Apr 4)... Click here
Queenscliff (Sun, Apr 5)... Click here
Copeton Waters (Inverell, Apr 11)... Click here
Mollymook (Sat, April 11)... Click here
Shellharbour (Sun, Apr 12)... Click here
Coogee (Sun, Apr 12)... Click here
Black Head (Sun, Apr 19)... Click here
South Head (Sun, May 17)... Click here
Vanuatu (June 6 and 10)... Click hereMana Fiji (Thu-Sat, Oct 15-17)... Click here
Coming soon... North Steyne (Sun, Mar 28 - TBC)
---
Late breaking news on today's swims...
It's swim day, and you want to know... Is the swim on or off?
We tweet all our latest news, especially on swim day. Follow us through our handle @oceanswims.
Our Twitter feed also loads on to oceanswims.com. Click the Twitter banner near the top of our home page. Or check the ticker of our latest tweets near the bottom of the home page.
If an affected swim asks us, we will also send an SMS to all online entrants.
And we post late-breaking news in the Stop Press box near the top of our home page on oceanswims.com
---
Not getting our newsletters?
If you expect to receive our newsletters, but they're not turning up, or you know someone who isn't getting theirs, chances are they're being diverted into your Spam or Trash folders. Some ISPs put them in there because they think they're spam. Gmail does this sometimes, as does Hotmail, Optus, etc, and some of the larger business houses. So check your Spam and Trash folders. Often, that's where you'll find them.
You could also put oceanswims.com on your White List of approved email senders. You should be able to set up a white list by logging into your system settings.
---
List your event
If you'd like us to list your event on our calendar, you can complete our List your event form on oceanswims.com.
We list all events, of which we're aware, free of charge. If you'd like further exposure, as a Featured Swim (which gets you onto our home page), then there is a charge attaching to that. For information on event services... Click here
To leave your event details... Click here
---
All that and more at oceanswims.com.
See you on the beach,
os.c
---
Subscribe
If you know someone who would like to receive our email newsletters... Click here