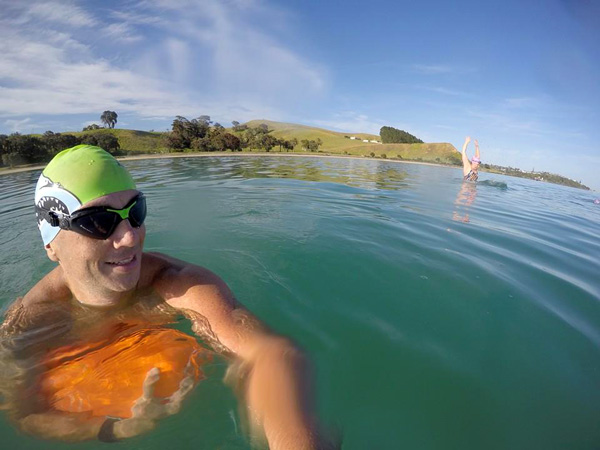 The 278.8km man
It was an apparently routine post on Facebook, from Mike Cochrane, a web developer in Auckland who is between jobs right now -
"Today fly Auckland to Wellington...
Ferry to Picton
Stay overnight then Thursday boat to Ship Cove
Ship Cove to at least Black Rock Campsite
Friday complete Queen Charlotte Track to Anakiwa in time for 4pm boat back to Picton
Hopefully walk on to a ferry back to Wellington
Saturday Scorching Events 2km swim
Sunday New Zealand Ocean Swim Series 3.3km and 1km
Fly back to Auckland Sunday afternoon/evening
Monday Sleep!"
Quite. Apart from all the walking and connections, the thing that got our attention was the combined 6.3km in three swim events over two days in Wellington.
A couple of weeks ago, Cochrane travelled from Auckland to Lake Taupo, a couple of hours south, in the centre of the North island, where he took part in the Epic Swims -
"My age group placings from Saturday: (Cochrane posted on Facebook)
5km: 7th (1:30:25)
10km: 4th (3:13:27)
2.5km: 6th (0:53:53)
Giving Epic Epic 17.5km 8th overall, 4th Male (5:37:35)
Then Masters 2.5km Classic Sunday: 1st in Age group (00:39:36)
Thanks to all my swim friends for an awesome weekend away! - feeling exhausted at Lake Taupo."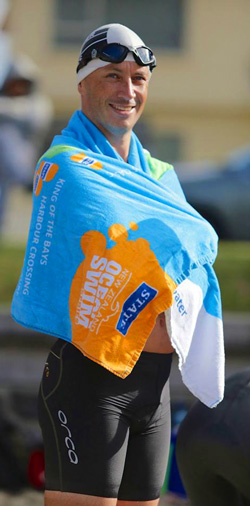 Back in October, Cochrane flew from Auckland to Melbourne, then hopped on a train out to Morwell where he swam in the Victorian OW Champeenships. On the Saturday, he swam 10km in 3:12:48.2, and on Sundee, he did the 5km in 1:29:33.9. Then Cochrane hopped on a train into Melbourne, on a bus to Tullamarine, and flew back to Auckland.
Cochrane is a man possessed by a goal: like many of his Kiwi comrades, he's become fascinated by the fine ocean swimmers tallies, and has set himself a target this season of breaking 200km in formal events over the course of a single season.
fos tallies
When we inaugurated the fine ocean swimmers' tallies around ten years ago, the winner was Andrew Burke, a bloke from, of all places, Bathurst, a couple of hours inland in central western NSW, who over the course of that season swam (from memory) about 76km. But he drove 14,000km over the course of the season to get to and from swims. Wherever we bobbed up along the coast over that season, there was Andrew, usually with his wife and daughters in tow.
We've barely seen Andrew since.
Since then, the total distance completed by the tallies winner has crept up gradually, until last season, when Nick McCouat, from Sydney, racked up 185.1km from 43 swims. McCouat had set himself the task of winning the tallies some way through the season. Second place last year was another Kiwi, Geoff Carter, almost 45km behind him.
Over the last few years, as the seasons draw to a close in some parts of Stra'a and NZ, it's looked for a while as if a Kiwi might win them. The reason is to do largely from two mid-week series that run in Auckland, one on the south side of the harbour, the other on the north side, on Tuesdays and Thursdays. The swims offered aren't long, but because they're run weekly, the tallies build.
Sadly for the Kiwis, they've never quite managed to win. Their season ends in April, while the NSW season runs through until late May, when South Head offers 11km. Ditto for the Wessna-Stra'ans, who've done well throughout the season by virtue of the series of longer events run by WA Swimming around Perth. In last year's tallies, six of the Top 10 in the fine ocean swimmers tallies were Kiwis. One was from WA, and three were from NSW.
It's hard for anyone from other states to do well because their seasons are relatively short.
But this season, Mike Cochrane, who is single and in his 30s -- his window is open -- has set himself the goal of breaking 200km.
As a web developer, Cochrane obviously is a skilled project manager. He has his season mapped out on a spreadsheet, listing all the swims in which he intends to take part, their web addresses, contacts, and entry details. When we met with him in Auckland in October, he'd already entered most of the swims, and he'd booked his travel and accommodation.
Cochrane began with Samoa last August. We met him first in Fiji, at Mana Island, in September, where he did 18km over two days. When we met him in Auckland, he was up to 67.8km, with the home seasons yet to commence. As of today, Cochrane's running tally is 144.3km.
In Auckland in October, his projected entry costs for the season were around $NZ2,200, which means each of his's targeted 200km will cost Cochrane a bit over $NZ10. He expected accommodation to cost him $NZ3,900, and are fares and other transport around $NZ3,500.

'ow many?
As of today, Cochrane says he's entered 75 swims (completed 38 at an average 3.8km). He'd planned to do 81 swims throughout the season, which ends on May 31, although there are some clashes so he may not get them all in. The projection now may be closer to 74 swims and -- if he does them all -- 278.8km. So far, he says, he's paid $NZ3,500 for entries, spent $NZ7,500 on transport, and $NZ5,000 on accommodation. He has only a couple of nights left to book. He's been to Stra'a twice (Magnetic Island and Victoria), and is heading back to Perth next month for the Rottnest Channel Swim. He's been to Fiji once and Samoa three times, with two more Samoa trips to come.
Some people spend their money on beer; some snort it up their nose, albeit not ocean swimmers.
"I could be saving for a house instead of swimming. This year, it will be a savings-neutral year."
How does he do it?
"I know what my body can do. Most of it is beating the mental barrier."
The surprise to us is that Cochrane has never had a siwmming lesson. He's never done a squad and he's never had a coach. He rarely swims in a pool. Most of his "training" swims are in Auckland's eastern bays, which is generally flat water with little, if any swell and negligible visibility. It's a harbour. You can't see the bottom, or anything much, in a harbour.
"I'd rather be out there doing 3km in the open water than up and down in a pool. It's quiet and peaceful. My phone doesn't ring.
"Me and a pool is not not the thing. Smooth water is boring. My stroke goes to pieces. I'm better in swell and chop.
"It makes me focus. I have to work on my technique.
"In Melbourne (he means Morwell's Hazelwood Pondage) i found my forearms getting sore. Then I realised I wasn't kicking. So I brought my kick back in and I fixed it."
Geek
Cochrane is a geek. When we met him in Fiji in September, he was trialling a device that fits over the goggles and tells you whether you're swimming off course. It's GPS-guided, and when you round a booee, you sight the direction you wish to swim, and after a few strokes, the device picks it up and tells you when you drift off course. That fits with the IT background, perhaps. Since then, he's acquired a 3D printer which he's used to print "a simple gimbal" fo rhis feeding pole. Check it out... Click here
Unlike many of his compatriots, Cochrane likes to swim newd (sans wettie), which we respect.
One of the aspects of the fine ocean swimmers tallies that captured the Kiwis' imagination is the prize of a trip to Vanuatu or Fiji for the winner. Last season, in recognition of their ultimately futile efforts, we introduced a special travel prize for the 1st New Zealander, won eventually by former HR director with the Kiwi Bill, Wayne Annan. While we heard little from them over the d'tch throughout the season, we certainly heard from the runner-up at the end, furious that we'd added a swim that that swimmer hadn't known about, while Wayne did. It allowed him to clinch the title, the argument went.
We knew then that they were paying attention.
Last year, Nick McCouat couldn't take the travel prize, so it slipped down to 2nd placegetter on the tallies, another Kiwi, Geoff Carter. This year, Mike Cochrane has known from the start that he won't take the prize, either. He's planning to do the 8 Bridges Swim over 120 miles in the Hudson River, in New York, from June 7-14, which is precisely when the Vanuatu Open Water Swims take place in Port Vila followed by Espiritu Santo Swim Week.
On the strength of that, he could win the tallies again next year, too.
---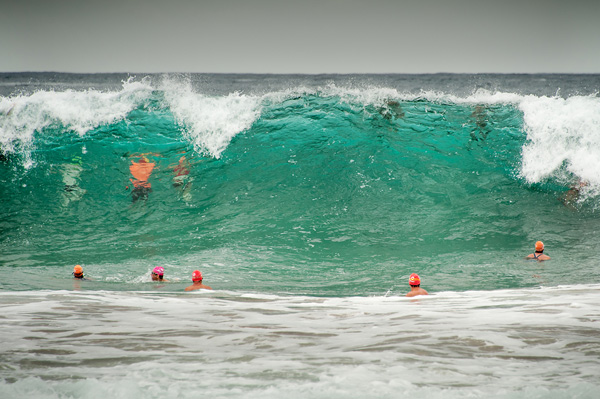 The biggest swim of the season
Suddenly, we've arriven at the high point of the season... The Stra'a Day long weekend offers millions of swims on Monday in Stra'a, with a couple more in NSW over the normal weekend, and a big one or two in New Zealand.
Sat, Jan 24 - Penrith (NSW), Rotorua, Wellington (NZ)
Sun, Jan 25 - Palm-Whale* (NSW), Wellington (NZ)
Mon, Jan 26 (Stra'a Day) - Wollongong, Sydney (Newcastle is cancelled) (NSW), Mt Martha, Brighton, Williamstown (Vic), Kingston Beach (Tas), Grange-Henley (SA), Sorrento, Mandurah (WA)
We're taking online entries to The Big Swim (Palm Beach - Whale Beach) on Sunday.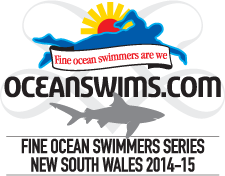 We reckon that The Big Swim is the biggest swim of the season in NSW. Why? Because it is the biggest swim of the season for regular swimmers. Well over 1,000 will take part over a course that exemplifies the most challenging of swims: once you're out, you're committed. There is nowhere to climb out between Palm Beach and Whale Beach. And there's the prospect of coming in at Whale Beach, often one of Sydney's most difficult beaches, through a break that you haven't seen beforehand. Take this tip, if you're unsure how to handle it: if the sea is up, sit behind the break at Whale Beach for a moment or two and watch the waves from behind. Steer clear of the areas where the waves chunder up the sand, and avoid the rips. Pick a course between them, so you have water to play with in the break, but you're not swimming against the out-going thrust of a rip.
The forecasts are kinder for this Sunday, however, and it's not looking as if the break will be too difficult. Swell size on the beach is predicted to be a bit over a metre, from the east, with the gentle breeze from the nor'-west early, shifting to the nor'-east as the morning wears on. It will be behind you most of the way. Tide will be half way up, which means the longer you take, the more water there will be on the banks at Whale, which is good.
Remember, there are no new entries allowed on race day. You must enter this swim online, through oceanswims.com, by 3pm on Sat'dee.
Also remember, Pittwater Council has waived parking fees in selected areas at Palm Beach and Whale Beach and at designated event parking areas. But this does not cover all parking areas at these two beaches. Remember, too: you must still park legally in the free parking areas. To check the free parking areas, see The Big Swim website... Click here
Have you caught Chris Ivin's course preview of The Big Swim? If not, get to the event page now. It's another stunning bit of movie making. To check it out... Click here
Online entries to The Big Swim close at 3pm on Sat'dee, Jan 24... Click here
fine ocean swimmers series, round 3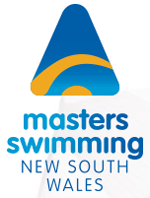 The Big Swim is Round 3 in the fine ocean swimmers series NSW. All swimmers who finish the swim will earn points in the series, provided they're wearing "legal" cossies. There'll be random draws of a voucher from budgysmuggler.com.au and NSW Masters Swimming membership from all online entrants who also finish the swim.
Get a bus to the beach
Balmoral Beach Club runs a bus from Balmoral to Palm Beach for The Big Swim, returning from Whale Beach afterwards. They have about 20 spare seats, so if you'd like to take the bus up there, meet at the bottom of Awaba St for a punctual 8am departure. Cost is $20.
Email Denise Elder with queries... Click here

Booked at Warriewood?
Some punters were booked at Warriewood beach last Sundee. If that includes you, then contact us and we can advise on hwo to deal with the ticket... Click here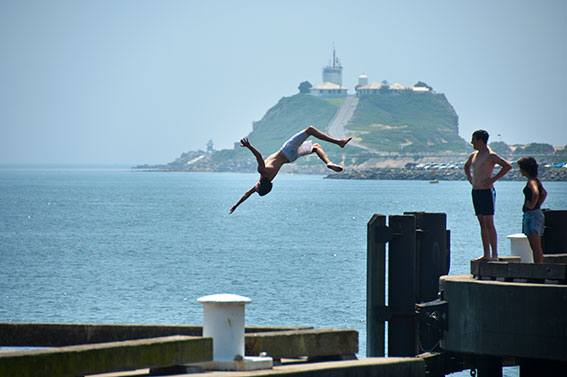 Newcastle cancelled
Sadly, the Newcastle Harbour Swim Classic on Stra'a Day has been cancelled. Awgies say it's partly all the shark activity in the Hunter, but also the anticipation of lots of nasty water coming down the Hunter River following heavy rains in recent days. We're not sure what the organisers are doing about entries already received. We've asked and we're waiting to hear. They will contact individual entrants directly. Awgies have issued a statement on the cancellation, which you can read on the event page... Click here

Mobile phone numbers
When we were informed of the cancellation, we sent an SMS to all entrants letting them know. Those entrants who provide a landline number, instead of a mobile number, cannot receive an SMS, of course, so those swimmers were not informed. If you want to receive this news, make sure you leave a valid mobile number with your online entry, not a landline.

Make sure you key in the mobile number as it is, not with that silly Australia code (+61) in front of it. We're not going to be sending you an SMS from outside Stra'a. You wouldn't believe how many people give us their mobile numbers with +61 in front.

---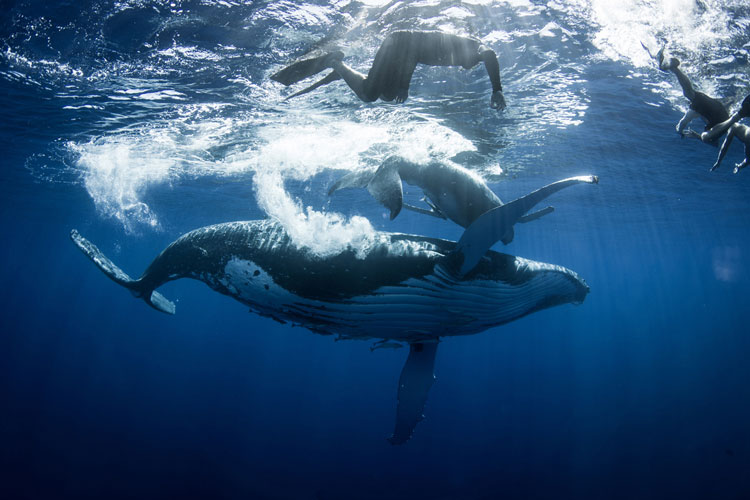 In Tonga, boats must stay 100m from whales, but swimmers may get close up. (File pic)

Swim with the whales in Tonga
Tonga is one of the few places in the world where it's possible, and legal, to get into the water to swim with whales, which (who?) migrate to the islands to breed in the winter. Come with us in July 2015 on a week-long oceanswimsafari to Vava'u where we'll swim from island to island, across reefs, and we'll go looking for humpback whales to swim with.
We're working with travel company, Dive Adventures, to bring you this oceanswimsafari that involves four days of swimming the waters around the Vava'u group of islands, Tonga's "second" island group, and a day out with the whales.
For more info about our first inaugural Tonga Whales oceanswimsafari -- and about all our oceanswimsafaris in 2015... Click here
---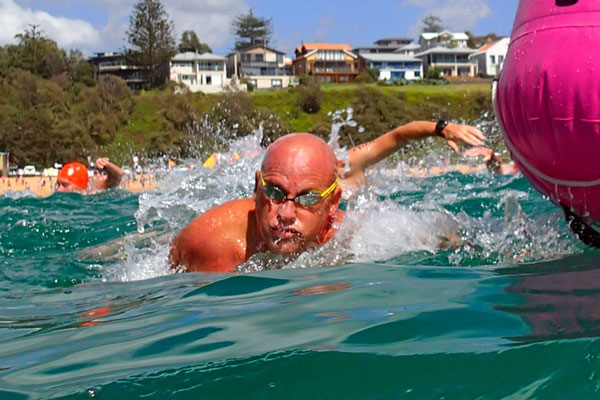 Last weekend... Mona Vale, Mornington, Portsea, Bloody Big Swim
Our first day in the sea since New Year whilst we've nursed a bout of swimmer's ear, and what a beautiful day at Mona Vale. The water was clear (well, pretty clear), warm(ish), and there was a following swell and breeze all the way from Warriewood to Mona Vale. It was one of those very special days, as you'll see from Glenn Muir's report. In Victoria, weather forced the cancellation of The Bloody Big Swim, but Portsea and Mornington went ahead, as did Tathra on Sundee on the NSW Far South Coast.
Glistening Dave, Glenn Muir and we were at Mona Vale... Click here
Booked at Warriewood?
Some punters were booked at Warriewood beach last Sundee. If that includes you, then contact us and we can advise on hwo to deal with the ticket... Click here
Aquagirl swam Mornington... Click here
Alex Gosman was at Tathra... Click here
---
Swims open to online entry on oceanswims.com...
Palm-Whale (The Big Swim, Sun, Jan 25)... Click here
Bilgola (Sat, Jan 31 - postponed date)... Click here
Avoca (Sun, Feb 8)... Click here
Ballina (Sun, Feb 8)... Click here
North Bondi (Sun, Feb 8)... Click here
Malabar (Sun, Feb 15)... Click here
Henley (Sun, Feb 15)... Click here
Nobbys-Newcastle (Sat, Feb 21 - postponed date)... Click here
Bondi (Sun, Feb 22)... Click here
Evans Head (Sun, Mar 1)... Click here
Freshwater (Sun, Mar 1)... Click here
Port Noarlunga (Mon, Mar 9)... Click here
Lake Macquarie (Sat, Mar 21)... Click here
Fingal Bay (Sun, Mar 22)... Click here
Balmoral (Sun, Mar 22)... Click here
Stanwell Park (Sun, Mar 22)... Click here
Wollongong (Sat, Mar 28)... Click here
Terrigal (Easter Sat, Apr 4)... Click here
Queenscliff (Sun, Apr 5)... Click here
Copeton Waters (Inverell, Apr 11)... Click here
Mollymook (Sat, April 11)... Click here
Shellharbour (Sun, Apr 12)... Click here
Coogee (Sun, Apr 12)... Click here
Black Head (Sun, Apr 19)... Click here
South Head (Sun, May 17)... Click here
Vanuatu (June 6 and 10)... Click hereMana Fiji (Thu-Sat, Oct 15-17)... Click here
Coming soon... North Steyne (Sun, Mar 28 - TBC)
---
Late breaking news on today's swims...
It's swim day, and you want to know... Is the swim on or off?
We tweet all our latest news, especially on swim day. Follow us through our handle @oceanswims.
Our Twitter feed also loads on to oceanswims.com. Click the Twitter banner near the top of our home page. Or check the ticker of our latest tweets near the bottom of the home page.
If an affected swim asks us, we will also send an SMS to all online entrants.
And we post late-breaking news in the Stop Press box near the top of our home page on oceanswims.com
---
Not getting our newsletters?
If you expect to receive our newsletters, but they're not turning up, or you know someone who isn't getting theirs, chances are they're being diverted into your Spam or Trash folders. Some ISPs put them in there because they think they're spam. Gmail does this sometimes, as does Hotmail, Optus, etc, and some of the larger business houses. So check your Spam and Trash folders. Often, that's where you'll find them.
You could also put oceanswims.com on your White List of approved email senders. You should be able to set up a white list by logging into your system settings.
---
List your event
If you'd like us to list your event on our calendar, you can complete our List your event form on oceanswims.com.
We list all events, of which we're aware, free of charge. If you'd like further exposure, as a Featured Swim (which gets you onto our home page), then there is a charge attaching to that. For information on event services... Click here
To leave your event details... Click here
Subscribe
If you would like to receive our newsletters, or you know someone who would like to receive them... Click here