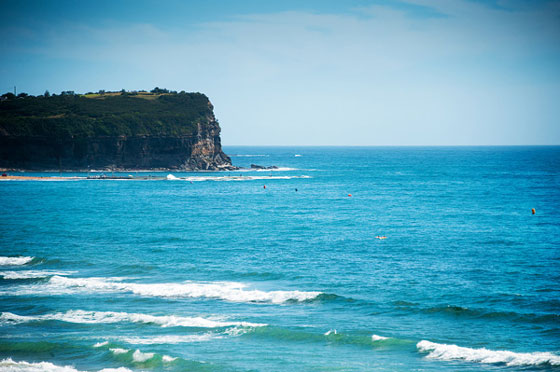 Mona Vale... Head for the headland.
More clashes, more's the pity
A bizarre situation in Victoria this weekend, when there are four swims on Saturday, three of them within a few kilometres of each other. To be fair, two of them are run by the same organisers, the result of an amalgamation of two events, the Bloody Big Swim and the Mornington Grand Challenge. But just along the peninsula, there's one of the biggest swims of the year at Portsea. Organisers really do need to talk to each other more.
It's relatively quiet in NSW, just one swim in Sydney, Warriewood-Mona Vale, and a two-day, multi-disciplinary event at Tathra on the far south coast. It's a terrific community event, so we're told by punters who've attended in the past. We'd love to tell you more about Tathra, but we never hear from them.
Other swims in New Zealand, over in the West, and in South Australia.
Sat, Jan 17 - Portsea, Frankston-Mornington, Mornington, Port Campbell (Vic), Wanaka (NZ), Tathra (NSW)
Sun, Jan 18 - Mona Vale*, Tathra (NSW), Waihi (NZ), Perth (WA), West Beach (SA)
We're taking online entries to Warriewood-Mona Vale in Sydney.
Mona Vale is like the calm before the storm: over succeeding weeks, you have the biggest swims in NSW: The Big Swim (Palm-Whale), the Cole Classic, and the North Bondi Classic. These three events form the NSW season's peak, and Mona Vale, scheduled alone in Sydney this weekend, is like an opportunity to draw breath before launching into the big stuff.
It's a simple course: enter the water at Warriewood, at the southern end of Mona Vale beach, and swim 1.5km north to Mona Vale. The break at Mona Vale can be petulant, so watch out for it. At Mona Vale, quite often it's a steep run up the beach. Watch for the last turning booee: it's straight out from the finish line by the rocks. But some punters cut the final booee in error, thinking they're there, when they're not. No-one wants to be a booee-cutter, do they. Best advice is, head for the headland, then turn into shore when the booee is straight off the finish, just before the rockshelf.
Chris Ivin has done one of his magnificent course previews of the Mona Vale swim, shot one morning as the sun peeked (pook?) over the horizon. It's another beautiful bit of movie making against an evocative soundtrack. He's a clever lad, our @1worldimages.
Online entries to Mona Vale close at 3pm on Sat'dee, Jan 17... Click here
---
Sea Fever
I must go down to the seas again, to the lonely sea and the sky,
And all I ask is a tall ship and a star to steer her by,
And the wheel's kick and the wind's song and the white sails shaking,
And a grey mist on the sea's face and a grey dawn breaking.
I must go down to the seas again, for the call of the running tide
Is a wild call and a clear call that may not be denied;
And all I ask is a windy day with the white clouds flying,
And the flung spray and the blown spume , and the sea-gulls crying.
I must go down to the seas again, to the vagrant gypsy life,
To the gull's way and the whale's way where the wind's like a whetted knife;
And all I ask is a merry yarn from laughing fellow-rover,
And quiet sleep and a sweet dream when the long trick's over.
John Masefield
---
Last weekend... Lorne, Manly, Avalon, North Bondi
Three swims in Sydney, but the day was cool, grey, wet... The Can Too people have sent us a report from Manly, and Angela van Boxtel was at Avalon and did her own blob from there. At North Bondi, they concatenated two swims into one, out of respect for the water safety crew who would have been on the sea for a couple of hours in cool, wet weather, and ran just a 1km swim.
Aquagirl swam Lorne. And it was a very different day to the Saturday prior at Torquay. Back to traditional Victorian weather: cool, overcast... But she had her cobber, Seppo, down from Brissie to keep her company, along with all the other Peninsula Pirates... Click here
---
Want to swim for a hearty cause? Then take part in the REDFEB Relay in water and join Heart Research Australia's fight against heart disease - Australia's biggest killer.
Register now and create your Everyday Hero fundraising page. Simply add your swimming kilometres online and watch them convert to virtual kilometres. Watch how your efforts contribute to helping us lap the map of Australia.
Register today... Click here
---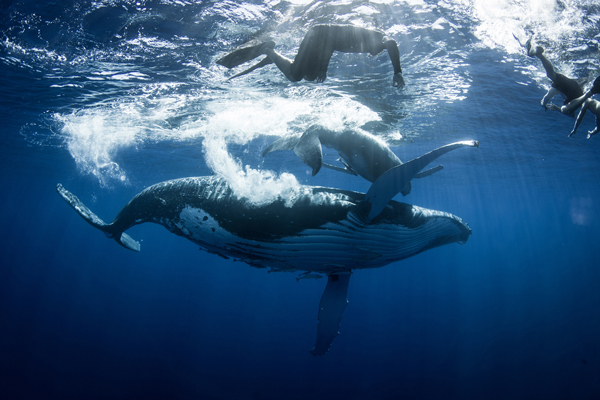 Swimming with whales in Tonga... We're heading there to get up to this in July
Book Greece, Tonga, Vanuatu, Fiji now
Vanuatu (June 2015)... Vanuatu Open Water Swims in Port Vila and/or Espiritu Santo Swim Week... Click here
Tonga (July-Aug 2015)... Our first inaugural oceanswimsafari to Tonga, we'll swim, swim, swim, and we'll swim with whales (provided they're around, but it's the season, so they should be)... Click here
Greek Islands (Aug 2015)... By yacht through the Northern Sporades islands, led by Sydney's favourite Greek chef, David Tsirekas (Perama, Xanthe, Kefi)... Click here
Spain's Basque country (Aug-Sep 2015) - Our first inaugural oceanswimsafari long weekend in Spain's Basque country: San Sebastian - Pinxtos, Txacholi, swim Isla Santa Clara... Click here
Spain's Costa Brava (Sep 6-14 - Our Costa Brava oceanswimsafari in Catalonia, in Spain: Swim France to Spain, visit Dalí's house, enjoy some of the world's best food, swim Our Secret Spot... Click here
Fiji (Oct 2015)... (Mana Fiji SwimFest and/or our oceanswimsafaris to the Yasawa islands... Click here
Check out our new oceanswimsafaris.com website for info and booking details about our oceanswimsafaris in 2015.
There's also the Samoa Swim Series from August 3-8, including ancillary swims in the lead-up.
---
Swims open to online entry on oceanswims.com...
Mona Vale (Sun, Jan 18)... Click here
Palm-Whale (The Big Swim, Sun, Jan 25)... Click here
Newcastle Harbour (Oz Day, Mon, Jan 26)... Click here
Bilgola (Sat, Jan 31 - postponed date)... Click here
Avoca (Sun, Feb 8)... Click here
Ballina (Sun, Feb 8)... Click here
North Bondi (Sun, Feb 8)... Click here
Malabar (Sun, Feb 15)... Click here
Nobbys-Newcastle (Sat, Feb 21 - postponed date)... Click here
Bondi (Sun, Feb 22)... Click here
Evans Head (Sun, Mar 1)... Click here
Freshwater (Sun, Mar 1)... Click here
Port Noarlunga (Mon, Mar 9)... Click here
Lake Macquarie (Sat, Mar 21)... Click here
Fingal Bay (Sun, Mar 22)... Click here
Balmoral (Sun, Mar 22)... Click here
Stanwell Park (Sun, Mar 22)... Click here
Wollongong (Sat, Mar 28)... Click here
Queenscliff (Sun, Apr 5)... Click here
Copeton Waters (Inverell, Apr 11)... Click here
Mollymook (Sat, April 11)... Click here
Shellharbour (Sun, Apr 12)... Click here
Coogee (Sun, Apr 12)... Click here
Black Head (Sun, Apr 19)... Click here
South Head (Sun, May 17)... Click here
Vanuatu (June 6 and 10)... Click here
Coming soon... Henley (SA, Feb 15)
---
Late breaking news on today's swims...
It's swim day, and you want to know the latest... Is your swim on or off?
There are several ways we let you know: we tweet all our latest news, especially on swim day. You can follow us on Twitter through our handle @oceanswims
Our Twitter feed also loads on to oceanswims.com. Click the Twitter banner near the top of our home page. Or check the ticker of our latest tweets near the bottom of the home page.
If an affected swim asks us, we will also send an sms to all online entrants.
---
Not getting our newsletters?
If you expect to receive our newsletters, but they're not turning up, or you know someone who isn't getting theirs, chances are they're being diverted into your Spam or Trash folders. Some ISPs put them in there because they think they're spam. Gmail does this sometimes, as does Hotmail, Optus, etc, and some of the larger business houses. So check your Spam and Trash folders. Often, that's where you'll find them.
You could also put oceanswims.com on your White List of approved email senders. You should be able to set up a white list by logging into your system settings.
---
Subscribe
If you would like to receive our newsletters, or you know someone who would like to receive them... Click here