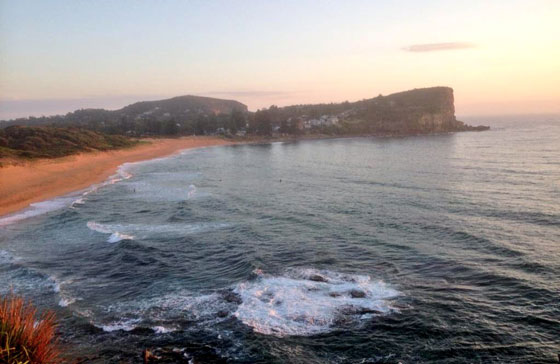 This time, it's serious
Ocean swimming gets serious this weekend: we're getting to the high point of the season... There are eight swims around the manor over the weekend, including what we believe is the world's largest ocean swim, the Lorne Pier to Pub, on Sat'dee down along Victoria's Surf Coast. There are three swims in Sydney on Sundee alone.
Sat, Jan 10 - Lorne (Vic), Scarborough (WA), Taupo (NZ)
Sun, Jan 11 - Avalon* (see course preview above), Manly*, North Bondi* (NSW), Leighton (WA), Port Sorell (Tas)
We're taking online entries to the three Sydney swims on Sunday, Avalon, Manly and North Bondi.
Avalon is one of our fave swims, and certainly it's Mrs Sparkle's, since it was her first ocean swim, so many years ago. You've all heard her story, how impressed she was that the awginizers had gone to such lengths to look after punters that they'd even strung a "lane rope" beneath the water along the swim's back reach. After following it for a few hundred metres, it dawned on Mrs Sparkle that she was following the shark net, a cathartic experience that all of us must have at some point.
The good news from Avalon is that, this season, they're reinstating the traditional start out through the northern runout by the rocks. This is the most exhilerating start of an ocean swim in our knowledge: the lifesavers will attempt to keep you off the rocks (we mean you, Tim Hixson), but if you can get close enough to feel the tickle of wafting weed on the belly as you're sucked out to sea, then that is another of the most exhilerating experiences in ocean swimming. Last season, they brought the start 100m south along the beach. At low tide, as it was that day, with no swell and a long run to deeper water, you may as well have been anywhere.
Have you caught Chris Ivin's course preview of the Avalon swim? If not, get to the event page now. It's a stunning bit of movie making, done at dawn with Chris's drone. He's a dab hand at drones, movie-making, with exploiting the shadows that nature throws up, and especially at matching the music to the vision. Mind you, with Avalon, the music selects itself. To check it out... Click here
Online entries to the Avalon swims close at 3pm on Sat'dee, Jan 10... Click here


One of the most beautiful swim courses in the world.
Down lower on the Northern Beaches in Sydney is the Manly Can Too swim, run by Manly surf club with Can Too, the cancer fund-raising charity that teaches new swimmers to take part in ocean swims, as its other beneficiary. We remain surprised that the SLSA on the Northern Beaches would allow two swims in their branch on the same day. It cannot help either. But there you go.
This swim adopts a new course for Manly for its main event: a 1.5km swim over an M shape, including a beach run which we're advised will be "30-40 metres". The shorter event is a traditional sprint or gambol from Shelly Beach in to Manly, which is one of the most beautiful swims in Sydney provided you get some proximity to the rocks, where most of the sea life hangs. Can Too says Manly Life Saving Club will donate a portion of each entry fee to them.
Online entries to the Manly Can Too swim close at 3pm on Sat'dee, Jan 10... Click here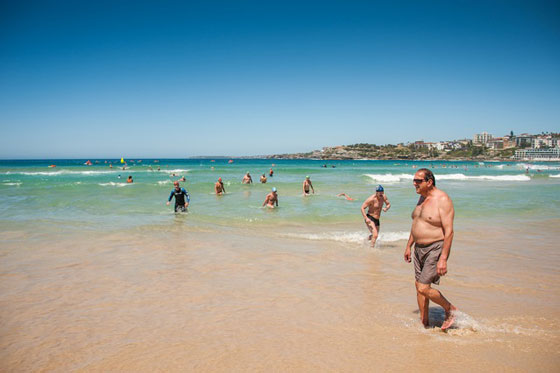 The passing parade that is North Bondi.

On the south side, in the eastern suburbs, it's the colour and the pageantry of Bondi, with the first of North Bondi's two annual swims, The Roughwater. The longer swim at North Bondi is the course of the original Cole Classic. It must be done at least once a year by all swimmers, for it is the apotheosis of ocean swimming in Stra'a. Bondi is a multi-faceted experience: it's not just a swim; it's not just a trip to the beach; and not just a dip of the toe into one of Sydney's most "colourful" precincts. It's all of those dimensions combined, and more. A trip to Bondi, for those who don't already live there, is an overall sensory experience, a shower in exotica, a teabag into another world. It's worth going just to sit on the promenade and watch life go by. Cosmopolitan Bondi is different from other parts of Sydney. We've even heard people from more staid locations say it's a place "where everyone has rings in their nipples". We grimace at the thought, not of the appearance but of the sensation of having our nipples pierced. Not something we're lining up to do. But the generalised comment reflects the overall flavour of the joint.
North Bondi also offers one of the best value deals on the circuit: combine your entry to The Roughwater with an entry to North Bondi's other event, the Classic, on Sundee, February 8, and you can get as many as four swims for $90: a 1km and a 2km on each day (and remember, for regular swimmers, the 1km is the warm-up). Work out the per-swim rate yourself, but that's a very good deal under prevailing conditions. Just take one of the the Combo options when you enter online.
Online entries to the The Roughwater at North Bondi close at 3pm on Sat'dee, Jan 10... Click here
A note about Lorne
Some events like to describe themselves as "the biggest ocean swim in the world" or "... in Australia". Fairfax Meeja has pulled back on that hyperbole lately in respect of the Cole Classic, which never has been the biggest swim in Stra'a. That honour goes to the Pier to Pub at Lorne, down on Victoria's Surf Coast. It's a stunning location and a swim that oozes tradition. It take around 5,000 entries and generally has around 4,000 swimmers or more. It's easily the biggest swim in Stra'a, in terms of numbers, and we suspect the biggest ocean swim in the world.
But it's not the biggest open water swim: we're aware of two that are considerably bigger. The Midmar Mile, in a lake in the hills behind Durban in South Africa, has had as many as 25,000 swimmers, so we've read. It runs over a weekend. But it's a lake swim, in freshwater. It's not an ocean swim.
In Taiwan, the Sun Moon Lake Swim (right) in 2011 was reported to have had "over 27,000 participants", according to China television, CCTV. It, too, is a freshwater swim.
Just to arm you the next time you're roped into an argument in a pub...
And a warning: Aquagirl is doing Lorne on Sat'dee, accompanied by her good friend and one of the sharpest social observers you'll ever meet, Seppo. They're half of the Tweetybirds, who've swum Rottnest twice. If you see them, approach them with care, but approach them by all means.
---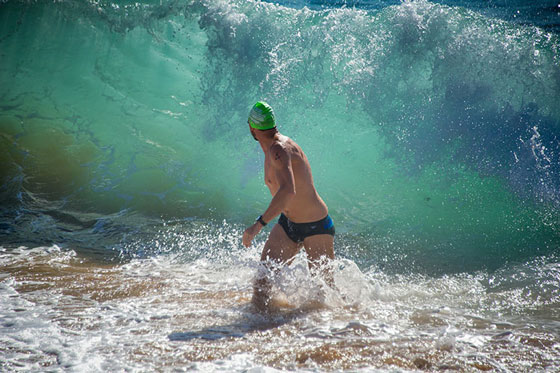 Last weekend... Gerringong, Newport, Mt Maunganui, Torquay
Rounds 2 in our two fine ocean swimmers series, in NSW and in New Zealand, ran last weekend at Gerringong and Mt Maunganui respectively. We have results and progress points in the series online now... fos series NSW... fos series New Zealand
Winners of the random draws at Gerringong were Rob Gillies (budgysmuggler.com.au voucher) and Ken McIlwain (Masters Swimming NSW membership). There also was a budgysmuggler.com.au voucher to be given away by the Mt Maunganui organisers, but we don't know yet who won it.
Glistening Dave and Chris Ivin were at Newport... Whilst we were at Gerringong...
Aquagirl swam Torquay. And we offer you a bit of advice: if you want to read some of the most gripping, personal sports writing that you've ever come across, then read Aquagirl's account of her Torquay swim. On a day when Victoria and Sou'-Stra'a were under siege from bushfires, and the manic North Winds drove the seas, Aquagirl goes George Plimpton; she goes Tom Wolfe's New Journalism, Hunter S Thompson's immersion into the Zeitgeist. Have you ever been in Victoria when the North Winds blow? No? Then you have no idea what it's like, but Aquagirl is here to fill you in. It's the best report she's written for us... Click here
---
Murray Rose Malabar Magic
Georgia's blog...
Georgia Dore, 16, is the first Rainbow Club student to take part in the club's Murray Rose Malabar Magic. In January and February, leading up to the 2015 Magic on February 15, we're publishing Georgia's blog of her training for the swim. Georgia, who suffers from side-effects of neuroblastoma as an infant, also has a fundraising page, where you can support her efforts. See the link below...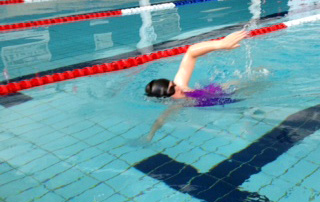 Hi everyone!
Lately I've been training with my dad twice a week. We've both been swimming a kilometer in the 25m pool at our local leisure centre. We have also been timing ourselves. Dad says I have to do the ocean swim in half an hour, which I'm capable of doing.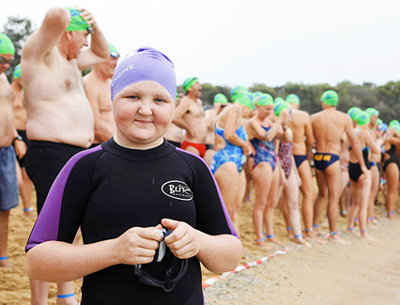 To do a kilometre in the 25m pool, it takes me around 28 to 29 minutes! Here is a pic of my dad and I training at the leisure centre, and my Christmas present is this great watch which is waterproof and has a timer so I can time my laps... BINGO! I'm now up to 50 laps!
The great news this year is that my family has been inspired follow me in training for the swim: it will be their first ever ocean swim! My dad, Craig Dore, uncles Adrian Dore and Ross Crossan, and cousin Haydan Lucas are joining me and training for the 2015 Murray Rose Malabar Magic Ocean Swim.
Happy New Year everyone, and if you would like to sponsor me and my family members for the swim in 2015 you can go to... Click here
---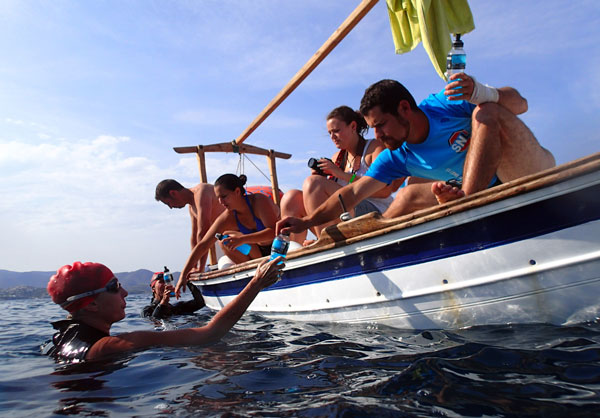 The latte pontoon, at the half way point of the Sunset Swim on the Costa Brava in 2014.
Book Vanuatu, Fiji now
We have our packages online now for Vanuatu in June 2015 and for Fiji in October.
For Vanuatu... Click here
For Fiji... Click here
And mark these dates in your diaries...
June 4-12 - Vanuatu Open Water Swims folllowed by Espiritu Santo Swim Week - Travel packages available now... Click here
Late July-early August - Our 1st inaugural oceanswimsafari to Tonga to swim with whales... Details coming soon.

August 14-23 - Greece oceanswimsafari, by yacht through the Northern Sporades islands, led by Sydney's favourite Greek chef, David Tsirekas, formerly of Perama and Xanthi, now of Kefi Taverna... Click here
August 28-September 2 - Our first inaugural San Sebastian oceanswimsafari in Spain
September 6-14 - Costa Brava oceanswimsafari, Spain... Click here
October 7-24 - Yasawas oceanswimsafaris either side of the Mana Fiji SwimFest in Fiji
Check out our new oceanswimsafaris.com website for info and booking details about our oceanswimsafaris in 2015.
There's also the Samoa Swim Series from August 3-8, including ancillary swims in the lead-up.
---
Glistening Dave's 2015 ocean swims calendar
There's still time to order Glistening Dave's ocean swims calendar 2015. Get your order in now, before supplies run out.
More info and to order... Click here
---
Swims open for online entry...
Avalon (Sun, Jan 11)... Click here
North Bondi (Sun, Jan 11)... Click here
Manly (Jan 11)... Click here
Mona Vale (Sun, Jan 18)... Click here
Palm-Whale (The Big Swim, Sun, Jan 25)... Click here
Newcastle Harbour (Oz Day, Mon, Jan 26)... Click here
Bilgola (Sat, Jan 31 - postponed date)... Click here
Avoca (Sun, Feb 8)... Click here
North Bondi (Sun, Feb 8)... Click here
Malabar (Sun, Feb 15)... Click here
Nobbys-Newcastle (Sat, Feb 21 - postponed date)... Click here
Bondi (Sun, Feb 22)... Click here
Evans Head (Sun, Mar 1)... Click here
Freshwater (Sun, Mar 1)... Click here
Port Noarlunga (Mon, Mar 9)... Click here
Fingal Bay (Sun, Mar 22)... Click here
Balmoral (Sun, Mar 22)... Click here
Stanwell Park (Sun, Mar 22)... Click here
Wollongong (Sat, Mar 28)... Click here
Queenscliff (Sun, Apr 5)... Click here
Copeton Waters (Inverell, Apr 11)... Click here
Mollymook (Sat, April 11)... Click here
Shellharbour (Sun, Apr 12)... Click here
Coogee (Sun, Apr 12)... Click here
Black Head (Sun, Apr 19)... Click here
South Head (Sun, May 17)... Click here
Vanuatu (June 6 and 10)... Click here
Coming soon... Ballina (Feb 8 - New swim), Lake Macquarie (March 21)
---
Late breaking news on today's swims...
It's swim day, and you want to know the latest... Is your swim on or off?
There are several ways we let you know: we tweet all our latest news, especially on swim day. You can follow us on Twitter through our handle @oceanswims.
Our Twitter feed also loads on to oceanswims.com. Click the Twitter banner near the top of our home page. Or check the ticker of our latest tweets near the bottom of the home page.
If an affected swim asks us, we will also send an sms to all online entrants.
---
Cards we take
When you enter events online through oceanswims.com, or when you buy a pair of your favourite Views through our Gogs boutique, we accept only Mastercard and Visa. Other cards will fail.
---
Swim results
As soon as we receive swim results in an acceptable format, we process them and post them on oceanswims.com. We do not respond to individual enquiries about when results will be posted, or where they can be found. The results appear on oceanswims.com under Swims/Results.
---
Not getting our newsletters?
If you expect to receive our newsletters, but they're not turning up, or you know someone who isn't getting theirs, chances are they're being diverted into your Spam or Trash folders. Some ISPs put them in there because they think they're spam. Gmail does this sometimes, as does Hotmail, Optus, etc, and some of the larger business houses. So check your Spam and Trash folders. Often, that's where you'll find them.
You could also put oceanswims.com on your White List of approved email senders. You should be able to set up a white list by logging into your system settings.
---
List your event
If you'd like us to list your event on our calendar, you can complete our List your event form on oceanswims.com.
We list all events, of which we're aware, free of charge. If you'd like further exposure, as a Featured Swim (which gets you onto our home page), then there is a charge attaching to that. For information on event services... Click here
To leave your event details... Click here
---
All that and more at oceanswims.com.
See you on the beach,
os.c
---
Subscribe/Unsubscribe
If you don't wish to receive our newsletters, just let us know. Please tell us your name and the email address at which you're receiving our newsletters now. Maybe someone else used your email address as a contact when entering. Please make sure you tell us the email address at which you're receiving our emails now. And tell us the name under which you're listed. You'd be surprised at how often someone asks to have their listing removed, but they give us a different email address and they've changed their name. If you don't tell us these details, we can't find you.... Click here
If you know someone who would like to receive them... Click here