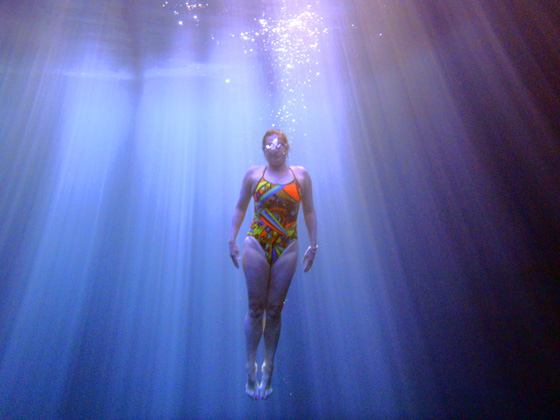 In a blue hole in Santo, Vanuatu... Travel packages for Vanuatu 2015 are online now... See below

So

this

is

Xmas

...
Xmas Eve Eve and, this morning, we had our last "swim" before the holiday break. Not really a swim, for we have a problem with our ears at the moment and we can't put our head under water. So we went with Mrs Sparkle to the pool and, while she swam with the Sunrise Sisters, we walked with the codgers in the 25m utility pool. Up and back; up and back: frontwards then backwards, sideways then sideways the other way; frontwards then backwards... You get the drift. It's designed to exercise our body in toto and in parts. A bit of gentle weight-bearing activity that offers some counter to what we normally do, which is sit at a desk hunched over a keyboard.
Our ears are just the latest disruption to our swimming. A few weeks back, we lost our coach from Crummy Drummy. He moved on to things better than indulging aging hacks in 5:30am squads three times per week. He's been replaced, but it's not the same. So Mrs Sparkle has focused on the Sunrise Sisters at Ryde while we have floundered somewhat. The Sunrise Sisters swim each morning. It's a 50m indoor freshwater pool. We're prepared to cop a bit of freshwater, but we not keen on swimming in it regularly.
Blokes don't float in freshwater, you see. We swim at 45 degrees in freshwater. Like all boofheads, we have nothing on the lower half of our bodies to lift our legs in freshwater to allow us to swim comfortably. We're reminded of the commentary of Paul Phelan at the first inaugural Vanuatu Open Water Swim, when he called in the last finisher, an airline pilot, saying, "He's doing the last kilometer vertical". Some punters can't be helped even in saltwater.
Freshwater is less dense than the salt. While we can swim in it, it's harder and it's less enjoyable. We hate it at the start of each winter when Drummy closes. It takes us all winter to become accustomed to the freshwater then, just as we're comfortable, Drummy reopens. Laydees don't face this issue the way blokes do... we'll leave it at that. We've been putting up with it each winter whilst Crummy Drummy has been shut, but we're not keen on doing it all the time. Just as we prefer to swim outdoors.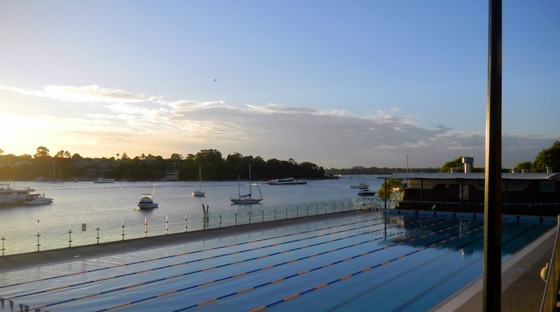 Cabaripper pool at Dawn. It's noice, swimming there.
So our plan, while Mrs Sparkle swims indoors in the freshwater, is to ease into the habit of swimming squadless at Cabaripper, which is another riparian saltie, on the banks of the Parramatta River not far from where we live. The idea is that we drive to Cabbaripper early, before the traffic intensifies, swim, then come back across the river on the punt at Mortlake, still avoiding the peak hour traffic. If we're early enough, we can meet the Sunrise Sorority at Dolcini at Putney for their morning cuppa, which is, after all, the only reason any of us swim.
We've done this only once so far, however: swim at Cabba. We missed the cuppa that day because we rolled out of bed too late. Cabba opens at 6am and Ryde at 5:30, so the Sunrise Sisters are well through their session before we can enter the water. But we shall see how it goes.
We've also taken to walking more. We enjoy walking. There are good paths along the river where we live and we have a couple of nice early morning walks mapped out that can be as short as 3.8km or as long as 7km+, doable comfortably prior to heading into "the office" each day. Our favourite walk is c. 5.5km. The plan, referred to above, is to alternate the walking with the swimming, day about.
(We've focused on walking over the last two years since we had our hips replaced with bits of metal. Now, two years on, they feel very good and we wonder why we left it so long to have them dealt with.)
But that's the plan: swim-walk-swim-walk-swim-walk, then swim on Sundee, maybe with Thursday as a dee of rest. You have to have a plan to work to, don't you. But it's not easy to realise it, such are the distractions of life, particularly at Xmas.
Anyway, our final swim of the pre-Xmas season was today, but due to our ears it was lap-walking with the codgers rather than a swim. Most of the codgers mix their walking with swimming, and in that 25m utility pool, you will see some of the most bizarre strokes that you ever could witness. How some of them get through the water amazes us, and how they get through the water and still have energy to get out again when they're finished is beyond us, too. But that's how codgers are: their bodies won't do things that the bodies of younger swimmers can do; they've lost the flexibility, the suppleness, to roll, glide, pull, recover, to propel themselves through the water merely by stretching, as younger swimmers can. Their strokes may be ugly, but the beauty is that they're doing it, still doing it after all these years.
Because they can. And their community has grown up around those laps in the 25m utility pool in a way that it can't in the serious lanes of the 50m pool up on the next deck. Because whilst they walk, they also talk.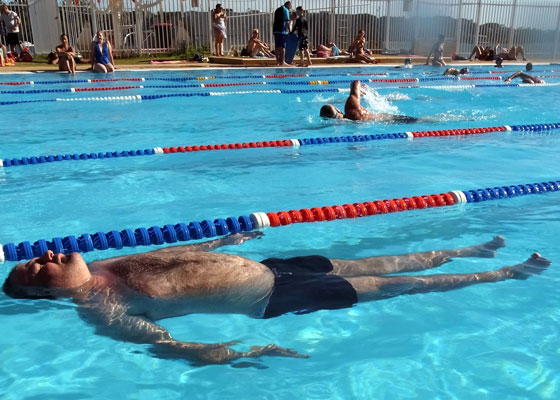 Crummy Drummy. You can see why we like to swim there, too.
When we were kids, we used to joke about Rotten ol' Herbie and his "finger acquaintances", as Peppermint Pattie termed them. They were people whom Herbie knew only from passing them along the road between Caves Beach and Swansea. It was a drive of several kilometres, and it wasn't until later in our adolescence that housing developed all the way along the road. It could be lonely; a bit desolate. There were few distractions. All the drivers who travelled that road came to know each other, and they would acknowledge each other as they passed in opposite directions, by a subtle lift of their index finger as they passed; so subtle that you had to be watching to pick it. But they were the finger acquaintances, and the subtle acknowledgements were the start of their community.
Just like the codgers in the 25m utility pool. As they schlepp up and down the lanes, lap after lap, they acknowledge each other as they pass, and they exchange banter, scraps of commentary on world affairs, insights into the weather, profound contemplations on the political situation de jour. This morning, it was on the State Opposition Leader and the fact that he'd once signed a letter in support of the Lindt cafe gunman. But it wasn't on the fact of it, rather it was their prognoses of how it would affect the opposition leader's future, and their diagnoses of why he did it, and what it said about his character. This was all in scraps, tidbits, mind you, as the codgers passed each other, lane after lane, lap by lap. Bon mots thrown over the shoulder insouciantly as the shoulders urge the corpulent bodies forward, at paces that we have trouble matching.
In other lanes, other codgers dwell on other issues.
The 25m utility pool is a step up from the program pool, which is also the hydrotherapy pool at Ryde. Immediately after our hip operations, and before we were back in the water for laps, we frequented the program pool whilst Mrs Sparkle swam with the Sunrise Sisters down the other end. There was a crowd of regulars in there of codgers and codgesses whose main aim, it seemed to us, was flirting, carried out circuitously as they trod the pool in their "exercises". Were they there for the exercises? Or for the flirting? The exercises were the catalyst for the flirting, perhaps, and if it all made them feel good as they went about their days, then good on 'em.

The utility pool at Ryde, at a slightly busier time. On one day in the last weeks of school, 980 school children visited the pool for swim lessons.
The program pool is tiny compared with the other pools: maybe 10m x 15m. It has a loyal crowd, much the same people each day, of whom we were the youngest by probably 15 years. There isn't much English spoken in there. It's generally southern European and "near-eastern" languages, so you can't always tell what they're saying if, like us, your heritage is more western Yrpean. You can tell what they're doing, for body language often is far more expressive than the word.
We graduated ourselves from the Program pool to the 25m utility pool after a couple of sessions being pursued by an octogenarian stroke victim on a zimmer frame who wanted to be our friend, and who insisted on relating to us his techniques for achieving erection, and how hard it is finding a GP who will prescribe Viagra. Good on him for relentlessly living life, of course, but we're not of a mind to have those conversations with some people. Any people, come to think of it.
There's a community in the 50m competition pool, too, but it's much less personal because the punters there are focused more on laps than on interaction. Many of them resent the interaction, in fact. They can be verrry serious about themselves. Perhaps they spend their sessions wondering why they can't have a lane to themselves. No different from any other competition pool, come to think of it. We swim there when we're able to put our head in the water, but it's very much a lesser option to a saltwater pool, such as Cabba or Crummy Drummy.
There's a community about pools, about all places, in fact, where people come into contact with each other. We know pools because that's what we do. It's nice to be part of it, but it's also nice to be part of it, then to walk away and go about our day. That keeps it special; it avoids the familiarity that often sours relationships amongst otherwise unrelated people who incidentally become close.
So, this is Xmas. It used to be a day for religious observance, but it hasn't been that for most people for a long time, despite the pieties one hears from time to time. Xmas has morphed into a celebration of relationships, of family and friends, of slowing down a bit to appreciate the people who are special to us. It's those relationships that define us.
Have a good Xmas, you lot. Be good, be sensible, be safe.
See you on the beach.
---
This newsletter
Some of you will be receiving our newsletter for the first time since early 2014. Some of you think you've "slipped off the list". The reason is that, as we launched our new website at the beginning of March, 2014, we also took down our previous mailing list in order to "cleanse" it: to reduce duplications, to eliminate the entries that didn't mean anything, and so on. Since then, our mailing list has been all those who've entered swims through our new entry portal, launched at the end of 2013.
Now we've combined the two lists and we emailing to everyone again.
And an apology: if you've unsubscribed from our list in the past but now suddenly find yourself receiving our email again, we're sorry. Please remind us, tell us your email address and your name (so that we can find you on our list), and we'll unsubscribe you once more... Click here
---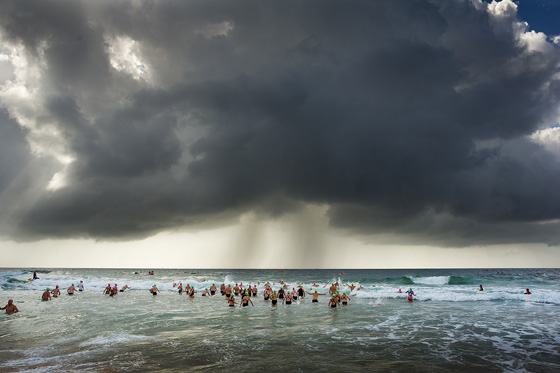 An orgy of swims over Xmas-New Year

... especially in Victoria, where there are eight swims between Boxing Day and the first weekend in the New Year, most of them capitalising on the hordes of holidaymakers swarming over the two holiday coast areas either side of Port Phillip Heads. All up, there are 20 swims of which we are aware scheduled between Xmas and the first weekend of the New Year. About the only place we can't find one is Queensland.
Swims indicated below with * are open to online entry through oceanswims.com. See the list at the bottom of this email for links to their event pages to find out more and to enter online. Above is Newport last year, captured by renowned photoartist Glistening Dave, as the storm rolled in.
Fri, Dec 26, Boxing Day - Pt Leo (Vic)
Sun, Dec 28 - Yamba (NSW)*, Warrnambool, Pt Lonsdale (Vic), Hobart (Tas), Glenelg (SA)
Tue, Dec 30 - Anglesea (Vic)
Thu, Jan 1, New Year's Day - Mt Maunganui (NZ)
Fri, Jan 2 - Phillip Island (Vic)
Sat, Jan 3 - Torquay, Port Fairy, Sorrento (Vic), Cottesloe (WA), Ulverstone (Tas), Tauranga (NZ)
Sun, Jan 4 - Gerringong*, Newport* (NSW), Mt Maunganui (NZ), Seacliff (SA), Albany (WA)
Key swims we'd point out -
Yamba, on the NSW North Coast this Sundee, online entries close at 5pm on Boxing Day... Click here
Gerringong (Sun, Jan 4) is Round 2 in the fine ocean swimmer series NSW... Click here
Mt Maunganui (Sun, Jan 4) is Round 2 in the fine ocean siwmmers series New Zealand... Click here
Newport (Sun, Jan 4) is the only swim in Sydney on that first weekend in the New Year... Click here
---
Nobbys-Newcastle, Billie rescheduled

Two swims postponed from December 13-14 have been rescheduled -
Nobbys-Newcastle now will run on Sat'dee, February 21... Click here
Bilgola, now Round 4 in the fine ocean swimmers series NSW, will run on Sat'dee, Jan 31, which means Sydney swimmers now have a reasonably priced swim available on the weekend of the Cole Classic... Click here
---
Swimming will help keep you healthy... Or it will kill you

Two different views of swimming ioffered in the meeja in the last few days...
Swimming is the best exercise as you age, according to researchers at University of Western Sydney... We haven't seen this in the local meeja, but maybe we just missed it. Check out this report in the Washington Post... Click here
The serious meeja got the silly season off to a triffic start yesterday, running a piece by a swimmer with declared phobia of sharks on how dangerous it is to swim in Sydney Harbour. An excitable piece, but we've offered to take the writer, Deborah Snow, for a swim to help her get over it... Click here
---
oceanswimsafaris in 2015
Check out our new oceanswimsafaris.com website... Click here
And whilst you're about it, we have our packages online now for Vanuatu in June 2015. Two legs of the Vanuatu swims: Port Vila on Sat'dee, June 6, and Espiritu Santo Swim Week Mon-Fri June 8-12... Click here
Mark these dates in your diaries -
June 4-12 - Vanuatu Open Water Swims folllowed by Espiritu Santo Swim Week - Travel packages available now... Click here
August 14-23 - Greece oceanswimsafari, by yacht through the Northern Sporades islands, led by Sydney's favourite Greek chef, David Tsirekas, formerly of Perama and Xanthe, now of Kefi Taverna.
August 28-September 2 - Our first inaugural San Sebastian oceanswimsafari in Spain
September 6-14 - Costa Brava oceanswimsafari, Spain
October 7-24 - Two Yasawas oceanswimsafaris either side of the Mana Fiji SwimFest in Fiji
There's also the Samoa Swim Series from August 3-8, including ancillary swims in the lead-up. We're also planning two new oceanswimsafaris in the Pacific -- Tonga and the Solomon Islands. Watch for details. Heron Island dates are still to be confirmed, but we expect the Great Barrier Reef Swim to be held at the end of October, 2015.
---

REGISTER NOW FOR REDFEB 2015!
Visit redfeb.com.au to take part in REDFEB 2015. Whether you choose to register for the REDFEB Relay, Challenge or Fundraising you can now start raising vital funds for Heart Research Australia.
Someone has a heart attack every TEN minutes and we need your help to reduce those numbers! Regular exercise can dramatically reduce your risk. Take part in REDFEB 2015 and encourage friends and family to do the same, together you can work towards a heart healthy lifestyle.
Start your fundraising journey now and help raise vital funds for research into the prevention, diagnosis and treatment of heart disease - Australia's biggest killer.
Visit www.redfeb.com.au or call (02) 9436 0056
---

Glistening Dave's ocean swims calendar 2015 - First orders are gone!
You've miseed Xmas, probably, but you still can get Glistening Dave's ocean swims calendar 2015.
Dave has selected his favourite photograrphs from last season from his "formal" swims and his early morning fraternisations in Bongin Bongin Bay to illustrate his 2015 ocean swims calendar.
The calendar includes every swim date we can find in Stra'a, New Zealand and the Sarth Pacific, and a few more besides that we deem relevant or interesting.
Pin it on your notice board at work, behind the door in the loo, on the wall in the kitchen, in your home office, your men's shed, your sewing and knitting room' the wall in your hallway, so that you can check swim dates each time you leave home or return.
Or get multiples and mount one in each of those places, so that you're constantly surrounded by images of ocean swimming. Or Dave's perceptions of them.
More info and to order... Click here
---
Our early season special from View
To celebrate the season, we're offering our first season goggle special: Buy two pairs of View Selene V820A goggles, and you can have them for $25 each. That's $50 for two pairs of the best all-round goggles you'll ever find (save $6!). It's a very good deal.
If you order them by Friday afternoon, we could even bring them with us to North Curl Curl on Saturday and save you the delivery cost.
To order... Click here
---
Late breaking news on today's swims...

It's swim day, and you want to know the latest... Is your swim on or off?
There are several ways we let you know: we tweet all our latest news, especially on swim day. You can follow us on Twitter through our handle @oceanswims.
Our Twitter feed also loads on to oceanswims.com. Click the Twitter banner near the top of our home page. Or check the ticker of our latest tweets near the bottom of the home page.
If an affected swim asks us, we will also send an sms to all online entrants.
---
Cards we take
When you enter events online through oceanswims.com, or when you buy a pair of your favourite Views through our Gogs boutique, we accept only Mastercard and Visa. Other cards will fail.
---
Swim results

As soon as we receive swim results in an acceptable format, we process them and post them on oceanswims.com. We do not respond to individual enquiries about when results will be posted, or where they can be found. The results appear on oceanswims.com under Swims/Results.
---
Not getting our newsletters?
If you expect to receive our newsletters, but they're not turning up, or you know someone who isn't getting theirs, chances are they're being diverted into your Spam or Trash folders. Some ISPs put them in there because they think they're spam. Gmail does this sometimes, as does Hotmail, Optus, etc, and some of the larger business houses. So check your Spam and Trash folders. Often, that's where you'll find them.
You could also put oceanswims.com on your White List of approved email senders. You should be able to set up a white list by logging into your system settings.
---
List your event
If you'd like us to list your event on our calendar, you can complete our List your event form on oceanswims.com.
We list all events, of which we're aware, free of charge. If you'd like further exposure, as a Featured Swim (which gets you onto our home page), then there is a charge attaching to that. For information on event services... Click here
To leave your event details... Click here
---
Swims open to online entry on oceanswims.com...
Yamba (Sun, Dec 28)... Click here
Gerringong (Sun, Jan 4)... Click here
Newport (Sun, Jan 4)... Click here
Avalon (Sun, Jan 11)... Click here
North Bondi (Sun, Jan 11)... Click here
Manly (Jan 11)... Click here
Mona Vale (Sun, Jan 18)... Click here
Palm-Whale (The Big Swim, Sun, Jan 25)... Click here
Newcastle Harbour (Oz Day, Mon, Jan 26)... Click here
Bilgola (Sat, Jan 31 - postponed date)... Click here
Avoca (Sun, Feb 8)... Click here
North Bondi (Sun, Feb 8)... Click here
Malabar (Sun, Feb 15)... Click here
Nobbys-Newcastle (Sat, Feb 21 - postponement date)... Click here
Bondi (Sun, Feb 22)... Click here
Evans Head (Sun, Mar 1)... Click here
Freshwater (Sun, Mar 1)... Click here
Port Noarlunga (Mon, Mar 9)... Click here
Fingal Bay (Sun, Mar 22)... Click here
Balmoral (Sun, Mar 22)... Click here
Stanwell Park (Sun, Mar 22)... Click here
Wollongong (Sat, Mar 28)... Click here
Copeton Waters (Inverell, Apr 11)... Click here
Mollymook (Sat, April 11)... Click here
Coogee (Sun, Apr 12)... Click here
South Head (Sun, May 17)... Click here
Coming soon... Forster (Sun, March 29), North Steyne (Sun, March 29), Black Head (Sun, April 19)
---
Subscribe/Unsubscribe
If you know someone who would like to receive our newsletters... Click here