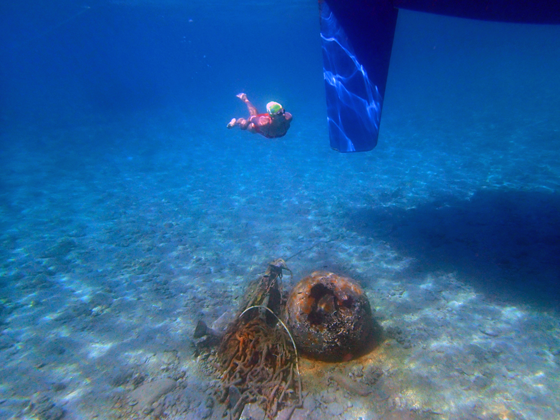 We're doing our oceanswimsafari through Greece's Northern Sporades Islands again in 2015 - Off Pontikinisi, we moored over a WW2 mine. There's a bit of history in Greece.
Coming up this weekend
Eight swims around the joint this weekend...
Sat'dee, Dec 13 - Nobbys-Newcastle and Penrith (NSW), St Kilda (Vic), Lake Hood (NZ), and Fremantle (WA)
Sundee, Dec 14 - Bilgola (NSW), Mentone (Vic), and Champion Lakes (WA)
oceanswims.com is taking entries online to Nobbys-Newcastle on Sat'dee, and Bilgola on Sunday.
Nobbys-Newcastle is a scenic journey from under Nobbys headland, at the entrance to Newcastle Harbour, around the rock shelf, past the Cowrie Hole and the Newcastle Ocean Baths, in to Newcastle Beach. It's a stunning course. Be aware, it's an early-ish start -- 9am -- so don't be late.
Online entries to Nobbys-Newcastle close at noon on Friday, December 12.
More info and to enter online... Click here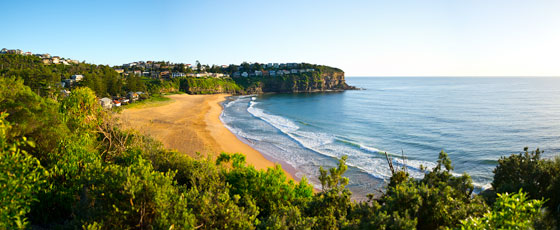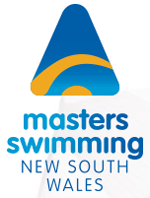 On Sunday, Bilgola (above) is Round 2 in the fine ocean swimmers series 2014/15. All swimmers who finish the 1.5km swim at Bilgola will qualify for points in the series (subject to them meeting cossie qualification -- see the fine ocean swimmers series page on oceanswims.com)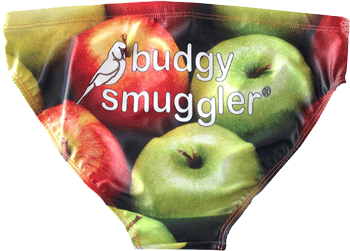 There are a few changes to Bilgola this season. There's a new, 800m swim running ahead of the established, 1.5km event. And the Bilgola swims are running earlier this year: the 800m starts at 9am, and the 1.5km starts at 10am. Don't think you can sleep in and mooch along the Northern Beaches to get there for the old 11am start. If you do, you might just make the finish. That's all.
As Round 2 in the fine ocean swimmers series, there are random draws for a voucher from budgysmuggler.com.au, and a season's membership to NSW Masters Swimming. We'll draw those prizes randomly from online entries and announce them via Twitter and our report page after the swim.
As a Pittwater swim, the local council waives parking fees until 2pm on swim day, but you must park legally. Much better to park at the rugby field at North Newport, off Pittwater Rd, and get the shuttle over to Billie. Or catch the bus: Route 190 from Railway Square.
Online entries to Bilgola close at 3pm on Saturday, December 13.
More info and to enter online... Click here
Also on Sat'dee, in Melbourne, the 1st inaugural St Kilda Mile. This event is an extension of the collaboration between the Michael Klim organisation and Queensland's Icon Events (formerly Weekend Warrior) into Victoria.
The event name is a bit of a misnomer, however, since the day involves more than a mile swim. There also are a 3.8km swim, kids events, and a charity relay.
More info... Click here
---
oceanswimsafaris in 2015
We're building a new oceanswimsafaris.com website which we'll have online over the next few days. In the meantime, mark these dates in your diaries -
June 4-12 - Vanuatu Open Water Swims folllowed by Espiritu Santo Swim Week - Travel packages almost ready for release.
August 14-23 - Greece oceanswimsafari, by yacht through the Northern Sporades islands, led by Sydney's favourite Greek chef, David Tsirekas, formerly of Perama and Xanthi, now of Kefi Taverna.
August 28-September 2 - Our first inaugural San Sebastian oceanswimsafari in Spain
September 6-14 - Costa Brava oceanswimsafari, Spain
October 7-24 - Two Yasawas oceanswimsafaris either side of the Mana Fiji SwimFest in Fiji
There's also the Samoa Swim Series from August 3-8, including ancillary swims in the lead-up. We're also looking at two other new oceanswimsafaris in the Pacific. Watch for details. Heron Island dates are still to be confirmed, but we expect the Great Barrier Reef Swim to be held at the end of October, 2015. Some of these dates may vary by a day or two either side.
---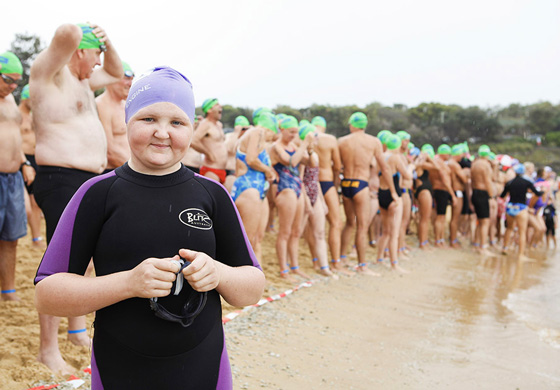 Support Georgia in her campaign for The Rainbow Club
"My name is Georgia Dore. I am 16 years old. Swimming is my passion, no matter where it takes place, in a swimming pool or ocean.
When I was 8 months old I was diagnosed with stage 4 Neuroblastoma which is cancer, after 18 months of treatment, which involved chemotherapy, an operation to remove the tumor, total body radiation and a stem cell transplant.
Due to my treatment I suffered a number of side effects, which include cataracts on both my eyes, hearing impairment, screws in both my hips and 4 years ago I developed Epilepsy, which then made me eligible to swim with Rainbow Club. In late 2013, Rainbow club asked me if I would like to be the first student of Rainbow Club to swim in the Murray Rose Malabar Magic Ocean Swim. I accepted the challenge and then my training began. I went to the local pool twice a week and gradually worked up to the 1 kilometre in the pool. I raised $3600 for Rainbow Club.
I am now a Junior Ambassador for Rainbow Club. I am going to be participating in the 2015 Murray Rose Malabar Magic Ocean Swim and I have already started my training. My goal will be to beat my time and to raise more money for Rainbow Club. I go to the local pool twice a week to train. After Christmas, I'll be heading out to Malabar to practice the 1km with my companion swimmer. I'm feeling very confident about it. Sponsor me and help me raise more money for Rainbow Club to give more kids with a disability the best support in learning how to swim. "Life is worth swimming" – Murray Rose."
Georgia is the first Rainbow Club student to take part in the club's Murray Rose Malabar Magic. Over the next two months, leading up to the 2015 Magic, we will publish Georgia's blog of her training for the swim. Georgia also will have a fundraising page, and you will have the chance to support her efforts.
---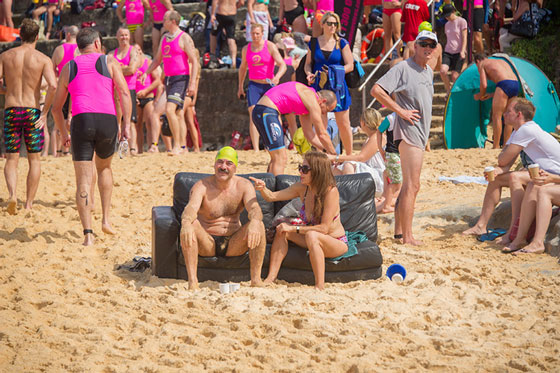 Last weekend...
Sharks on the brain... North Curl Curl, Bondi-Bronte... Report and results... Click here
---
$10 off your budgysmuggler orders for Xmas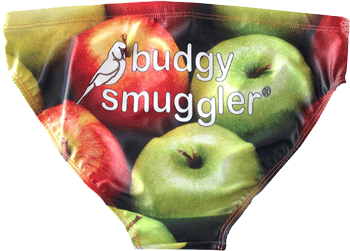 Our supporters at Budgy Smuggler, along with supporting our Fine Ocean Swimmers series and the fine ocean swimmers' tallies, have plenty to fill your stocking this Xmas. They've also hooked up ocean swimmers with $10 to spend in the lead up to December 25.
Check out their range of Men's, Women's, Kids' and Accessories. Have a look now at www.budgysmuggler.com.au to get your budgy smugglers in time for Xmas.
Enter the coupon code "Oceanswims" to get $10 knocked off your order cost. (Coupon valid until 5pm, Friday, December 12. One use per person, per address.)
To browse and order your budgysmugglers for Xmas... Click here
---

REGISTER NOW FOR REDFEB 2015!
Visit redfeb.com.au to take part in REDFEB 2015. Whether you choose to register for the REDFEB Relay, Challenge or Fundraising you can now start raising vital funds for Heart Research Australia.
Someone has a heart attack every TEN minutes and we need your help to reduce those numbers! Regular exercise can dramatically reduce your risk. Take part in REDFEB 2015 and encourage friends and family to do the same, together you can work towards a heart healthy lifestyle.
Start your fundraising journey now and help raise vital funds for research into the prevention, diagnosis and treatment of heart disease – Australia's biggest killer.
Visit www.redfeb.com.au or call (02) 9436 0056
---

Glistening Dave's ocean swims calendar 2015 - First orders are gone!
First orders for Glistening Dave ocean swims calendar 2015 have gone out this week. Orders received after Friday last week will be despatched in our second mailing in a few days time.
Glistening Dave has selected his favourite photograrphs from last season from his "formal" swims and his early morning fraternisations in Bongin Bongin Bay to illustrate his 2015 ocean swims calendar.
The calendar includes every swim date we can find in Stra'a, New Zealand and the Sarth Pacific, and a few more besides that we deem relevant or interesting.
Pin it on your notice board at work, behind the door in the loo, on the wall in the kitchen, in your home office, your men's shed, your sewing and knitting room' the wall in your hallway, so that you can check swim dates each time you leave home or return. Home again, jiggety jog! And where do we swim this weekend...
Or get multiples and mount one in each of those places, so that you're constantly surrounded by images of ocean swimming. Or Dave's perceptions of them.
Triffic for personal use, and especially for presents at Xmas time for the swimmer, or towel carrier, who already has a full quiver of gogs and more than enough cossies.
If you hurry, you can be amongst the first batch of mail-outs.
More info and to order... Click here
---
Our early season special from View
To celebrate the season, we're offering our first season goggle special: Buy two pairs of View Selene V820A goggles, and you can have them for $25 each. That's $50 for two pairs of the best all-round goggles you'll ever find (save $6!). It's a very good deal.
If you order them by Friday afternoon, we could even bring them with us to North Curl Curl on Saturday and save you the delivery cost.

To order... Click here
---
Late breaking news on today's swims...

It's swim day, and you want to know the latest... Is your swim on or off?
There are several ways we let you know: we tweet all our latest news, especially on swim day. You can follow us on Twitter through our handle @oceanswims.
Our Twitter feed also loads on to oceanswims.com. Click the Twitter banner near the top of our home page. Or check the ticker of our latest tweets near the bottom of the home page.
If an affected swim asks us, we will also send an sms to all online entrants.
---
Online entries, Gogs boutique - We take Mastercard, Visa only

Just a reminder, when you enter events online through oceanswims.com, or when you buy a pair of your favourite View gogs through our Gogs boutique, we accept only Mastercard and Visa. Other cards will fail.
---
We publish swim results on oceanswims.com...

As soon as we receive swim results in an acceptable format, we process them and post them on oceanswims.com. We do not respond to individual enquiries about when results will be posted, or where they can be found. The results appear on oceanswims.com under Swims/Results, which we figure is reasonably self-evident, and not hard to find.
---
Not getting our newsletters?
If you expect to receive our newsletters, but they're not turning up, or you know someone who isn't getting theirs, chances are they're being diverted into your Spam or Trash folders. Some ISPs put them in there because they think they're spam. Gmail does this sometimes, as does Hotmail, Optus, etc, and some of the larger business houses. So check your Spam and Trash folders. That's often where you'll find them.
You could also put oceanswims.com on your White List of approved email senders. You should be able to set up a white list by logging into your system settings.
---
List your event
We're getting events onto our calendar at a rate of knots. If you'd like to tell us about your event, you can complete our List your event form on oceanswims.com, to make sure we don't miss you.

Our policy is that we list all events of which we're aware, free of charge. If you'd like further exposure, as a Featured Swim (which gets you onto our home page), then there is a charge attaching to that. We have to make a buck somehow. For information on event services... Click here

To leave your event details... Click here
---
Swims open to online entry on oceanswims.com...
Nobbys-Newcastle (Sat, Dec 13)... Click here - Online entries close noon Friday, Dec 12
Bilgola (Sun, Dec 14)... Click here - Online entries close 3pm Saturday, Dec 13
Yamba (Sun, Dec 28)... Click here
Gerringong (Sun, Jan 4)... Click here
Newport (Sun, Jan 4)... Click here
Avalon (Sun, Jan 11)... Click here
North Bondi (Sun, Jan 11)... Click here
Manly (Jan 11)... Click here
Mona Vale (Sun, Jan 18)... Click here
Palm-Whale (The Big Swim, Sun, Jan 25)... Click here
Avoca (Sun, Feb 8)... Click here
North Bondi (Sun, Feb 8)... Click here
Malabar (Sun, Feb 15)... Click here
Evans Head (Sun, March 1)... Click here
Freshwater (Sun, March 1)... Click here
Port Noarlunga (Mon, Mar 9)... Click here
Stanwell Park (Sun, Mar 22)... Click here
Wollongong (Sat, Mar 28)... Click here
Copeton Waters (Inverell, Apr 11)... Click here
Mollymook (Sat, April 11)... Click here
Coogee (Sun, Apr 12)... Click here
Coming soon... Newcastle Harbour (Mon, Jan 26), Bondi (Sun, Feb 22), Balmoral (Sun, March 22), Forster (Sun, March 29), North Steyne (Sun, March 29), Black Head (Sun, April 19), South Head (Sun, May 17)
---
All that and more at oceanswims.com.
See you on the beach,
os.c
---
Subscribe
If you know someone who would like to receive our newsletters... Click here