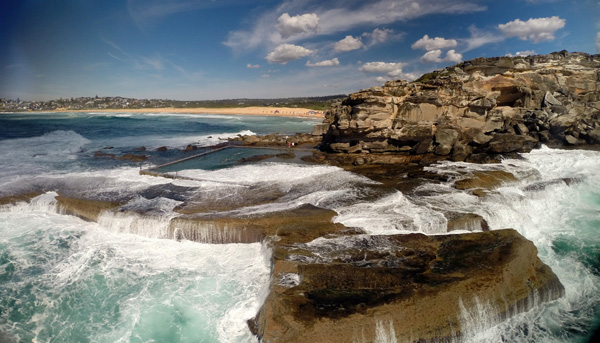 Coming up this weekend
Seven swims this weekend, scattered around the joint...
Sat'dee

- North Curl Curl (above - NSW), Rottnest Island (WA), Carlton Park (Tas)

Sundee

- Bondi-Bronte (NSW), Auckland, Wellington (NZ), Seacliff (SA)
oceanswims.com is taking entries online to the 3 Points Challenge and Swim at North Curl Curl on Sat'dee.
This is a unique event, and very well run, evidenced by the strong growth in numbers over recent years, particularly given that it's run on a Sat'dee. There are two events within - a 2km swim, and a biathlon consisting of three short swims (by the "3 Points") and runs in between.
The swim follows a course from North Curl Curl, north around the point (conditions permitting) towards Dee Why, then back south towards South Curl Curl, then back to North Curly. While a circuit, it's quite beautiful heading north along the palisade towards Dee Why. Maybe, one day, someone will run a swim from Dee Why to North Curly, or the other way, because it is a spectacular swim. (We did Dee Why-Freshwater informally one winter, some years back, which is how we know how stunning that bit of coastline is.) It's a nice way of turning a circuit into a journey, adding a dimension to the swim, in territory that most punters would never get to traverse otherwise.
The 3 Points Challenge biathlon is a very different event, too. Most biathlons follow a simple swim/run format, or swim/paddle, or ride/run, or something like that. This one follows a course between North Curly and Freshwater, and splits the swim into three legs: at each of North Curl Curl, South Curl Curl, and Freshwater, there are short swims, barely more than out through the break and back, with off-road runs between them. So you'll need to get your shoes off and on thrice during the course of the event. But along the way, you have three very different breaks -- the break at South Curly is vastly different to the break at North Curly, and again at Freshwater -- with some spectacular running along some of the most beautiful beaches in Sydney.

Another dimension to the 3 Points Challenge is inherent in the participation of our acquaintance, Killer, who treks down from Murwillumbah each year with a posse of cobbers from the Murwillumbah Brass Monkeys for this event.
This is Killer...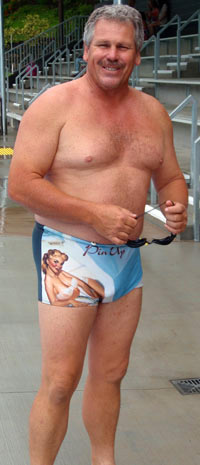 (We publish several images of Killer not to labour the point, but to ensure that you all have fair warning. See below for Killer's special offer at the 3 Points on Sat'dee.)
This will be Killer's 9th 3 Points Challenge. He's intent on doing 10. In training, Killer tells us he's been on liquid foods only for three weeks in an effort to shed weight. His colleague, Marc Vining, wrote in his report from last Sundee's Tweed River (The Killer) Swims: "Killer will be making his annual appearance at the 3 Points Challenge... and as a Christmas Gift to his many acolytes he is offering 'Half-Price Selfies' for anyone interested. $5.50 instead of the usual $11 (GST included). He will wear his flesh coloured skins if asked, but photos of him wearing those must not be published on any form of social media that people with sensitive stomachs or a refined sense of taste may be viewing (Andrew Bolt's or Alan Jones's blogs are probably OK)". North Curly organisers have asked that Killer not wear his flesh-coloured torpedoes. When (if) you see them, you will understand why.
This, year, Killer is coming with Sharky - Mur'bah's barber, who cut Kevin Rudd's hair during last year's election campaign -- Gomer Pyle, and Tweed River Swim workhorse Marc. They may be accompanied by a lady Brass Monkey, which would be a first. Killer is planning to wear a new pair of hibiscus-emblazoned cossies (see left), which he bought in Oxford St, but he's packing his flesh-coloured torpedoes, just in case. Thankfully, we don't have to hand an image of Killer in his flesh-coloured torpedoes. But to give you an idea, when training in them in Mur'bah, Killer says he has received death threats.
You can do either or both events at North Curl Curl. Remember, it's a Saturday event. Online entries close at 9am, Friday, December 5... Click here
In Sydney on Sundee, Bondi-Bronte, one of the season classics. We understand you can enter through the event website until 10pm Friday, December 5, or on the beach on race day. This is a course you really must do at some stage, much like Wedding Cake Island two weeks back, and The Big Swim (Palm-Whale) on January 25.
In NZ, the Auckland Harbour Crossing is on Sunday -- the biggest swim in NZ by swimmer numbers, we understand -- and there's a Scorching Bay Swim in Wellington.
In the West, it's the Rottnest Swim Thru on Sat'dee. Carlton Park is on Saturday near Hobart, and Seacliff runs in Adelaide on Sunday.
You can find out more about all this weekend's swims at oceanswims.com... Click here
---
oceanswimsafaris in 2015
We're building a new oceanswimsafaris.com website which we hope we'll have online over the next few days. In the meantime, mark these dates in your diaries -
June 4-12 - Vanuatu Open Water Swims folllowed by Espiritu Santo Swim Week - Travel packages almost ready for release.
August 14-23 - Greece oceanswimsafari, by yacht through the Northern Sporades islands
August 28-September 2 - Our first inaugural San Sebastián oceanswimsafari in Spain
September 6-14 - Costa Brava oceanswimsafari, Spain
October 7-24 - Two Yasawas oceanswimsafaris either side of the Mana Fiji SwimFest in Fiji
There's also the Samoa Swim Series from August 3-8, including ancillary swims in the lead-up. We're also looking at two other new oceanswimsafaris in the Pacific. Watch for details. Heron Island dates are still to be confirmed, but we expect the Great Barrier Reef Swim to be held at the end of October, 2015. Some of these dates may vary by a day or two either side.
---
Results awaited from Dawny last Sundee...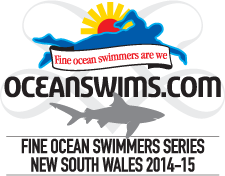 We're expecting results from last Sunday's Dawny swim overnight tonight (Wednesday) so we should have them online some time Thursday morning. Most punters have been waiting patiently, and we must remember that, as a smaller swim, the Dawny organisers are

not in a position to shell out several thousand clams for chip timing (which is what it costs).
We are waiting keenly, ourselves, because Dawny was Round 1 in the fine ocean swimmers series NSW 2014/15, and we want to calculate series points using our handicap system.
In the meantime, we have drawn two lucky prizewinners from last weekend's Round 1 -
budgysmuggler.com.au voucher - Eliza Davey
NSW Masters Swimming membership - Jen Brammer
Remaining swims in the new fine ocean swimmers series 2014/15 are -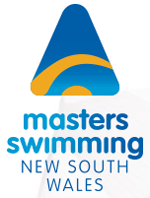 Dec 14 - Bilgola Ocean Swim
Jan 4 - Captain Christie Classic, Gerringong
Jan 25 - The Big Swim, Palm-Whale
Feb 15 - Murray Rose Malabar Magic
Feb 22 - Bondi Bluewater Challlenge
March 1 - Barney Mullins Classic at Freshwater
March 22 - Stanwell Park Ocean Challenge
April 12 - Island Challenge at Coogee
Remember, if you qualify for points in the series by completing seven of the nine series swims, then you will be in the draw for one of these travel prizes. You don't need to be a "good" swimmer, or a "fast"swimmer. You just need to complete the swims "legally".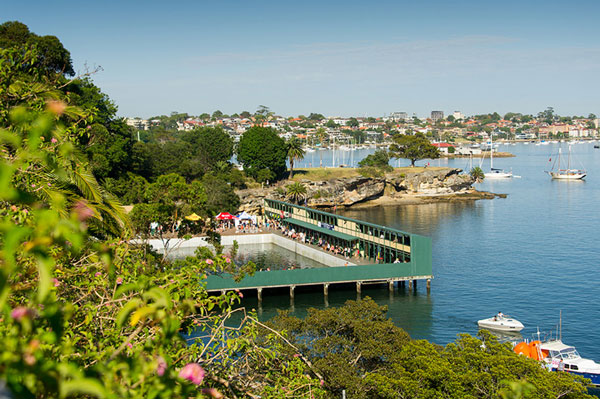 We're also waiting keenly on the Dawny results because the organisers used the RaceSplitter timing system. This makes them the largest swim thus far to use this system, which uses an app from the App Store for $43.99. RaceSplitter has been used by swims at Shellharbour and Nowra-Culburra for several years, and at Heron Island. But as the biggest swim to have used the system so far, in our experience, we're keen to hear how it went. We hate to see small swims paying thousands for chip-timing when they don't really need to, and they can't really afford it. Chip timing is no panacea. We still reckon the best timing system, and the cheapest, is a well-organised post-it note system.
But given the labour-intensity of the post-it note system, RaceSplitter seems to be a sound alternative. It's a sequential system. You set up your field in an Excel spreadsheet, download it to iPhones and/or iPads -- you can use several in unison -- and simply tap as finishers cross the line whilst also recording the sequence of finishers (you need numbers on arms for this). Then you correlate the sequences of times with numbers.
In the meantime, we have results from Tweed River, last Sunday, on oceanswims.com now, along with a report from organiser, Marc Vining... Click here
For more info on the fine ocean siwmmers series... Click here
---
Glistening Dave's ocean swims calendar 2015 - First orders about to go!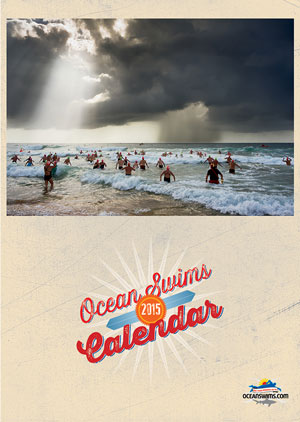 Glistening Dave is waiting at home for a call... It's to be from the printers, to let him know when his ocean swims calendar 2015 is ready for collection, then ready for despatch. Any day now, he tells us. Those of you who already have their orders in will get theirs first.
Glistening Dave has selected his favourite photograrphs from last season from his "formal" swims and his early morning fraternisations in Bongin Bongin Bay to illustrate his 2015 ocean swims calendar.
The calendar includes every swim date we can find in Stra'a, New Zealand and the Sarth Pacific, and a few more besides that we deem relevant or interesting.
Pin it on your notice board at work, behind the door in the loo, on the wall in the kitchen, in your home office, your men's shed, your sewing and knitting room' the wall in your hallway, so that you can check swim dates each time you leave home or return. Home again, jiggety jog! And where do we swim this weekend...
Or get multiples and mount one in each of those places, so that you're constantly surrounded by images of ocean swimming. Or Dave's perceptions of them.
Triffic for personal use, and especially for presents at Xmas time for the swimmer, or towel carrier, who already has a full quiver of gogs and more than enough cossies.
If you hurry, you can be amongst the first batch of mail-outs.
More info and to order... Click here
---
Our early season special from View
To celebrate the season, we're offering our first season goggle special: Buy two pairs of View Selene V820A goggles, and you can have them for $25 each. That's $50 for two pairs of the best all-round goggles you'll ever find (save $6!). It's a very good deal.
If you order them by Friday afternoon, we could even bring them with us to North Curl Curl on Saturday and save you the delivery cost.
To order... Click here
---
You Can Too
You've seen their orange caps -- Can Too -- Come one, Come all!
Confident in the ocean but want to improve your technique? Smash your PB to beat that person that always crosses the finish line just in front of you? Can Too welcomes every different type of person -- from ages 18 to 80!
As well as a session in the pool with qualified coaches during the week, training groups meet on Saturday mornings at local beaches to hone their ocean skills! It's a whole lot of fun and a great way to get out of your comfort zone and challenge yourself.
Take up professional coaching twice weekly and a supportive environment; Can Too is all about fun, fitness, friends and fundraising. During training, you fundraise for cancer research through the Can Too Foundation. In the last 10 years, Can Too has raised $13.8 million for research and trained over 9,500 men and women! You Can Too!
This year, Can Too goal events in Sydney are the 1km and 2.5km Palm Beach Big Swim, the North Bondi Classic 1km and 2km swims, and the 3.8km Lake Macquarie Across the Lake swim, south of Newcastle. In Melbourne, Can Too trains for the 2.5km and 5km Melbourne Swim Classic and the 1km and 2km Williamstown Australia Day Swim. In Brisbane, Can Tooers train for two swims at the Tweed River on November 30, both 1.2km and 2.5km.
1km, 2km + 2.5km training goes for 12 weeks. 3.8km training goes for 18 weeks.
Pool and beach training locations all over Sydney. (And they also train for open water swims in Melbourne!!)
For more details, head to the website www.cantoo.org.au or contact Sarah on 02 8072 6188 or email [email protected]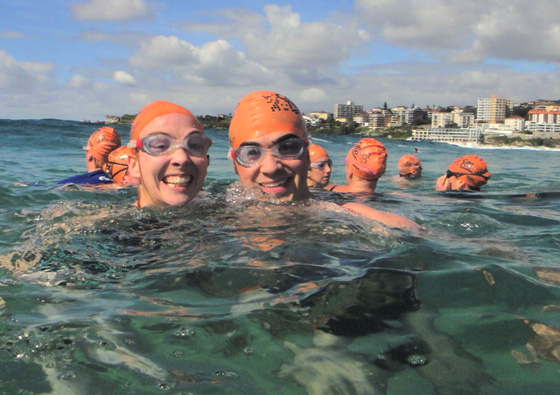 ---
Online entries, Gogs boutique - We take Mastercard, Visa only
Just a reminder, when you enter events online through oceanswims.com, or when you buy a pair of your favourite View gogs through our Gogs boutique, we accept only Mastercard and Visa. Other cards will fail.
---
We publish swim results on oceanswims.com...
As soon as we receive swim results in an acceptable format, we process them and post them on oceanswims.com. We do not respond to individual enquiries about when results will be posted, or where they can be found. The results appear on oceanswims.com under Swims/Results, which we figure is reasonably self-evident, and not hard to find.
---
Not getting our newsletters?
If you expect to receive our newsletters, but they're not turning up, or you know someone who isn't getting theirs, chances are they're being diverted into your Spam or Trash folders. Some ISPs put them in there because they think they're spam. Gmail does this sometimes, as does Hotmail, Optus, etc, and some of the larger business houses. So check your Spam and Trash folders. That's often where you'll find them.
You could also put oceanswims.com on your White List of approved email senders. You should be able to set up a white list by logging into your system settings.
---
List your event
We're getting events onto our calendar at a rate of knots. If you'd like to tell us about your event, you can complete our List your event form on oceanswims.com, to make sure we don't miss you.
Our policy is that we list all events of which we're aware, free of charge. If you'd like further exposure, as a Featured Swim (which gets you onto our home page), then there is a charge attaching to that. We have to make a buck somehow. For information on event services... Click here
To leave your event details... Click here
---
Swims open to online entry on oceanswims.com...
North Curl Curl (Sat, Dec 6)... Click here - Online entries close 9am Friday, December 5.
Nobbys-Newcastle (Sat, Dec 13)... Click here
Bilgola (Sun, Dec 14)... Click here
Yamba (Sun, Dec 28)... Click here
Gerringong (Sun, Jan 4)... Click here
Newport (Sun, Jan 4)... Click here
Avalon (Sun, Jan 11)... Click here
North Bondi (Sun, Jan 11)... Click here
Mona Vale (Sun, Jan 18)... Click here
Palm-Whale (The Big Swim, Sun, Jan 25)... Click here
Avoca (Sun, Feb 8)... Click here
North Bondi (Sun, Feb 8)... Click here
Malabar (Sun, Feb 15)... Click here
Evans Head (Sun, March 1)... Click here
Freshwater (Sun, March 1)... Click here
Port Noarlunga (Mon, Mar 9)... Click here
Stanwell Park (Sun, Mar 22)... Click here
Wollongong (Sat, Mar 28)... Click here
Copeton Waters (Inverell, Apr 11)... Click here
Mollymook (Sat, April 11)... Click here
Coogee (Sun, Apr 12)... Click here
Coming soon... Newcastle Harbour (Mon, Jan 26), Bondi (Sun, Feb 22), Balmoral (Sun, March 22), Forster (Sun, March 29), North Steyne (Sun, March 29), Black Head (Sun, April 19), South Head (Sun, May 17)
---
All that and more at oceanswims.com.
See you on the beach,
os.c
---
Subscribe
If you would like to receive our newsletters, or you know someone who would like to receive them... Click here