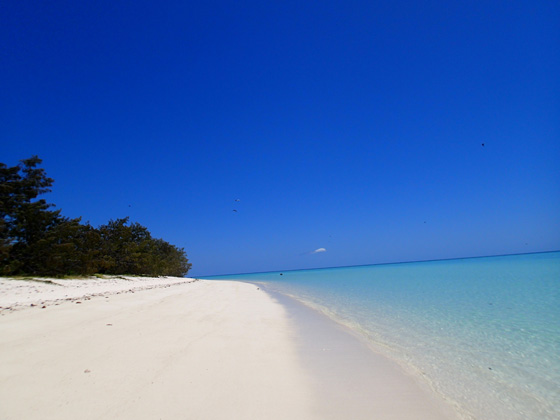 Another scene from Heron Island last month. Wish you were there?

Queensland or Perth?

Just two swims this weekend that we're aware of - Whitehaven Beach Swim near Hamilton Island, in North Queensland, and the second in the WA Swimming Open Water Series, at City Beach in Perth.
Whilst we await more intense activity — which comes the following weekend, when the season hits us with a crash — we've been updating our calendars. This week, we've pretty much completed our NZ calendar, with around 80 events, and Victoria, with 35. We have at this point 48 in NSW (bear in mind that many events have multiple swims). We're working on Wessna-Stra'a and Sou'-Stra'a, and we plan to have them finalised by the end of this week.
There will always be more events that come to view, however. Please check our calendars, and if you notice we're missing something, or we have some details wrong, please let us know. There's an email link to get us under "Contact us" on oceanswims.com... Click here
In the end, our calendars are only as good as the information we can find.
As we're assembling our calendars, we're helping our cobber, Glistening Dave, to populate his ocean swims calendar for 2015. Dave has selected the photograrphs to accompany each month, and we add in all the dates we can find throughout the calendar year, along with public holidays, etc. We include Stra'a, New Zealand, the Sarth Pacific, and other swims that we feel are relevant to Oceanic swimmers, such as some in Hawaii, Yrp, and elsewhere. We include results from all these swims in our fine ocean swimmers tallies (in which we tally up the distance swum by every swimmer in Stra'a and NZ). If you do a swim overseas and you'd like us to include it in the tallies, please let us know, with a link to the results.
Orders for Dave's calendar are flowing in already. It makes a triffic Xmas present, as well as an indispensable utensil for every ocean swimmer. See the story below to place your order, so that you get your calendar in plenty of time for Xmas.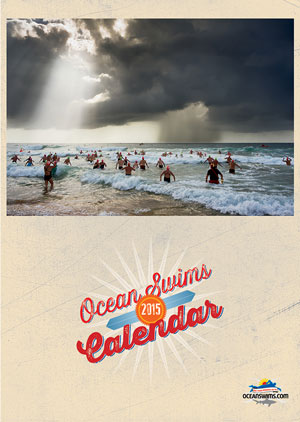 Glistening Dave's ocean swims calendar 2015
It's here... Glistening Dave has selected his favourite photograrphs from last season from his "formal" swims and his early morning fraternisations in Bongin Bongin Bay to illustrate his 2015 ocean swims calendar.
The calendar includes every swim date we can find in Stra'a, New Zealand and the Sarth Pacific, and a few more besides that we deem relevant or interesting.
Pin it on your notice board at work, behind the door in the loo, on the wall in the kitchen, in your home office, your men's shed out the back, your sewing and knitting room, the wall in your hallway, so that you can check swim dates each time you leave home or return. Or get multiples and mount one in each of those places, so that you're constantly surrounded by images of ocean swimming. Or Dave's perceptions of them, anyway.
Triffic for personal use, and especially for presents at Xmas time for the swimmer, or towel carrier, who already has a full quiver of gogs and more than enough cossies.
Orders are already coming in, so don't delay and make sure you're amongst the first batch of mailouts.
More info and to order… Click here
Our season special from View Swim
As the season gets going, we're also finding a big uplift in orders for our View Swim goggles and accessories. To celebrate the season, we're offering our first season goggle special: Buy two pairs of View Selene V820A goggles, and you can have them for $25 each. And we'll send them to you free of delivery charges. That's $50 for two pairs of the best all-round goggles you'll ever find (save $6!), and you save $7.90 on delivery. It's a very good deal. We'll have this special online from tomorrow, Thursdee, November 13.
To order… Click here
A message from Heart Research Australia...
The team at Heart Research Australia are very excited to announce their new partnership with oceanswims.com!
Did you know that heart disease is Australia's biggest killer? Sadly, heart disease kills one Australian every 12 minutes and affects two out of three families.
Heart Research Australia raises vital funds for first stage research into the prevention, diagnosis and treatment of heart disease, enabling researchers to continue their work to reduce the devastating impact of heart disease on future generations.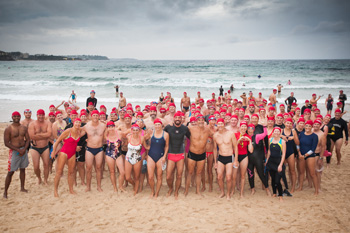 February is Heart Research Month, when all Australians are invited to participate in REDFEB, by choosing heart health as a priority and helping us lap the map of Australia in the REDFEB Relay. All you need to do is track your healthy kilometres from your favourite exercise activity for the entire month of February and upload it on the redfeb.com.au website! Your real life kilometres will be converted into virtual kilometres.
Last year, the Bold and Beautiful Swimming Club in Manly NSW completed 8,700 kms during REDFEB and raised over $2,000. We would love to see other swimmers join in the fun and create a bit of friendly competition amongst other swimming clubs in 2015!
REDFEB 2015 launches on 1 December. Visit redfeb.com.au for further information on how to enter and support this fun, heartfelt fundraising campaign.
For more information about Heart Research Australia, visit heartresearch.com.au
REDFEB 2015 – Be smart. Love your heart.
New Zealand gets its own fine ocean swimmers series

We'll be announcing our fine ocean swimmers series in NSW in our next newsletter. But first, we announce our 1st inaugural fine ocean swimmers series in new zealand, with trips to Vanuatu and Fiji up for grabs.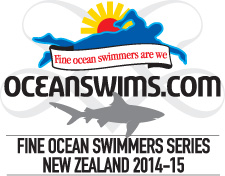 We've pulled together six swims in NZ offering an array of locations, types of water, distances, and spread throughout the season. We'll apply our oceanswims.com handicap system to the results of these swims, as we do in NSW, prouducing a completely different set of results.
Our handicap system means swimmers of pretty well any age and either sex can compete validly with each other. It's a series that recognises the efforts of rank and file swimmers, not just the usual suspects.
The six swims in the fine ocean swimmers series NZ are -
1. Chelsea Swim, Auckland Harbour (Auckland Central Masters), Sunday, Nov 23 (2.4km)
2. Around the Mount, Mt Maunganui, Sun, Jan 4 (4km)
3. Red Beach Swim, Sunday, February 22 (3km)
4. Across the Lake, Taupo, Saturday, Feb 28 (4.2km)
5. Rangitoto Swim, Auckland, Sunday, March 22 (4.6km)
6. 5 Bridges Swim, Hamilton, Sunday, March 29, (7.1km, effectively 3km with current)
Anyone who finishes any of these swims will earn points in the series, although you must do four of the six swims in order to qualify for places and prizes at the end. You need do nothing to be part of the pointscore. Your participation and finish will earn you the points.
If you'd like to make sure you keep up with progress, register for our emailouts... Click here
To find out more about our fine ocean swimmers series NZ… Click here
NSW fine ocean swimmers swims finalised

We've finalised the swims in our fine ocean swimmers series NSW. Swims are -

Nov 30 - Dawny at Balmain
Dec 14 - Bilgola
Jan 4 - Gerringong
Jan 25 - Palm-Whale
Feb 15 - Malabar
Feb 22 - Bondi
March 1 - Freshwater
March 22 - Stanwell Park
April 12 - Coogee

You'll need to do seven of these nine swims to qualify for points and prizes in the series.
Main prizes are trips to Vanuatu for the swims there in June, and to Fiji for the Mana Fiji SwimFest in October 2015. We'll give away vouchers to budgysmuggler.com.au at random at each series event, as well a complimentary membership to NSW Masters Swimming.
We'll have more details on oceanswims.com very soon. In the meantime, get your entries in to series swims.

Collaroy last Sundee
We did Collaroy last Sundee on Sydney's Northern Beaches. Check our reports now, and Glistening Dave's photo essay. Results are online… Click here
Not getting our newsletters?

If you expect to receive our newsletters, but they're not turning up, or you know someone in this situation, chances are they're being diverted into your Spam or Trash folders. Some ISPs put them in there because they think they're spam. Strange. Gmail does this sometimes, as does Hotmail, some ISPs such as Optushome, and some of the larger business houses. Hard to believe, but there you go. So check your Spam and Trash folders. That's often where you'll find them.
You could also put oceanswims.com on your email White List of approved senders.
List your event
We're getting new season events onto our calendar at a rate of knots. We have much, much info to post in the next few weeks, but if you'd like to tell us about your event, you can complete our List your event form on oceanswims.com, to make sure we don't miss you.
Our policy is that we list all events of which we're aware, free of charge. If you'd like further exposure, as a Featured Swim (which gets you onto our home page), then there is a charge attaching to that. We have to make a buck somehow.
To leave your event details... Click here
Stop! Press!

We've set up a new Stop Press section at the top of the oceanswims.com home page where we will post late-breaking news, such as event cancellations and postponements, or venue changes. We use our Twitter feed for these postings, too, so if you follow us on Twitter (@oceanswims) you can get these announcements directly and immeejatly. Or you can check our Twitter feed on oceanswims.com... Just go to What's new/our twitter feed.
---
Swims open to online entry on oceanswims.com...
Toowoon Bay (Sat, Nov 22)... Click here
Coogee (Sun, Nov 23)... Click here
Cronulla (Sun, Nov 23)... Click here
Dawny (Balmain, Nov 30)... Click here
Tweed River (The Killer Swim, Murwillumbah) (Sun, Nov 30)... Click here
North Curl Curl (Sat, Dec 6)... Click here
Bilgola (Sun, Dec 14)... Click here
Nobbys-Newcastle (Sat, Dec 13)... Click here
Yamba (Sun, Dec 28)... Click here
Newport (Sun, Jan 4)... Click here
Avalon (Sun, Jan 11)... Click here
North Bondi (Sun, Jan 11)... Click here
Palm-Whale (The Big Swim, Sun, Jan 25)... Click here
Avoca (Sun, Feb 8)... Click here
North Bondi (Sun, Feb 8)... Click here
Malabar (Sun, Feb 15)... Click here
Evans Head (Sun, March 1)... Click here
Freshwater (Sun, March 1)... Click here
Stanwell Park (Sun, Mar 22)... Click here
Wollongong (Sat, Mar 28)... Click here
Copeton Waters (Inverell, Apr 11)... Click here
Mollymook (Sat, April 11)... Click here
Coogee (Sun, Apr 12)... Click here
---
All that and more at oceanswims.com.
See you on the beach,
os.c
---
Subscribe
If you would like to receive our newsletters... Click here