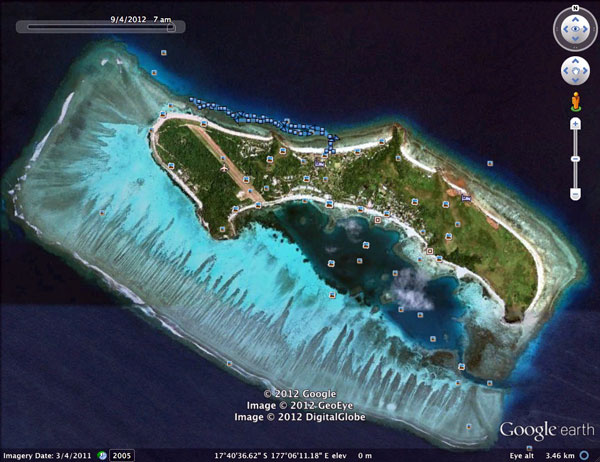 We'll be on Mana in a couple of weeks. You could be, too...
Just a couple of weeks away, but we're still taking bookings for the Mana Fiji SwimFest, which runs September 10-13. What strikes us, especially, is the number of punters who want to be part of Mana's 10km swim this year.
Normally, a 10km event is rather forbidding; it's not for everyone. But in the last couple of years, we've noticed that Mana's event has drawn punters who have long wanted to try the distance, but haven't been up for it in the surf in Stra'a. Mana's environment is relatively benign, though, so maybe it seems safer or slightly less daunting.
The other attractive aspect to Mana's 10km is that you can do it solo or as part of a 3x relay. So you can be part of the 10km event, but you don't have to do the full 10km.The Mana 10km fills a gap in the Stra'an east coast and New Zealand calendars. There aren't many options on the east coast to have a go at 10km. South Head, in Sydney in May, is 11km, and the Cole runs a 9km swim as part of its event quiver nowadays, too. Otherwise, you're looking at circuits in rowing lakes, or a trip to Wessna Stra'a, where WA Swimming runs a series with a number of 10km events on offer. There's a 10km late in the season in Adelaide, too.
The Mana organisers this year have changed their 10km course to make it more manageable and, in the process, a little less daunting. This year, the course will start and finish at Mana's North Beach. It will run eastwards for a couple of kilometres, before turning back and running around the western end of Mana Island - past Mana's Sunset Beach - to Mana's South Beach, then back again to North Beach. It means none of the course will be far from shore. It runs along the North Beach reef drop off, then over reef around to the south side and back. There'll be some current, but if you have some current against you, you'll probably get it with you in the other direction.
For the relay, legs will be approximately 4km, 3km and 3km. It would be noice to make them all even, but sometimes nature doesn't allow this.
This season, too, Mana has separated the 10km event from the shorter swims on Sat'dee with a day in between, so you can do the 10km, have a rest - a massage at the Mana spa, perhaps - then back up after your rest for 5km (a new swim), 3km, and/or 1km on Sat'dee.
Mana truly is, we reckon, the best venue for ocean swimming in the South Pacific. The island's orientation, running east-west, means that, whatever the wind and weather, there is almost always one side of the island or the other where the swims can be run in a relatively benign ocean environment.
There's still time to book, but you'll need to get in quick if you want to get the early flights from Sydney to ensure you can transfer out to Mana the same day.
If you book your accommodation and swim entry package through oceanswims.com/oceanswimsafaris.com, your swim entry comes at a discount to regular online entry.
For more info and to book... Click here
On Sunday, September 14, we're taking a bunch of swimmers oop north on our Yasawas oceanswimsafari. (The Yasawas are the island group that you can see, hazily in the distance, on the horizon from Mana's North Beach.) Unfortunately, all places on that oceanswimsafari are full. But there's always next year...
---
Updates from oceanswims.com and oceanswimsafaris.com...
Check our Twitter feed (@oceanswims) and Instagram (oceanswims) for pics and late-breaking news. We're just back from Spain and France, and Fiji is just a couple of weeks away. Heron Island is coming in October. And already, we have swims open for online entry in the new season (see list with links below). There's plenty to keep up with.
---
Help James Pittar to help the Fred Hollows Foundation...
An interesting stat from our cobber, James Pittar: Four out of five people who are blind, don't need to be. The corollary is that their blindness is curable, or at least capable of being treated.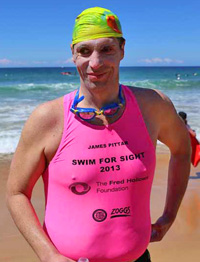 James is a good one to be pointing this out to us, because he is blind himself. That doesn't stop him swimming, though, and it doesn't stop him taking on challenges from which most of us would recoil. We well remember his swim from Palm beach to North Steyne about ten years back. It was through a thunderstorm and heavy seas. He was to be welcomed by the NSW Guv'na, but he arrived so early he had to be spirited to a local caff then back out to sea to swim back in again when she arrived later at the appointed time. He's a remarkable bloke is our James.
James is very active, too, in supporting causes to do with disability, and blindness in particular. For the last couple of years, each year, James does the Swim for Sight in support of the work of the Fred Hollows Foundation. The foundation works to treat blindness due to cataracts, which accounts for 50 per cent of avoidable blindness, according to the foundation. They can be removed in a simple, 20-minute procedure costing as little as $25, the foundation says.
On September 28, 2014, James will be swimming 12km from Long Reef to Shelley Beach, and he needs you to join him for the last 2km from Shelley Beach to North Steyne.
James is calling for 48 swimmers each raising $1,000 to swim the final 2km with him.
The funds raised will restore sight to people who are unnecessarily blind.
Find out more and sign up to help... Click here
---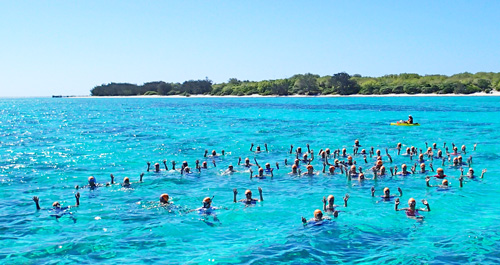 Swim with reef sharks on Heron Island
Bookings are coming in strongly for one of the highlights of the season, the 2014 Great Barrier Reef Swim on Heron Island from October 23-27. Don't miss this one. More of the world's best reef. And sea life. Two main events: 1km around the wreck, and c. 3km around Heron Island itself. This will be a cathartic experience, for you, as anyone who's swum the Heron Island reef will attest.
Coach Graeme Brewer will be there to provide you with open water coaching: there'll be a dry land session and a water session.
Heron Island... click here
---
Swims open to online entry on oceanswims.com...
Mana Fiji (Wed-Sat, Sep 10-13)... Click here
Forresters Beach (Sat, Oct 11)... Click here
Heron Island (Thu-Mon, Oct 23-27)... Click here
Narrabeen (Sat, Oct 25)... Click here
Burleigh Heads (Sun, Oct 26)... Click here
Toowoon Bay (Sat, Nov 22)... Click here
Dawny (Balmain, Nov 30)... Click here
Copeton (Inverell, April 11)... Click here
Coming soon...
Collaroy (Sun, Nov 9)
North Avoca (Sun, Nov 9)
---
All that and more at oceanswims.com.
See you on the beach,
os.c
---
Subscribe/Unsubscribe
If you don't wish to receive our newsletters, just let us know. If unsubscribing, please tell us your name and the email address at which you're receiving our newsletters now... click here
If you know someone who would like to receive them... click here