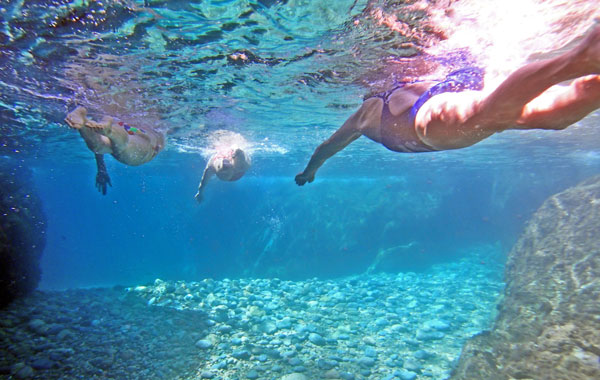 Rather noice water on the Costa Brava this week for our oceanswimsafari. This here, at Our Secret Spot.
Winter ice-breakers

Bored over winter? Sitting at home wondering what to do now the World Cup is all but over? Need a pick-me-up?
Bondi surf club is running a series of three swims over winter, one each month from July through September. The first is Sunday fortnight, July 27.
The course is either 1.5km or 2km, basically straight out towards Chile, and back again, awgies tell us. 10-year age groups, Newd or Wettie.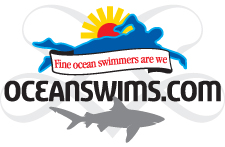 Online entries are open now on oceanswims.com. It's about time we had more swims over winter, so get out there and support these events. Water isn't that cool (says us, currently on the Costa Brava).
More info and to enter online... Click here
Updates from oceanswims.com and oceanswimsafaris.com...
Check our Twitter feed (@oceanswims) and Instagram (oceanswims) for pics and late-breaking news. Right now, we're focussed on sending you crazy with pic reports from our overseas swims over winter. We've just finished our Costa Brava oceanswimsafari in Spain, and there's more to come
---
Double-crossing the English Channel
Bondi's Dori Miller is attempting a double-crossing of the English Channel in August, and the Bondi Icebergs Club is holding a fund raiser tonight, Fridee, to support Dori and her nominated charity, the Michael J Fox Foundation, which works on finding a cure for Parkinson's disease. The 'Bergs are inviting your and all your cobbers along.
Fridee night is always a special one at the 'Bergs, so we're told, so you're sure to have an eventful time, as well as support a very good cause. Our entrist inside the 'Bergs tells us there are are "some great raffle prizes that have been donated from folks from the Bondi Community".
"We will also a chat with Dori about her swim and the Michael J Fox foundation," says our entrist.
Bondi Icebergs, 1 Notts Avenue, Bondi Beach
Friday, July 11, from 7pm
Tickets $30 (includes food) at the door. Plus auction items and prizes
If you can't make, you still can support Dori and the Michael J Fox Foundation... Click here
---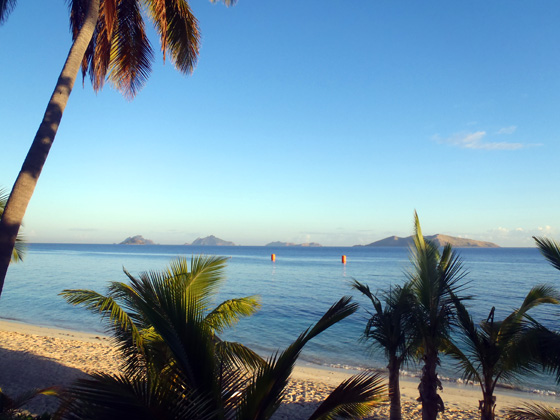 Getting excited about Fiji

We're getting excited about Fiji. We always do when the Mana Fiji SwimFest is approaching, and now it's just two months away. Mana Island, in the Mamanuca group off the west coast of Fiji's main island, offers a four-day festival of ocean swimming in some of the best water in which you'll ever swim.
Most of the swims take place off Mana's North Beach, along the drop-off 130m out from shore. It's a glorious reef along there, full of colourful coral and sea life. For the last few years, the 10km swim, which has grown to be the most popular of the festival, has run around the Nusa Mana sand cay off Mana's east point. This year, the organisers are looking at modifying the course to a loop between Mana's North Beach and South Beach, to allow for more effective use of the water escort staff.
Dates are from Wednesdee, September 10, through Sat'dee, September 13, although we recommend you arrive on the Tuesday at latest and stay through to Sunday, September 14.
On the Thursday, there's the Mana 10km Swim, and on the Sat'dee, there are swims of 5km, 3km, and 1km.
Mana Island Resort is offering a special "5 for 4" deal, Stay 5 nights, but Pay only for four nights, available only through oceanswims.com and our sibling site, oceanswimsafaris.com.
For more info and to book... Click here
On Sunday, September 14, we're taking a bunch of swimmers oop north on our Yasawas oceanswimsafari. (The Yasawas are the island group that you can see, hazily in the distance, on the horizon from Mana's North Beach.) Unfortunately, all places on that oceanswimsafari are full. But there's always next year...
---
An interesting stat...
An interesting stat from our cobber, James Pittar: Four out of five people who are blind, don't need to be. The corollary is that their blindness is curable, or at least capable of being treated.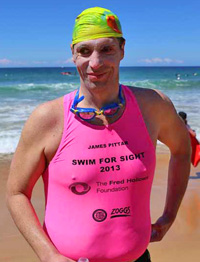 James is a good one to be pointing this out to us, because he is blind himself. That doesn't stop him swimming, though, and it doesn't stop him taking on challenges from which most of us would recoil. We well remember his swim from Palm beach to North Steyne about ten years back. It was through a thunderstorm and heavy seas. He was to be welcomed by the NSW Guv'na, but he arrived so early he had to be spirited to a local caff then back out to sea to swim back in again when she arrived later at the appointed time. He's a remarkable bloke is our James.
James is very active, too, in supporting causes to do with disability, and blindness in particular. For the last couple of years, each year, James does the Swim for Sight in support of the work of the Fred Hollows Foundation. The foundation works to treat blindness due to cataracts, which accounts for 50 per cent of avoidable blindness, according to the foundation. They can be removed in a simple, 20-minute procedure costing as little as $25, the foundation says.
On September 28, 2014, James will be swimming 12km from Long Reef to Shelley Beach, and he needs you to join him for the last 2km from Shelley Beach to North Steyne.
James is calling for 48 swimmers each raising $1,000 to swim the final 2km with him.
The funds raised will restore sight to people who are unnecessarily blind.
Find out more and sign up to help... Click here
---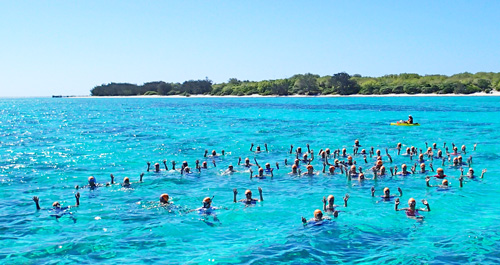 Swim with reef sharks on Heron Island
Bookings are coming in strongly for one of the highlights of the season, the 2014 Great Barrier Reef Swim on Heron Island from October 23-27. Don't miss this one. More of the world's best reef. And sea life. Two main events: 1km around the wreck, and c. 3km around Heron Island itself. This will be a cathartic experience, for you, as anyone who's swum the Heron Island reef will attest.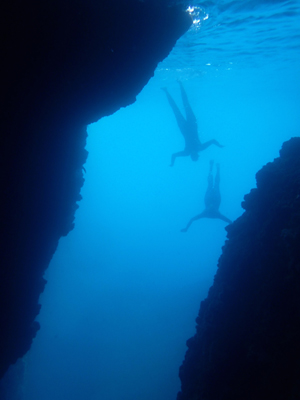 Coach Graeme Brewer will be there to provide you with open water coaching: there'll be a dry land session and a water session.
Heron Island... click here
More from the Costa Brava... In the sea cave at Cala Montgo, punters frolic.
---
Swims open to online entry on oceanswims.com...
Mana Fiji (Wed-Sat, Sep 10-13)... Click here
Heron Island (Thu-Mon, Oct 23-27)... Click here
Burleigh Heads (Sun, Oct 26)... Click here
---
Subscribe
If you wish to receive our newsletters, or you know someone who would like to receive them, just let us know. If unsubscribing, please tell us your name and the email address at which you're receiving our newsletters now... click here