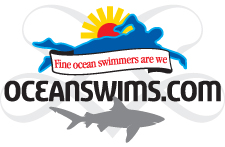 Unprecedented performance
So now we know officially what we've know unofficially for weeks: our 2013/14 budgysmuggler.com.au fine ocean swimmers tallies have been blown away by Sydney obsessive Nick McCouat.
Nick swam 185.1km in 43 official swims over the course of the season, around 45km farther than anyone has swum before. Goodness knows how far extra he swam in training.
In the end, Nick was 44.5km ahead of 2nd placegetter, Kiwi Geoff Carter, on 140.68km from 52 swims, followed by Sydney's Katie Price, on 118.5km from 31 swims, then another Kiwi, Wayne Annan, on 118.08km from 36 swims.
Nick McCouat wins a trip to Vanuatu for his win in the series. But Nick won't take the prize. He figures he's travelled enough for a while and is enjoying chillaxing at home. So the prize slips down the list.
But Geoff Carter already has a Vanuatu prize as the NZ regional winner of the tallies. So the prize slips again.
And Katie Price can't take it, either. As we speak, Katie is o/s for the Alcatraz Sharkfest swim in San Francisco. So it slips again.
So congratulations, Wayne Annan: you win the Vanuatu travel prize for the 2013/14 budgysmuggler.com.au fine ocean swimmers tallies.
Both Geoff and Wayne win four nights in Port Vila, with airfares by courtesy of Air Vanuatu, and accommodation by courtesy of the Warwick Le Lagon Resort.
One observation we'd make: the addition of the Vanuatu travel prize to the fine ocean swimmers tallies, following the support for the series from budgysmuggler.com.au, certainly has added piquancy to the competition, with increasing awareness from interstate (especially from the West, where the series of longer swims offered by Swimming WA gives the locals a leg up). And the fact that Kiwis have gone so close over the past three seasons has drawn in the international interest, too.
Interesting, to say the least, that of the first 44 place-getters, all but three are from New Zealand or Wessna-stra'a. Those three all are from NSW. At 45 is our first Victorian, Lisandra de Carvalho, who won our Vanuatu prize last year through the Portsea Swim Classic.
As Western swimmers benefit from the many long swims there, so NZ swimmers benefit from two short course series run mid-week in Auckland. Swims in these two series are between 1km and 2km; sprints, really, but they add up when you do both each week from late spring through early autumn.
Have a geek at the list below... Note how many swims Wessna-Stra'a's Liz Bettridge did for her 9th placing for her distance, compared with those in NSW and NZ, and her average distance.
So, at the end, these are the top 10 -
1 - Nick McCouat, 31, NSW, 185.1kms, 43 swims, average 4.3km per swim
2 - Geoff Carter, 63, NZ, 140.68km, 52, 2.7km
3 - Katie Price, 28, NSW, 118.5km, 31, 3.8kms
4 - Wayne Annan, 58, NZ, 118.08kms, 36, 3.3km
5 - Jenny Stark, 56, NZ, 113.28kms, 46, 2.5kms
6 - Jim Donaldson, 58, NSW, 109.1kms, 35, 3.1kms
7 - Mike Cochrane, 33, NZ, 95.6kms, 31, 3.1kms
8 - Jan Sutton, NZ, 90.48kms, 28, 3.2kms
9 - Liz Bettridge, 54, WA, 90.4kms, 15, 6.0kms
10 - Brett Bradley, NZ, 90.18kms, 42, 2.1kms
We'll have details and breakdowns of all swims and swimmers online on oceanswims.com later today. See... Click here
We'll be back in the new season with our tallies. Indeed, first swim of which we're aware is Port Vila in Vanuatu on Sat'dee week. It's on again already.
We include all the swims of which we're aware around Stra'a, NZ and the Pacific in our tallies. If you do a swim overseas and you'd like it included, let us know, with a link to the online results, and we'll include those swims, too... Click here
---
Our annual preso and the James Squire Organoleptic Evaluation

Prizes for the budgysmuggler.com.au fine ocean swimmers tallies, and for the fine ocean swimmers series, will be awarded at our annual Organoleptic Evaluation hosted by James Squire at their Malt Shovel Brewery in Camperdown, in Sydney's inner west, this Thursdee night. If you'd like to come along, there still are places available. It's a free evening, thanks to our favourite ocean swimming brewer, Chuck Hahn and James Squire, but you need to book... Click here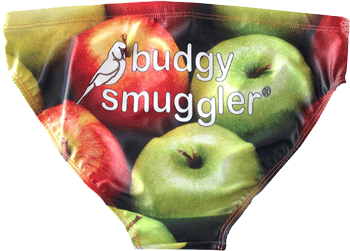 There'll be quite a few prizes given away at the brewery. Apart from budgy smuggler vouchers, there are also prizes that remain unclaimed from the fine ocean swimmers series. All prizes still unclaimed on Thursday will be put to random draw of those swimmers present at the brewery. So, to win, you need to be there.
To check whether you have won a prize and to contact us to claim it... Click here
One prize that's already been drawn — we had to, because it takes time to organise — is the second travel prize in the fine ocean swimmers series. And congratulations to perennial prize-seeker, David Smith, for winning a trip to Vanuatu to take part in Espiritu Santo Swim Week later this month. We drew David's name, with the help of random.org, from the top 20 qualifying swimmers in the fine ocean swimmers series. David is a regular qualifier in the series so his win is well-deserved. We're sorry we couldn't leave this draw to the brewery, but with the Vanuatu swims just days away, we couldn't leave it that late.
The 2013/14 fine ocean swimmers series winner, Christie Krenkels, is coming with us to Fiji in September to take part in the Mana Fiji SwimFest. You should come, too. For more details on Mana Fiji... Click here
And a warning again: any unclaimed prizes from this year's fine ocean swimmers series will be put to random draws of swimmers at the James Squire Malt Shovel Brewery this Thursday night. It's looking pretty much like there'll be a prize for almost everybody that night.
To find out more and to book... Click here
---
Mona Vale Solstice Swim, June 22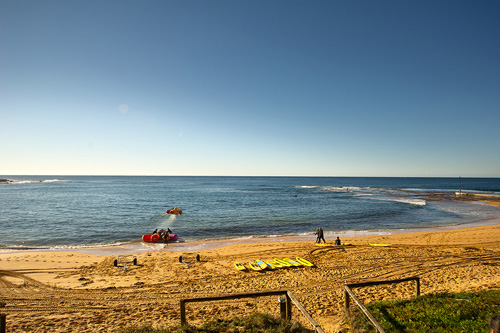 It's June, but there still are swims to do... Last newsletter, we told you about three swims being planned by Bondi SBLSC over winter, in July, August and September. The Magnetic Island Swim is on June 25 off Townsville. There's Green Island, off Cairns, in September.
And on June 22, you can do the Mona Vale Solstice Swim on Sydney's northern beaches. Water still will be good at that time. It doesn't usually cool until July, and it's still 21-22C now. Online entries on oceanswims.com... Click here
---
Heads up, awgies!

Alarming news from a Sydney swim awginizah who tells us the Roads & Maritime Services people, from whom all awgies need to obtain permission to run their swim, tried to slip a new condition into swim approvals that would force them to call off swims if seas and weather conditions don't meet prescribed criteria. The condition would say that a swim could not be run if -
Swell or sea is more than 1.5m from the south or more than 1m from the north
There is a gale or thunderstorm warning for the Sydney area, or
There's a nor'-easterly wind blowing stronger than 20kmh.
Under these conditions, we'd expect that many swims would not get off the beach.
The awgie who told us about this new condition said his club resisted the new condition and had it deleted.
All awgies should be alert to this. It appears to be a try-on.
The bottom line about beaches and surf is that they're all different and rely for their quality on a mix of sea, wind, weather, and location. We'd have thought it's a tad rash for a bureaucrat to come up with a set of conditions like this and expect them to be valid at every beach.
---
Would you like to swim in this water?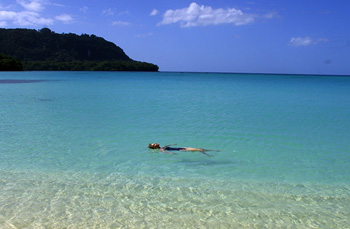 There are still places available at the Vanuatu Open Water Swims and Espiritu Santo Swim Week in June. This is the best ten days of ocean swimming you could do over the next few months, whilst it's winter at home. You'll swim in some of the most beautiful water you'll ever find, including Port Olry, oop north in Santo (see at left).
Luxuriate at Port Olry, Santo.
In Vanuatu, there are two legs of swims -- the Vanuatu Open Water Swims in Port Vila on Sat'dee, June 14, and Espiritu Santo Swim Week, five days of relaxed, tropical swimming on Vanuatu's Adventure Island, Espiritu Santo, oop north, from Monday, June 16 through Friday, June 20. We have accommodation and swim entry packages available to both legs available now on oceanswims.com
In Port Vila, we've obtained a very good deal for accommodation at our partner resort, Warwick Le Lagon Resort & Spa, for the Vanuatu Open Water Swims, and in Santo, we have Stay 6/Pay 5 deals at a number of resorts for Espiritu Santo Swim week. These deals are available only through oceanswims.com/oceanswimsafaris.com. If you book your accommodation through us, your swim entry package will be included at a discount to online rates.
Vanuatu... click here
---
Winter View specials from our new Gogs boutique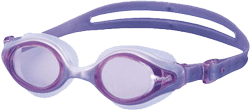 It's season's end, pretty well, but to keep you interested, we've discounted some of our most popular gogs, and loaded them into a new shopping cart to make it easier for you to order them from us. Buy the world's best all-'round goggle, the View Selene, for $25 -- that's more than 10% off -- or our specialist open water goggle, the View Xtreme, for $34 -- also more than 10% off -- and/or our prescription goggles, View Platina, for $46.50 -- again, more than 10% off.
To view our View goggle range and order... Click here
---
Fiji beckons

We also have Mana Fiji open for booking with a deal offering Stay 5/Pay 4, or Stay 10/Pay 8. This also means, Stay 6, Pay 5, etc. This deal also is available only through oceanswims.com/oceanswimsafaris.com. And if you book through us, this swim entry package also is included at a discount to the online rates. Mana Fiji is a new format this year: the 10km Nusa Mana swim is on Thursday, and distances of 5km (a new event), 3km, and 1km on Saturday. So you have a day to recover and enjoy being on a tropical island in Fiji between swim days.
Mana Fiji... click here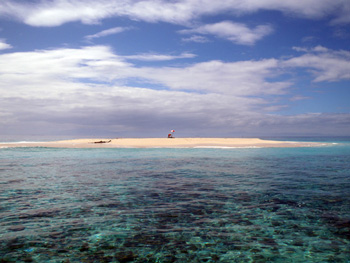 After the Mana Fiji SwimFest, come with us on our oceanswimsafari to the Yasawas, past the horizon up north, for five days of magical swimming in some of the world's best water and reefs. Swimming in the Yasawa is a very special experience. It's where the movie, The Blue Lagoon was filmed.
Yasawas oceanswimsafari... click here
Nusa Mana Sandbar, off Mana Island, turning point in Mana's 10km swim.
Swim Samoa
Starting July 29... Three swims over three days, with a couple more tacked on at either end. This is a terrific opportunity to live cheek-by-jowel with like-minded ocean swimming enthusiasts as you bus out to different swim venues each day from swim HQ in Apia. Samoa is a beautiful place, largely untouched by tourism. If you have time, add a few days on the neighbouring island of Savai'i, where you find a new definition of remoteness.
We'll have land packages for Samoa online now.
Samoa... click here
---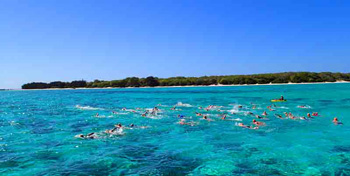 Swim with reef sharks on Heron Island
Bookings are coming in strongly for one of the highlights of the season, the 2014 Great Barrier Reef Swim on Heron Island from October 23-27. Don't miss this one. More of the world's best reef. And sea life. Two main events: 1km around the wreck, and c. 3km around Heron Island itself. This will be a cathartic experience, for you, as anyone who's swum the Heron Island reef will attest.
Coach Graeme Brewer will be there to provide you with open water coaching: there'll be a dry land session and a water session.
Swim back to Heron Island.
Heron Island... click here
---
Swims open to online entry on oceanswims.com...
Vanuatu - Santo (Mon-Fri, Jun 16-20)... click here
Mona Vale (Sun, June 22)... click here
Mana Fiji (Wed-Sat, Sep 10-13)... click here
Heron Island (Thu-Mon, Oct 23-27)... click here
Burleigh Heads (Sun, Oct 26)... click here
---
All that and more at oceanswims.com.
See you on the beach,
os.c