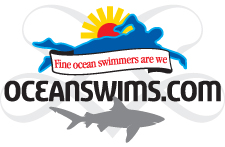 A simply stunning performance
Before we tell you this, just be aware: the first time we ran our fine ocean swimmers' tallies, about seven or eight tears ago, they were won by a swimmer from Bathurst, Andrew Burke, who swam over the season a total (from memory) of around 73km (Andrew drove 14,000km to get to swims that season). Last year, the tallies winner, Neil Daley, who lives in Port Macquarie, swam 110.7km in 32 swims. Neil drove and flew all over the place, including to Adelaide for a 10km swim, and to Bundaberg last May to guarantee himself the win.
Over the intervening period, our winners have generally been around the 100km mark, although one year, from memory, James Goins did about 130km.
Now, know this (and this is stunning)...
In April, Nick McCouat (left - his twitter avatar as @RogerPodactor) swam 39.6km in formal swim events. That follows 47.1km in March, totalling 86.7km over the two months. At the end of April, McCouat's tally for the season to date was 170.1km from 41 swims, averaging 4.1km per swim.
Nick can't be beaten in this year's tallies.
To get to this position, he's done some extraordinary things. On the bus to the start in Hamilton, New Zealand, a few weeks back, two other high rankers in the tallies, Geoff Carter and Wayne Annan, both Kiwis, were talking about this Nick McCouat bloke, from Sydney, and wondering what he was like. The fellow in the seat next to them said, "Hi, I'm Nick, from Sydney…" They had a good old chinwag. Then last Sunday, our staff propellor-head, Colin Reyburn, who maintains our tallies for us (thank you, Colin; he's a dab hand in Xmas lights, too, if you need a consultant), said Nick said to him at South Curl Curly that he'd just alighted from an aeroplane from a swim interstate on Sat'dee. He'd leave it to Colin to work out which one? Turns out it was Noosa, which we'd overlooked.
Nick has been everywhere, man, to build up this distance. It's an effort that may never be beaten. Including by Nick, who says he's done it this once, but he's looking forward to staying home more once the season is done. Nick is only 31, which is young for an ocean swimmer. We don't know about his domestic arrangements, e.g. does he have little children at home that the bride's been tending to alone whilst he's gallivanted around Oceania for the last six months? But the pressures of all this travel must have been extraordinary, not to mention expensive.
We've known a few obsessives over the years in ocean swimming. We thought Neil Daley was a bit bonkers last year. But Nick McCouat…
At the end of April, our fine ocean swimmers tallies Top Ten were -
1. Nick McCouat (NSW), 170.1km, 41 swims, average 4.48km
2. Geoff Carter (NZ), 140.68km, 52 swims, 2.7km
3. Jenny Stark (NZ), 113.28km, 52, 2.7km
4. Wayne Annan (NZ), 112.08km, 35, 3.2
5. Jim Donaldson (NSW), 109.1km, 35, 3.1
6. Katie Price (NSW), 108.4km, 29, 3.7km
7. Liz Betteridge (WA), 90.4km, 15, 6km
8. Brett Bradley (NZ), 90.18km, 42, 2.1km
9. Mike Cochrane (NZ), 87.1km, 29, 3km
10. Kane Sutton (NZ), 84.48km, 27, 3.1km
These standings will change a bit over the fine month of the season. There's nothing left in NZ of which we know, or anywhere else, for that matter, apart from NSW: Byron and Warriewood are scheduled this weekend, and South Head is on May 18.
But none will challenge McCouat. Extraordinary.
---
It's up to you, season: Whimper, or bang?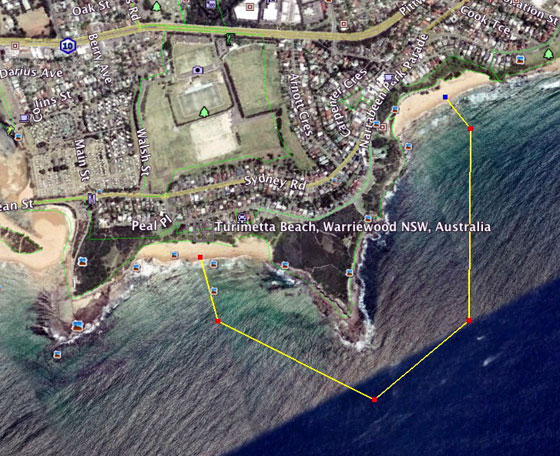 Will it be a whimper, or a bang? Just one regular weekend of our season to go, and the Gods are threatening once again. Just two swims, that we know of - Warriewood, on Sydney's northern beaches, and the State of Origin of ocean swimming, Byron Bay, way oop north.
Warriewood has a magnificent course, around the point from Turimetta Beach. It's a glorious journey swim around a spectacular headland. But only once in three outings so far has the course been done. In the event's first year, the seas were up, the weather inclement, and awgies set an alternative course in the lee of the headland. Then, in 2012, seas were so heavy they just crashed onto a shallow sandbank all day, in one of the most ferocious displays of dumping we've seen in many a year. Last year, at last, we got around the headland, and what a beautiful swim it is.
We can't be sure this far out what the weather will be on Sundee. According to Willy Weather, maximum temp will be 17 deg C with the odd shower, although the breeze will be stiffish and from the west. We love a good offshore blow. It does wonderful things to the sea for ocean swimmers. But 25-35kmh is starting to get fresh.
Swell is predicted at 1.7m, Willy Weather says. Hurley reckons a bit over one metre. High tide is 11:55am, but it's a low high at 1.3m. The Bureau of Meteorology's swell forecast extends only three days into the fewtcha, so they're not saying yet. That said, the water still is likely to be warm and clear.
So, this far out, it could be glorious, but it also might be unpleasant.
We're leaving entries open until 3pm on Sat'dee, so you have plenty of time before having to decide. Our advice is, leave your entry until late.
Online entry to Warriewood close at 3pm on Sat'dee, May 3... Click here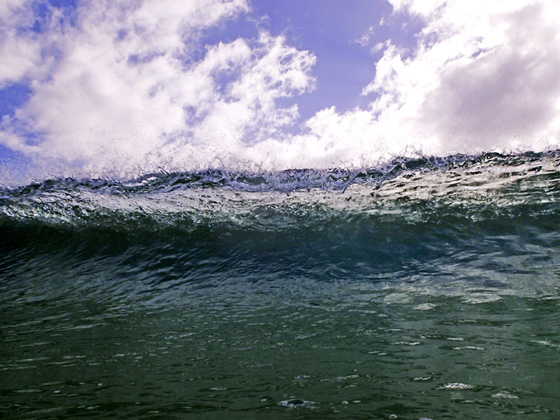 Meanwhile, we'll be oop north at Byron Bay. We love our Byron weekends. The highlights for us are the communal swims on Fridee, Sat'dee and Mondee mornings. We reckon awgies charge too much for the formal Byron swim on Sundee ($65), but the other swims are free and give you all the culcha you need. It's one of our fave experiences, meeting with a gossip of ocean swimming punters on the surf club deck before 8am, schlepping as a peloton around to The Pass, then swimming back (aim for the pine trees by the surf club), then it's off to the pub for a cuppa. There are more punters doing that on Friday and Saturday than in most ocean swims in Sydney. It is one of the great ocean swim courses.
Some people like the pomp and ceremony of a formal event — and we, too, love a good formal event — but why does the entry fee need to be that high? The cost of entry is one of the major things we dislike about how Fairfax runs the Cole, which charges the same. We had reports last year from two online entrants to the Byron Bay swim that their entry fees had been treated by the bank as cash advances, which means they attracted interest charges from the moment of entry. Watch out for that. We hope the awgies have resolved that problem by now.
There'll be a major absence from Byron this year, which will drain some of the brightest colour from this event: Killer won't be there. Killer is busy on the Sunshine Coast this weekend, he tells us. Although he's invited us to call in to Mur'bah on Thursday afternoon so he can lead us on a private inspection of the new deck over the Tweed River at the Riverview Hotel. We're looking forward to it.
Entries to Byron close at midnight on Friday online. You can enter in person at the Byron Bay SLSC between 3pm and 5pm on Friday.
Byron really is the State of Origin of ocean swimming: you meet punters there whom you see just once a year, or whom you've known only over the electronic internet. Until you've experienced the Byron weekend, you can't consider yourself an experienced ocean swimmer.
A warning to Queenslanders: since the Queensland gummint changed the date of the annual Labour Day holiday, never again will you have the Byron swim aligning with a long weekend. At least that should mean that those of us heading back to the airport on Monday should not have to face those traffic jams as we approach the Gold Coast.
Of course, there are other swims before season's end. Lake Argyle is this weekend, too, but it's not ideal for walk ups on race day. Lake Argyle seems to be attracting a strong following these days. And the South Head Roughwater is now three weeks away, on Sunday, May 18. We've just committed to swim South Head this year, for the first time since 2003.
---
James Squire Brewery Night
We've conspired with Chuck Hahn, and we've set our annual Organoleptic Evaluation and Presentation Night at the Malt Shovel Brewery in Sydney for Thursday, June 5.
This is when we'll finalise awards for the fine ocean swimmers series 2014 and our fine ocean swimmers tallies for the season just ending. We'll gasbag about the season, and we'll sample an array of Chuck's James Squire beers, matched with finger food of Chuck's selection.
Entry is free, but you need to book because space is limited. Thank you very much to Chuck, our favourite ocean swimming brewer, and the Malt Shovel Brewery for having us along.
To find out more and to book... Click here
---
End of season View special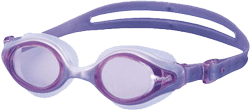 It's nearing the end of the season, and we have a few pairs of View goggles available. So, to mark the occasion, we're staging an End-of-Season special: Buy the world's best all-'round goggle, the View Selene, for $25 -- that's more than 10% off -- our specialist open water goggle, the View Xtreme, for $34 -- also more than 10% off -- and our prescription goggles, View Platina, for $46.50 -- again, more than 10% off.
To view our View goggle range and order... Click here
---
Vanuatu beckons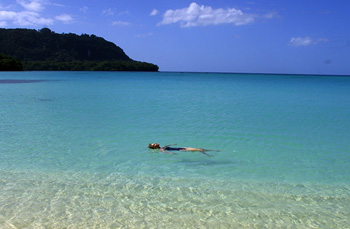 Bookings are coming in for the Vanuatu swims in June, and for the Mana Fiji SwimFest and our Yasawas oceanswimsafari in September.
Luxuriate at Port Olry, Santo.
In Vanuatu, there are two legs of swims -- the Vanuatu Open Water Swims in Port Vila on Sat'dee, June 14, and Espiritu Santo Swim Week, five days of relaxed, tropical swimming on Vanuatu's Adventure Island, Espiritu Santo, oop north, from Monday, June 16 through Friday, June 20. We have accommodation and swim entry packages available to both legs available now on oceanswims.com
In Port Vila, we've obtained a very good deal for accommodation at our partner resort, Warwick Le Lagon Resort & Spa, for the Vanuatu Open Water Swims, and in Santo, we have Stay 6/Pay 5 deals at a number of resorts for Espiritu Santo Swim week. These deals are
available only through oceanswims.com/oceanswimsafaris.com. If you book your accommodation through us, your swim entry package will be included at a discount to online rates.
Vanuatu... click here
We also have Mana Fiji open for booking with a deal offering Stay 5/Pay 4, or Stay 10/Pay 8. This also means, Stay 6, Pay 5, etc. This deal also is available only through oceanswims.com/oceanswimsafaris.com. And if you book through us, this swim entry package also is included at a discount to the online rates. Mana Fiji is a new format this year: the 10km Nusa Mana swim is on Thursday, and distances of 5km (a new event), 3km, and 1km on Saturday. So you have a day to recover and enjoy being on a tropical island in Fiji between swim days.
Mana Fiji... click here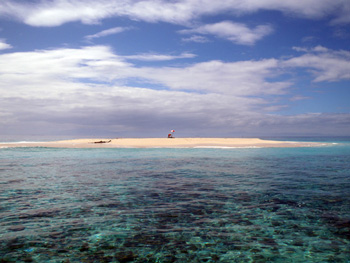 After the Mana Fiji SwimFest, come with us on our oceanswimsafari to the Yasawas, past the horizon up north, for five days of magical swimming in some of the world's best water and reefs. Swimming in the Yasawa is a very special experience. It's where the movie, The Blue Lagoon was filmed.
Yasawas oceanswimsafari... click here
Nusa Mana Sandbar, off Mana Island, turning point in Mana's 10km swim.
Swim Samoa
Starting July 29... Three swims over three days, with a couple more tacked on at either end. This is a terrific opportunity to live cheek-by-jowel with like-minded ocean swimming enthusiasts as you bus out to different swim venues each day from swim HQ in Apia. Samoa is a beautiful place, largely untouched by tourism. If you have time, add a few days on the neighbouring island of Savai'i, where you find a new definition of remoteness.
We'll have land packages for Samoa online now.
Samoa... click here
---
Cap amnesty pulls 600+ at Sarf Curly

We collected over 600 unwanted swim caps from South Curl Curl last Sunday. Thank you to all, particularly to propellor-head Colin Reyburn who himself added 210 caps to the washing basket. Imagine how many caps we could have pulled had we been able to go ahead at Coogee as planned originally!
We'll be doing this again next season. Thank you all for your support, and remember us when next we declare our amnesty next season.
Find out more... Click here
Our report from South Curl Curl is online now... Click here
Results from both South Curly and the Copeton Freshwater Swims, and from Noosa... Click here
---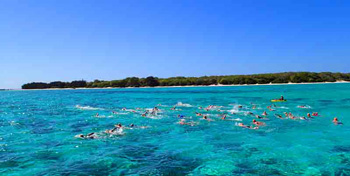 Great Barrier Reef Swim, Heron Island
Bookings are open for the 2014 Great Barrier Reef Swim on Heron Island from October 23-27. Don't miss this one. More of the world's best reef. And sea life. Two main events: 1km around the wreck, and c. 3km around Heron Island itself. This will be a cathartic experience, for you, as anyone who's swum the Heron Island reef will attest.
Coach Graeme Brewer will be there to provide you with open water coaching: there'll be a dry land session and a water session.
Swim back to Heron Island.
Heron Island... click here
---
Leave your mobile with your online entry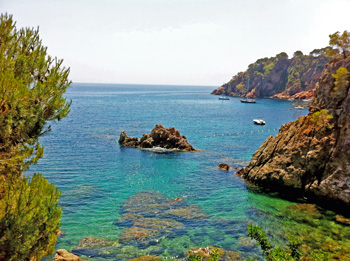 When swims are cancelled or postponed, we offer organisers the opportunity to let entrants know through SMS. If they ask us to send out an SMS, we can do it within minutes. It's an effective means of communicating late breaking news. But we can do it only if we have a valid mobile number to send to.
Our Secret Spot, Costa Brava. You can swim here with us on our Costa Brava oceanswimsafari... Click here for more

In our first few attempts to send a bulk SMS, we've run into problems. In order to SMS to your contact phone number, we need a valid Stra'an mobile number. The SMS won't go to landlines, and it won't go to mobile numbers which have been keyed in with the international dialling prefix (+61 for Stra'a). We're not sure why some punters would put an international dial code ahead of their number when they're entering a swim being run in their own city, but there you go.
So here's the go: if you want to receive an SMS update, then key in with your online entry a valid Stra'an mobile number. No international codes and no landlines.
Not all events will choose to contact you this way, of course. There is a cost involved and some won't wish to pay it.
---
Swims open to online entry on oceanswims.com...
Warriewood (Sun, May 4)... click here
South Head (Sun, May 18)... click here
Vanuatu - Santo (Mon-Fri, Jun 16-20)... click here
Mona Vale (Sun, June 22)... click here
Mana Fiji (Wed-Sat, Sep 10-13)... click here
Heron Island (Thu-Mon, Oct 23-27)... click here
Burleigh Heads (Sun, Oct 26)... click here
---
All that and more at oceanswims.com.
See you on the beach,
os.c