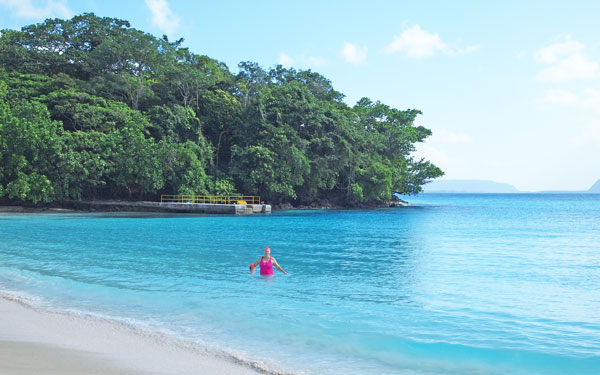 Champagne Beach... You can swim here if you come with us on Espiritu Santo Swim Week... Click here
Kiwi leads fine ocean swimmers' tallies
It will come as no surprise to hear that Mike Cochrane, a single Aucklander, leads the fine ocean swimmers talliies at the end of January. We reported on Mike a couple of weeks back (... Click here) and the lad is as good as his word. At the end of January, Cochrane -- who has since started a new job -- had swum 154.6km in 35 swims at an average 4.4km per swim.
This is more than some winners of the tallies in the past have completed in an entire season, and almost as far as other winners have done in an entire season.
There is daylight to the next swimmers... 65.6km, in fact, back to Caitlyn James, a Wessna-Stra'an, benefiting from the WA Swimming open water series. Interesting that the top order is dominated at this stage of the season by New Zealanders and Western Australians, the former also benefiting from the two mid-week series that run weekly either side of Auckland Harbour. They're not long swims, but they're frequent.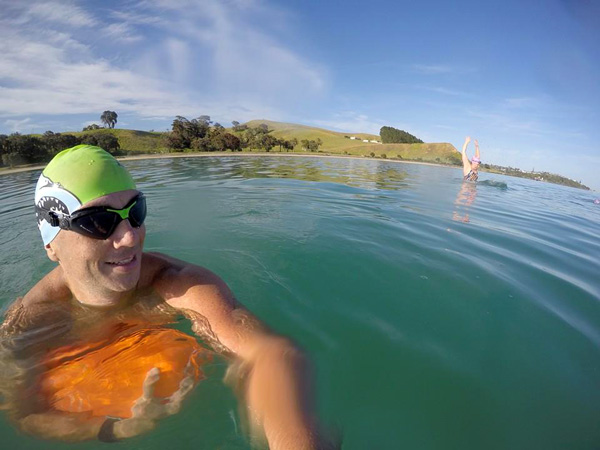 Of the top seven swimmers at the end of January, six are Kiwis. The first New South Welshperson, Jim Donaldson, is at eight on 68.9km from 20 events at 3.4km average. There are just two from NSW in the top 42, with last year's talliest winner, Nick McCouat, at 43 on 41km. There's a Queenslander (Reece Southall) at 11, and two Victorians (Keely Williams, 17, and Peter Howes 24). Otherwise, they're all Kiwis and Sandgropers.
As the season grinds on, we can look to the top order being diluted with more NSW swimmers, as calendars wind down in other areas much earlier than they do in NSW. That said, it will take a superhuman effort from here to defeat Mike Cochrane, who has, in effect, put his life on hold this season to break the 200km mark.
For more details and the full Order of Merit... Click here
---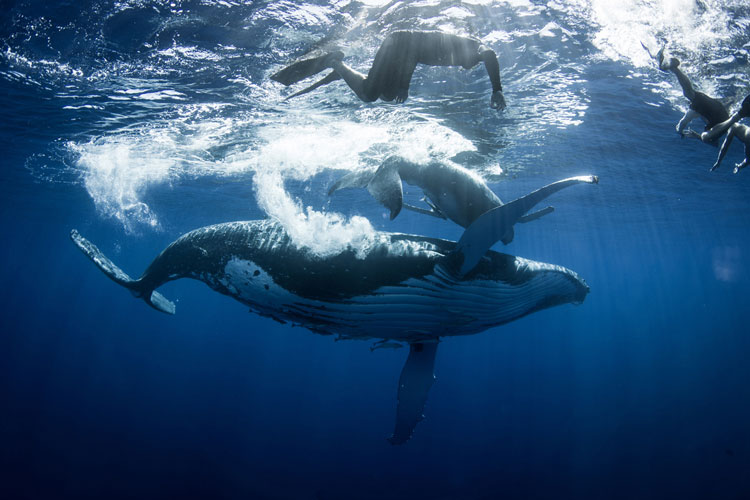 In Tonga, boats must stay 100m from whales, but swimmers may get close up. (File pic)
Swim with the whales in Tonga
Tonga is one of the few places in the world where it's possible, and legal, to get into the water to swim with whales, which (who?) migrate to the islands to breed in the winter. Come with us in July 2015 on a week-long oceanswimsafari to Vava'u where we'll swim from island to island, across reefs, and we'll go looking for humpback whales to swim with.
We're working with travel company, Dive Adventures, to bring you this oceanswimsafari that involves four days of swimming the waters around the Vava'u group of islands, Tonga's "second" island group, and a day out with the whales.
For info about our first inaugural Tonga Whales oceanswimsafari -- and about all our oceanswimsafaris in 2015... Click here
---

Swims where you don't need to worry about the surf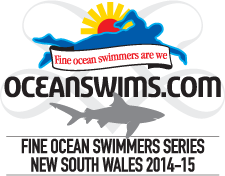 A crowded Sat'dee, but less so on Sundee...
Sat, Feb 14 - Edithvale-Aspendale, Sorrento (Vic), Leighton (WA), Bridport (Tas), West Beach (SA), Taupo, Wanganui (NZ)
Sun, Feb 15 - Malabar e (fos series, NSW), Henley e (SA), Christchurch (NZ)
We're taking online entries to Malabar, in Sydney's eastern suburbs, and Henley on Adelaide's beaches, both on Sunday. Both are easy beaches, surf-wise, so you don't need to hold back with your entries to see what the surf is doing.
The Murray Rose Malabar Magic is also Round 5 in our fine ocean swimmers series NSW. Two distances: 1km and 2.4km, in the relatively sheltered waters of Long Bay. It's a beautiful spot. And it's an unusual swim in that it's the only event in NSW run by a charity other than a surf life saving club. That means, the organisers, The Rainbow Club -- which teaches disabled kids to swim -- does not have the resources at its command to run such an event. But it receives tremendous support from individuals associated with surf clubs, especially from North Bondi, which was the club of the event's former patron and organiser, Murray Rose.
Long Bay is a pretty fjord in Sydney's sou'-eastern suburbs with the suburb of Malabar nestled on its southern bank. Because it's long, as its name suggests, the swell rolls in to the entrance, but by the time it reaches the beach, it's largely dissipated. Not much gets all the way in. The water is generally clear and quite flat, although it can be lively if there is a swell running offshore.
As you enter Malabar online, note that there also is a facility to donate to the Rainbow Club. Entries to events are not tax deductible (because you receive someting in return, to wit, swim entry), but donations made from the goodness of your heart are tax deductible. So add a little to your entry and you'll receive, after the swim, a receipt that you can use on your tax return.
Check the usual sources for up to date info on conditions... magicseaweed.com, seabreeze.com.au and coastalwatch.com.au.
Online entries to the Malabar Magic close at 3pm on Saturday, February 14... Click here
The Charles Sturt Challenge at Henley, in Adelaide, offers two distances, 750m and 1.5km, along the beaches. It's run by Henley Beach Masters Swimming. There's an enthusiastic circuit in Adelaide. We don't hear a lot of it, but those who've swum there, as well as regular swimmers, love these swims.
Online entries to Henley close at 6pm, Friday, February 13... Click here
---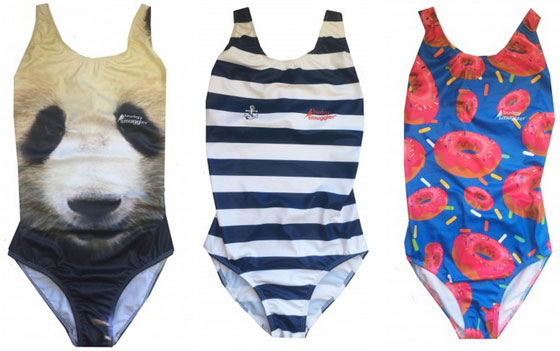 New budgys for laydees

A message from our cobbers at budgysmuggler.com.au...
Following some gentle encouragement from the team at oceanswims.com, Budgy Smuggler has now considerably expanded our women's one piece range to include the Fully Krispy Dremes, Pandamodiums and the Fully Sailor Striped amongst several other fun designs.
Click here to check them out at our website.
---
fine ocean swimmers series, round 5, Murray Rose Malabar Magic

Malabar is Round 5 in the fine ocean swimmers series NSW. All swimmers who finish the swim will earn points in the series, provided they're wearing "legal" cossies. There'll be random draws of a voucher from budgysmuggler.com.au and NSW Masters Swimming membership from all online entrants who also finish the swim.
Remember, to qualify for points in the series, you must wear conventional cossies only: no fastskins, no jammers, no full body suits, no wetties. We try to police this rule, but we also rely on dobbers. Please feel free to dob... Click here
See our fine ocean swimmers series page for more info... Click here
---
Swims open to online entry on oceanswims.com...
Malabar (Sun, Feb 15)... Click here
Henley (Sun, Feb 15)... Click here
Nobbys-Newcastle (Sat, Feb 21 - postponed date)... Click here
Bondi (Sun, Feb 22)... Click here
Caves Beach (Sat, Feb 28)... Click here
Evans Head (Sun, Mar 1)... Click here
Freshwater (Sun, Mar 1)... Click here
Port Noarlunga (Mon, Mar 9)... Click here
Jervis Bay (Sun, March 15)... Click here
Lake Macquarie (Sat, Mar 21)... Click here
Fingal Bay (Sun, Mar 22)... Click here
Balmoral (Sun, Mar 22)... Click here
Stanwell Park (Sun, Mar 22)... Click here
Wollongong (Sat, Mar 28)... Click here
Forster (Sun, Mar 29)... Click here
Terrigal (Easter Sat, Apr 4)... Click here
Queenscliff (Sun, Apr 5)... Click here
Copeton Waters (Inverell, Apr 11)... Click here
Mollymook (Sat, April 11)... Click here
Shellharbour (Sun, Apr 12)... Click here
Coogee (Sun, Apr 12)... Click here
Black Head (Sun, Apr 19)... Click here
South Head (Sun, May 17)... Click here
Vanuatu (June 6 and 10)... Click here
Mona Vale (Sun, June 21)... Click here
Mana Fiji (Thu-Sat, Oct 15-17)... Click here
Coming soon... South West Rocks (Sun, Mar 22), North Steyne (Sat, Mar 28 - Date TBC)
---
Late breaking news on today's swims...
It's swim day, and you want to know... Is the swim on or off?
We tweet all our latest news, especially on swim day. Follow us through our handle @oceanswims.
Our Twitter feed also loads on to oceanswims.com. Click the Twitter banner near the top of our home page. Or check the ticker of our latest tweets near the bottom of the home page.
If an affected swim asks us, we will also send an SMS to all online entrants.
And we post late-breaking news in the Stop Press box near the top of our home page on oceanswims.com
Mobile phone numbers
When we are informed of swim cancellations and postponements, we like to send an SMS to entrants letting them know, provided the swim awgie wants this. But we can send an SMS only to swimmers who leave valid mobile numbers with their online entries. Landlines won't do, and neither will those silly mobile numbers that some entrants leave with an international prefix (eg +61). That renders the mobile number inoperative for SMS purposes. Why anyone would think we'd be sending them an SMS from some foreign country is beyond us. So if you want to be informed about postponements and cancellations, do yourself a favrour and leave a valid mobile number.
---
As we all know, online entries of swimmers under the age of 18 must be done with the consent of a responsible parent or guardian. Sometimes, the "responsible" parent or guardian evidently leaves it to the minor to enter online, and too often, the parental consent field in the online entry form is left containing only a phone number or maybe even only a first name.
This is not enough. It does not constitute parent's or guardian's consent.
For a minor's entry to be valid, it must contain the full name and the phone number of the parent or guardian. Leaving it to the kids, evidently unsupervised, is not good enough. Some parents have found this to their cost when their child has messed up their entries. One child recently entered four times in the space of six minutes, with four payments for the one event. We refund, but there's an admin fee attaching to refunds (the bank charges us for every transaction) and it can be costly.
Best if parents take responsibility themselves and make sure the entry is done correctly in the first place.
The child's entry will not be accepted unless and until the parental/guardian consent is valid.
---
Not getting our newsletters?
If you expect to receive our newsletters, but they're not turning up, or you know someone who isn't getting theirs, chances are they're being diverted into your Spam or Trash folders. Some ISPs put them in there because they think they're spam. Gmail does this sometimes, as does Hotmail, Optus, etc, and some of the larger business houses. So check your Spam and Trash folders. Often, that's where you'll find them.
You could also put oceanswims.com on your White List of approved email senders. You should be able to set up a white list by logging into your system settings.
---
List your event
If you'd like us to list your event on our calendar, you can complete our List your event form on oceanswims.com.
We list all events, of which we're aware, free of charge. If you'd like further exposure, as a Featured Swim (which gets you onto our home page), then there is a charge attaching to that. For information on event services... Click here
To leave your event details... Click here
---
Subscribe/Unsubscribe
If you don't wish to receive our newsletters, just let us know. Click the link below. Please tell us your name and the email address at which you're receiving our newsletters now. And tell us the name under which you're listed. You'd be surprised at how often someone asks to have their listing removed, but they give us a different email address and they've changed their name. If you don't tell us these details, we can't find you.... Click here
If you know someone who would like to receive our email newsletters... Click here