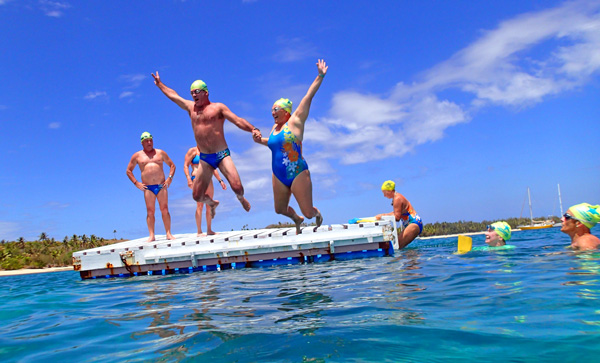 Elated Forster Turtles celebrate their joy in coming on an oceanswimsafari with oceanswims.com/oceanswimsafaris.com

fine ocean swimmers series this Sundee NZ, NSW...
Rounds 2 coming up this weekend in our two fine ocean swimmers series, in NSW and in New Zealand.
On Sunday, the 4km swim at Mt Maunganui is the second round in our fine ocean swimmers series NZ, and the Captain Christie Classic at Gerringong is round 2 in our fine ocean swimmers series NSW.
With only one round behind us in each series, it's way too early to see where the strength goes. In NZ, Mt Maunganui is a couple of hours sou'-east of Auckland, which might keep some swimmers away. And Gerringong is an hour and a half south of Sydney, so ditto. Round 1 of the NSW series was at Dawny, in Balmain, on November 30, which means plenty of swimmers there - we'll cut to the chase: water poloists - won't bother doing other swims, so that serie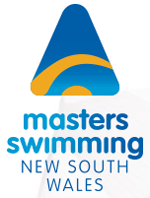 s is wide open.

We welcome budgysmuggler.com.au aboard in support of both series. We will be giving away vouchers from budgysmuggler at each of Mt Maunganui and Gerringong. With Gerringong, the voucher will be drawn at random from all entries online and who finish the swim. At Mt Maunganui, it will be drawn of all finishers in the main event, 4km Around the Mount.
At Gerringong, we'll conduct a random draw also for a membership of NSW Masters Swimming, also from entries online who also finish the swim.
We've done Gerringong many times, and our best advice is to make sure you're at Gerringong SLSC to check in well before 9am. Organisers cut off registrations on the dot, because the peloton then must trek over the headland to Boat Harbour to swim start. It's a beautiful course from Boat Harbour, around the headland and along the rockshelf into Werri Beach. Watch out for the runout as you pass the point out from the beach: it will take you seaward if you're not alert.
Make sure you hang around at Gerringong for the fish auction. We bagged ourselves a couple of magnificent flathead last season, at a very good price.
Online entries to Gerringong close at 3pm on Sat'dee... Click here
More info about the fine ocean swimmers series NSW... Click here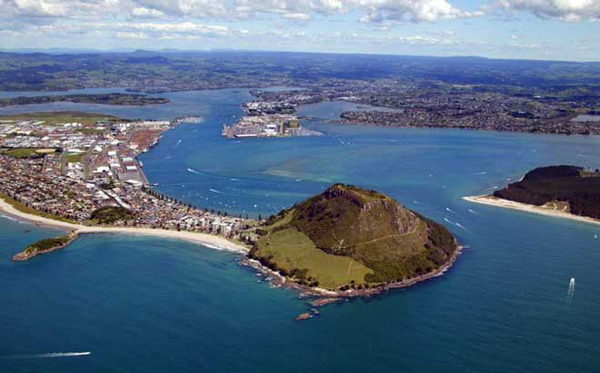 We haven't swum Mt Maunganui (above), but awgie Sheryl McLay walked us around the course during our visit in October. There's a path around the base of the mount popular with walkers and joggers, and it gives you an excellent view of a course which changes character probably half a dozen times as you slog around it.
More info on Around the Mount... Click here
More info about the fine ocean swimmers series NZ... Click here
Newport
Also this weekend, as well as taking online entries to Gerringong, we're taking online entries to what is now Round 1 in the Pittwater Ocean Swim Series at Newport, also on Sundee. Round 1 in this series was Bilgola, which was postponed earlier in December due to heavy seas. Billie now will run on Sat'dee, January 31, and will be the last event in the Pittwater series.
Newport has built up a solid followiing in recent years, at last settling into a consistent date on the first Sundee in January. Two events on offer: 800m and 2km. Something for everyone.
Online entries to Newport close at 3pm on Sat'dee... Click here
Other swims over New Year
Thu, Jan 1, New Year's Day - Mt Maunganui (NZ)
Fri, Jan 2 - Phillip Island (Vic)
Sat, Jan 3 - Torquay, Port Fairy, Sorrento (Vic), Cottesloe (WA), Ulverstone (Tas), Tauranga (NZ)
Sun, Jan 4 - Gerringong* (fos series NSW), Newport* (NSW), Mt Maunganui (NZ) (fos series NZ), Seacliff (SA), Albany (WA)
Aquagirl at Pt Leo...
Aquagirl was at Pt Leo on Boxing Day. Read her report... Click here
---
Rescheduled swims
Two swims postponed from December 13-14 have been rescheduled -
Nobbys-Newcastle now will run on Sat'dee, February 21... Click here
Bilgola, now Round 4 in the fine ocean swimmers series NSW, will run on Sat'dee, Jan 31, which means Sydney swimmers now have a reasonably priced swim available on the weekend of the Cole Classic... Click here
---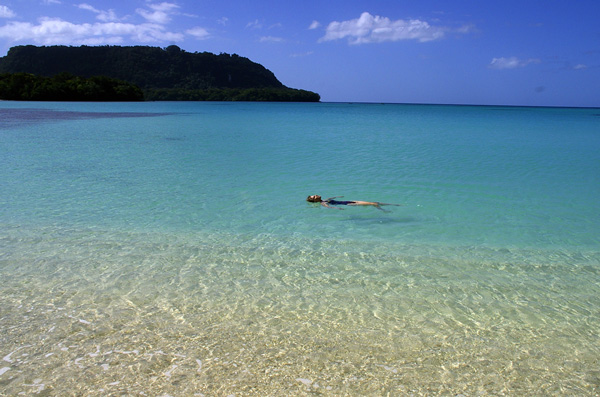 Book Vanuatu now
We have our packages online now for Vanuatu in June 2015. Two legs of the Vanuatu swims: Port Vila on Sat'dee, June 6, and Espiritu Santo Swim Week Mon-Fri June 8-12... Click here
Mark these dates in your diaries -
June 4-12 - Vanuatu Open Water Swims folllowed by Espiritu Santo Swim Week - Travel packages available now... Click here
August 14-23 - Greece oceanswimsafari, by yacht through the Northern Sporades islands, led by Sydney's favourite Greek chef, David Tsirekas, formerly of Perama and Xanthi, now of Kefi Taverna... Click here
August 28-September 2 - Our first inaugural San Sebastian oceanswimsafari in Spain
September 6-14 - Costa Brava oceanswimsafari, Spain... Click here
October 7-24 - Two Yasawas oceanswimsafaris either side of the Mana Fiji SwimFest in Fiji
Check out our new oceanswimsafaris.com website for info and booking details about our oceanswimsafaris in 2015.
There's also the Samoa Swim Series from August 3-8, including ancillary swims in the lead-up. We're also planning two new oceanswimsafaris in the Pacific -- Tonga and the Solomon Islands. Watch for details. Heron Island dates are still to be confirmed.
---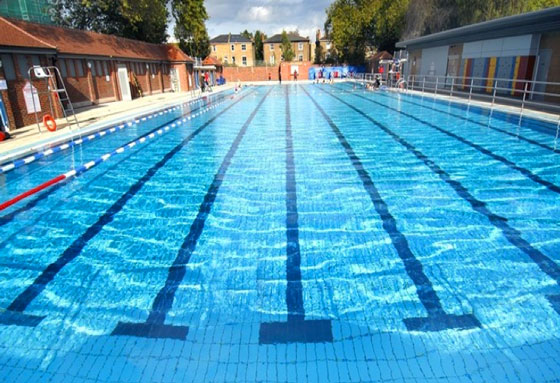 NB: This is a generic pool. It's not the pool referred to in the story below. As far as we know.
Pool management gone mad?
On one of his few trips to the local pool, our Uncle Mick was struck by all the rules - "No running, No jumping, No bombing, No spitting", etc. "Goodness me," said Uncle Mick. "Are you allowed to swim?"
You were, and you are, but we've noticed a marked tightening in the rules in recent years, and much tighter restrictions placed on punters as they attempt to schlepp their laps.
Some pools, for example, ban hand paddles in public lanes. Many pools have placed inhibitors on starting blocks to prevent punters diving from the blocks. You wish they'd pay as much attention to the slack lane ropes, eh!
It's all in the name of risk management, and a trend on the part of public authorities to do all they can not simply to minimise risk, but to avoid risk as completely as possible.
Now comes word from the NSW North Coast, where a cobber tells us he's on his second warning of being banned from his local pool for "diving in at the deep end".
"I'm sure, given time, these same people will have ocean swims starting and finishing beyond the break and possbly with separate lanes and ???," exclaims our cobber.
Reasonable point. We take a risk just leaving home to go to the pool. Avoidance of all risk is impossible. Surely the goal must be the management of reasonable risk, which means accepting some risk but being reasonable about what's expected of behaviour at a public swimming pool. We'd have thought that diving in at the deep end would fall into that category.
What other rules are out there that seem a tad over the top? Or give us an earful for being unreasonable ourselves. Email us... Click here
---
Glistening Dave's 2015 ocean swims calendar
There's still time to order Glistening Dave's ocean swims calendar 2015. Get your order in now, before supplies run out.
More info and to order... Click here
---
Swims open to online entry on oceanswims.com...
Gerringong (Sun, Jan 4)... Click here
Newport (Sun, Jan 4)... Click here
Avalon (Sun, Jan 11)... Click here
North Bondi (Sun, Jan 11)... Click here
Manly (Jan 11)... Click here
Mona Vale (Sun, Jan 18)... Click here
Palm-Whale (The Big Swim, Sun, Jan 25)... Click here
Newcastle Harbour (Oz Day, Mon, Jan 26)... Click here
Bilgola (Sat, Jan 31 - postponed date)... Click here
Avoca (Sun, Feb 8)... Click here
North Bondi (Sun, Feb 8)... Click here
Malabar (Sun, Feb 15)... Click here
Nobbys-Newcastle (Sat, Feb 21 - postponed date)... Click here
Bondi (Sun, Feb 22)... Click here
Evans Head (Sun, Mar 1)... Click here
Freshwater (Sun, Mar 1)... Click here
Port Noarlunga (Mon, Mar 9)... Click here
Fingal Bay (Sun, Mar 22)... Click here
Balmoral (Sun, Mar 22)... Click here
Stanwell Park (Sun, Mar 22)... Click here
Wollongong (Sat, Mar 28)... Click here
Queenscliff (Sun, Apr 5)... Click here
Copeton Waters (Inverell, Apr 11)... Click here
Mollymook (Sat, April 11)... Click here
Shellharbour (Sun, Apr 12)... Click here
Coogee (Sun, Apr 12)... Click here
Black Head (Sun, Apr 19)... Click here
South Head (Sun, May 17)... Click here
Vanuatu (June 6 and 10)... Click here
Coming soon... Forster (Sun, March 29), North Steyne (Sun, March 29)
---
Late breaking news on today's swims...
It's swim day, and you want to know the latest... Is your swim on or off?
There are several ways we let you know: we tweet all our latest news, especially on swim day. You can follow us on Twitter through our handle @oceanswims.
Our Twitter feed also loads on to oceanswims.com. Click the Twitter banner near the top of our home page. Or check the ticker of our latest tweets near the bottom of the home page.
If an affected swim asks us, we will also send an sms to all online entrants.
---
Cards we take
When you enter events online through oceanswims.com, or when you buy a pair of your favourite Views through our Gogs boutique, we accept only Mastercard and Visa. Other cards will fail.
---
Swim results
As soon as we receive swim results in an acceptable format, we process them and post them on oceanswims.com. We do not respond to individual enquiries about when results will be posted, or where they can be found. The results appear on oceanswims.com under Swims/Results.
---
Not getting our newsletters?
If you expect to receive our newsletters, but they're not turning up, or you know someone who isn't getting theirs, chances are they're being diverted into your Spam or Trash folders. Some ISPs put them in there because they think they're spam. Gmail does this sometimes, as does Hotmail, Optus, etc, and some of the larger business houses. So check your Spam and Trash folders. Often, that's where you'll find them.
You could also put oceanswims.com on your White List of approved email senders. You should be able to set up a white list by logging into your system settings.
---
List your event
If you'd like us to list your event on our calendar, you can complete our List your event form on oceanswims.com.
We list all events, of which we're aware, free of charge. If you'd like further exposure, as a Featured Swim (which gets you onto our home page), then there is a charge attaching to that. For information on event services... Click here
To leave your event details... Click here
---
Subscribe
If you would like to receive our newsletters, or you know someone who would like to receive them... Click here