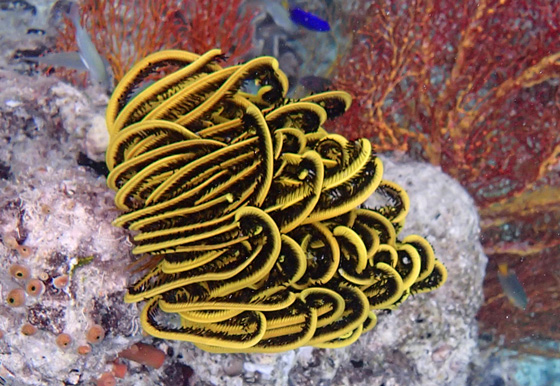 Another in our series, Pitchers to send you crazy, this one from the reef in the Yasawas, up north in Fiji. Is it coral? Is it just a plant? Not sure, but nature creates mysterious, wonderful things. Our Yasawas oceanswimsafari will run before and after the Mana Fiji SwimFest in October 2015. Watch out for dates, coming soon.

nsw fine ocean swimmers' series starts at Dawny, Sundee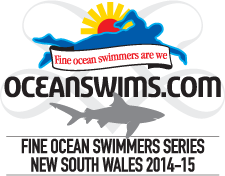 The moment you've all been waiting for... the nsw fine ocean swimmers series starts this Sundee at Balmain at the Dawny Swim. The longer of the two Dawny events counts for points which, as you all know, are based on handicap weightings on raw times for age and sex. There are nine swims in the series in season 2014/15, and you need to do seven of the nine swims to qualify for prizes in the series.
Please remember, in order to qualify for points in a series swim, you must wear only conventional cossies. This means run-of-the-mill budgy smugglers for blokes (although they may be colourful, outrageous), and "normal" racing cossies for laydees, i.e. no arms, legs, etc. This means, no jammers, no fast skins, no wetties, no fabric with buoyancy qualities, no high cost, smarty-pants hi-tech material that eliminates drag completely and sends you through the water in a vacuum cocoon because the harbour water won't stick to it.
The reason for this is to make the contest as even as possible. We don't want it reduced to a matter of how much you're prepared to pay for fancy nancy cossies. We don't want anyone feeling they'll be uncompetitive unless they have the latest expensive cossies. You can shave down, chaps, if you like. Get your back waxed or, laydees, your bikini lines, as you please, if that would help. But conventional cossies only. Of course, we can't possibly expect to note down everyone who breaks this rule, so we rely on you lot for advice in this area, as well as spotting offenders ourselves.
Other swims in the new fine ocean swimmers series 2014/15 are -
Nov 30 - Dawny's Cockatoo Challenge at Balmain
Dec 14 - Bilgola Ocean Swim
Jan 4 - Captain Christie Classic, Gerringong
Jan 25 - The Big Swim, Palm-Whale
Feb 15 - Murray Rose Malabar Magic
Feb 22 - Bondi Bluewater Challlenge
March 1 - Barney Mullins Classic at Freshwater
March 22 - Stanwell Park Ocean Challenge
April 12 - Island Challenge at Coogee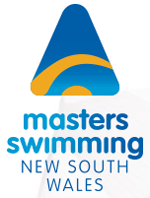 Prizes at the end are, for the winner, our perpetual trophy, held currently by Christie Krenkels, and the choice of a trip of Vanuatu or Fiji. The remaining travel prize goes to a random draw of all those who complete seven of the series' nine swims without breaking the rules.

The Vanuatu swims are in Port Vila on June 6, and oop north in Espiritu Santo the following week, Espiritu Santo Swim Week, June 8-12. The NSW prize receives the Santo leg. In Fiji, the Mana Fiji SwimFest is October 14-17.
Remember, if you qualify for points in the series by completing seven of the nine series swims, then you will be in the draw for one of these travel prizes. You don't need to be a "good" swimmer, or a "fast"swimmer. You just need to complete the swims "legally".
At each series event, we'll also be giving away a voucher to budgysmuggler.com.au, and a membership to NSW Masters Swimming. They'll be allocated to randomly drawn punters who enter these events online and also complete the series swim.
For more info on the series... Click here
---
Order Glistening Dave's ocean swims calendar 2015 now!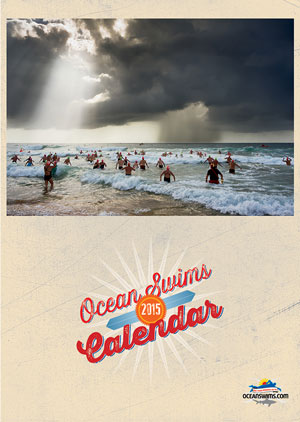 We expect to be deliver Glistening Dave's ocean swims calendar 2015 from the end of the first week in December. The calendar is with the printers now. Those of you who already have their orders in will get theirs first.
Glistening Dave has selected his favourite photograrphs from last season from his "formal" swims and his early morning fraternisations in Bongin Bongin Bay to illustrate his 2015 ocean swims calendar.
The calendar includes every swim date we can find in Stra'a, New Zealand and the Sarth Pacific, and a few more besides that we deem relevant or interesting.
Pin it on your notice board at work, behind the door in the loo, on the wall in the kitchen, in your home office, your men's shed, your sewing and knitting room' the wall in your hallway, so that you can check swim dates each time you leave home or return. Home again, jiggety jog! And where do we swim this weekend...
Or get multiples and mount one in each of those places, so that you're constantly surrounded by images of ocean swimming. Or Dave's perceptions of them.
Triffic for personal use, and especially for presents at Xmas time for the swimmer, or towel carrier, who already has a full quiver of gogs and more than enough cossies.
Orders are already coming in, so don't delay and make sure you're amongst the first batch of mailouts.
More info and to order... Click here
---
First round results from NZ fos series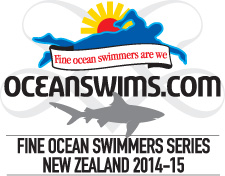 Last Sundee saw the first inaugural event in the first inaugural fine ocean swimmers series New Zealand, the Chelsea Swim reoriented to Judges Bay.
The first four places on handicap, for series purposes, paralleled the first four outright - Phillip Ryan, Brent Foster, Jackson Dawson and Sebastien Priscott. But after that, the handicaps came into play: 5th on handicap was 50th outright, Bruce Smith, age 66; 9th on handicap was Peter Wilkinson (63rd raw), 11th was Helen Adams (34th raw), 12th was Jillian Walker (25th), and on we go. It's an interesting set of results.
Be aware that, where we can distinguish wettie swimmers from the newd, we load the wettists with 10 per cent, to make the playing field that much more level. Speaking with many people over the years about the speed advantages conveyed by wetties, we've had estimates up to 20 per cent. We've gone half way now. So there's probably still a bias towards wettists, but we're doing our best, in the absence of anything official on which to fall back.
Next round in the fine ocean swimmers series nz is Mt Maunganui, Around the Mount, on Sunday, January 4.
Remaining swims in the series are -
2. Around the Mount, Mt Maunganui, Sun, Jan 4 (4km)
3. Red Beach Swim, Sunday, February 22 (3km)
4. Across the Lake, Taupo, Saturday, Feb 28 (4.2km)
5. Rangitoto Swim, Auckland, Sunday, March 22 (4.6km)
6. 5 Bridges Swim, Hamilton, Sunday, March 29, (7.1km, effectively 3km with current)
Prizes in the series are a trip to Vanuatu to take part in the Vanuatu Open Water Swims in Port Vila on June 6, and a trip to Fiji to take part in the Mana Fiji SwimFest on October 15-17. The series winner gets the choice of trips, with the remaining trip going to a ballot of all swimmers who qualify for prizes in th series. You qualify for prizes by doing four of the series six swims.
For more info on the series... Click here
---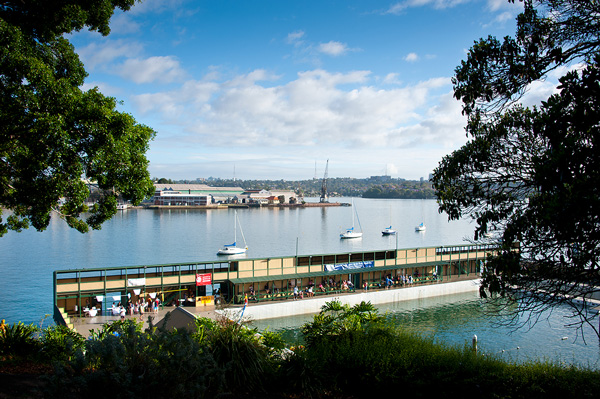 Coming up this weekend
Four swims this weekend, all focussed on the east and west of Stra'a - two in NSW, and two in Wessna-Stra'a.
Sat'dee

- Coogee (WA)

Sundee

- Dawny @ Balmain (NSW), Tweed River (NSW), Geraldton (WA)
The Dawny swims, run from the Dawn Fraser pool on Sydney Harbour, run around Cockatoo Island (the long swim), and over to the island and back (the short swim). The longer swim is Round 1 in our fine ocean swimmers series nsw, as you'll have read above. It's a triffic day out, down on the boardwalk, down by the harbour, down on the boardwalk, we'll enjoy the su-un, boardwalk... boardwalk... !
It's harbour water, so no swell, no break. Deep water start from the pontoon by the pool. You can't do both swims, unfortunately, because the organisers have to schedule within ferry timetables. It's a unique experience, swimming around Cockatoo Island, under the derrick cranes, through some of Stra'a's most distinctive maritime and judicial heritage.
Balmain Water Polo run a very good barbie, supported by Harris Farm Markets, and there's a barista on deck with an espresso machine. The boardwalk makes for a noice, critical mass of punters, and you can watch your rivals warm up in the Dawny pool, and you can pull their stroke apart. The mob from Balmain Sports Medicine will be on deck, offering advice in the various disciplines relating to your caper. oceanswims.com will be there with our very colourful tent and we'll be offering View swim gear for sale.
Be aware that Balmain's main artery, Darling St, will be closed on Sunday, so you will need to gain access to Balmain, if driving, via Terry St, Evans St, or Roberts St.
All on the board-walk... board-walk.... !
More info and to enter the Dawny swim online... Click here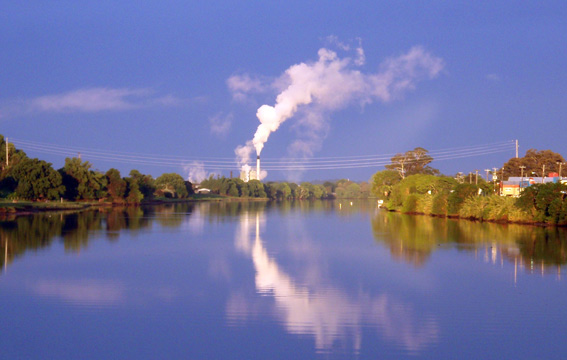 Oop north, it's the Killer Swims in the Tweed River, a traditional very northern NSW event run by the Murwillumbah Brass Monkeys with Fingal Rovers Surf Life Saving Club. If you watched The Nationals on the ABC telly on Tuesday night, you'll have noticed the stunning, verdant countryside surrounding Doug Anthony as he was interviewed. That's the country where this swim takes place. It's a river, so there's no swell, although there may be a bit of current.
Another lovely day out, but be prepared for the party afterwards at the Riverside Hotel.
More info and to enter the Tweed River Swim online... Click here
In the West, Coogee on Saturday, and Geraldton on Sunday. Both swims are part of the Swimming WA Open Water Series, and you wonder why they're being run, so far apart, on the one weekend. The Geraldton event is an initiative to bring the WA Swimming series to the bush, which is a nice thing. But you wonder how relevant it is with Coogee running in the city the day before. WA has a big coastline and it's not easy for "regional" swimmers to get to Geraldton for the day. And Coogee swimmers would be hardy souls, indeed, to do both on the one weekend. Run on the same weekend, you'd have to expect a regional swim will remain a regional cousin.
The event website says: "...three new events will be staged in regional Western Australia with the inaugural regional OWS to be held in Geraldton on 30 November 2014. The OWS Regional events are a joint initiative between Swimming WA (SWA) and Swimming Australia (SAL) with the objective to establish seven new regional rounds across the state by 2017".
Maybe it's a test run, to see how a regional event goes. Maybe it's to keep regional swims separate from city swims. We hope it goes well. We haven't been to Geraldton, but we're told by a cobber who lives there that the beaches are stunning.
More info... Click here
---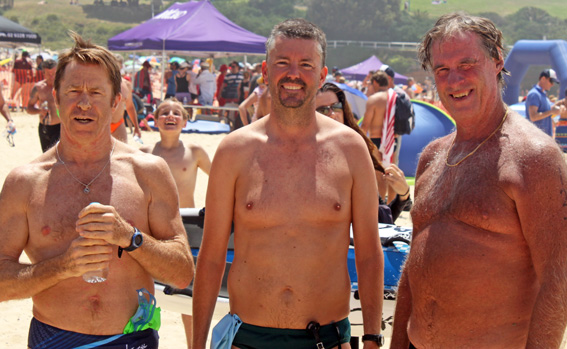 Heart and soul... Swims last weekend
See the punters above? Very special punters: they are the only swimmers to have done all 15 of the 2.4km swims at Coogee since the Island Challenge kicked off in 2000 (we have this on their advice). From left, Tim Green, Michael Parkinson, and David McDowall. We love the way Victorian swims recognise the special achievements of ordinary mug, rank-and-file punters who compete week in, week out, year in, year out, rarely in the running for prizes, but then prizes aren't the point. The point is the experience. We've been at Sydney swims to do this for years now. Sadly, very few Sydney swims have the results going back over the years to compile the records, or the energy or commitment to do it. Several have made noises about it, but to our recollection, only one -- Stanwell Park -- has done anything about it.
These mugs, above, are the heart and soul of ocean swimming. We salute you, comrades!
Otherwise, we're having a spirited debate on our Coogee report page, Brigadoon on the boardwalk, about the Coogee swim. We made a few comments in our report about a couple of things, and we've had responses, and some swimmers have complained about swimmers swimming over them, and the swimmers who swam over them have said sorry, but they didn't mean to, or it wasn't them at all... We love the excchange. Get in there and have a geek at it, and put your bib in, too... Click here
We have results online now from Coogee, the Cook Community Classic at Cronulla, from Toowoon Bay last Sat'dee, and from Auckland, where Round 1 in the fine ocean swimmers series nz ran last Sunday.
---
Our early season special from View
To celebrate the season, we're offering our first season goggle special: Buy two pairs of View Selene V820A goggles, and you can have them for $25 each. That's $50 for two pairs of the best all-round goggles you'll ever find (save $6!). It's a very good deal.
Order them online, or we'll have the same special open at the Dawny swim at Balmain on Sunday, along with our other gogs, such as the Visio V200AMR -- the Fully Sicks -- and many more.
To order... Click here
---
You Can Too
You've seen their orange caps -- Can Too -- Come one, Come all!
Confident in the ocean but want to improve your technique? Smash your PB to beat that person that always crosses the finish line just in front of you? Can Too welcomes every different type of person -- from ages 18 to 80!
As well as a session in the pool with qualified coaches during the week, training groups meet on Saturday mornings at local beaches to hone their ocean skills! It's a whole lot of fun and a great way to get out of your comfort zone and challenge yourself.
Take up professional coaching twice weekly and a supportive environment; Can Too is all about fun, fitness, friends and fundraising. During training, you fundraise for cancer research through the Can Too Foundation. In the last 10 years, Can Too has raised $13.8 million for research and trained over 9,500 men and women! You Can Too!
This year, Can Too goal events in Sydney are the 1km and 2.5km Palm Beach Big Swim, the North Bondi Classic 1km and 2km swims, and the 3.8km Lake Macquarie Across the Lake swim, south of Newcastle. In Melbourne, Can Too trains for the 2.5km and 5km Melbourne Swim Classic and the 1km and 2km Williamstown Australia Day Swim. In Brisbane, Can Tooers train for two swims at the Tweed River on November 30, both 1.2km and 2.5km.
1km, 2km + 2.5km training goes for 12 weeks. 3.8km training goes for 18 weeks.
Pool and beach training locations all over Sydney. (And they also train for open water swims in Melbourne!!)
For more details, head to the website www.cantoo.org.au or contact Sarah on 02 8072 6188 or email [email protected]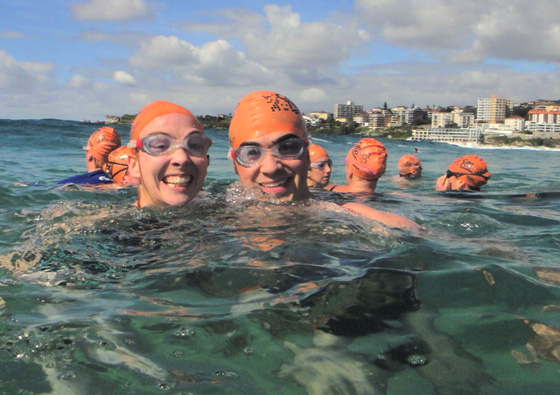 ---
Not getting our newsletters?
If you expect to receive our newsletters, but they're not turning up, or you know someone who isn't getting theres, chances are they're being diverted into your Spam or Trash folders. Some ISPs put them in there because they think they're spam. Gmail does this sometimes, as does Hotmail, Optus, and some of the larger business houses. Hard to believe, but there you go. So check your Spam and Trash folders. That's often where you'll find them.
You could also put oceanswims.com on your email White List of approved senders.
---
List your event
We're getting new season events onto our calendar at a rate of knots. We have much, much info to post in the next few weeks, but if you'd like to tell us about your event, you can complete our List your event form on oceanswims.com, to make sure we don't miss you.
Our policy is that we list all events of which we're aware, free of charge. If you'd like further exposure, as a Featured Swim (which gets you onto our home page), then there is a charge attaching to that. We have to make a buck somehow.
To leave your event details... Click here
---
Stop! Press!
We've set up a new Stop Press section at the top of the oceanswims.com home page where we will post late-breaking news, such as event cancellations and postponements, or venue changes. We use our Twitter feed for these postings, too, so if you follow us on Twitter (@oceanswims) you can get these announcements directly and immeejatly. Or you can check our Twitter feed on oceanswims.com... Just go to What's new/our twitter feed.
---
Swims open to online entry on oceanswims.com...
Dawny (Balmain, Nov 30)... Click here
Tweed River (The Killer Swim, Murwillumbah) (Sun, Nov 30)... Click here
North Curl Curl (Sat, Dec 6)... Click here
Bilgola (Sun, Dec 14)... Click here
Nobbys-Newcastle (Sat, Dec 13)... Click here
Yamba (Sun, Dec 28)... Click here
Gerringong (Sun, Jan 4)... Click here
Newport (Sun, Jan 4)... Click here
Avalon (Sun, Jan 11)... Click here
North Bondi (Sun, Jan 11)... Click here
Mona Vale (Sun, Jan 18)... Click here
Palm-Whale (The Big Swim, Sun, Jan 25)... Click here
Avoca (Sun, Feb 8)... Click here
North Bondi (Sun, Feb 8)... Click here
Malabar (Sun, Feb 15)... Click here
Evans Head (Sun, March 1)... Click here
Freshwater (Sun, March 1)... Click here
Port Noarlunga (Mon, Mar 9)... Click here
Stanwell Park (Sun, Mar 22)... Click here
Wollongong (Sat, Mar 28)... Click here
Copeton Waters (Inverell, Apr 11)... Click here
Mollymook (Sat, April 11)... Click here
Coogee (Sun, Apr 12)... Click here
Coming soon... Newcastle Harbour (Mon, Jan 26), Bondi (Sun, Feb 22), Balmoral (Sun, March 22), Forster (Sun, March 29), North Steyne (Sun, March 29), Black Head (Sun, April 19), South Head (Sun, May 17)
---
All that and more at oceanswims.com.
See you on the beach,
os.c
---
Subscribe
If you would like to receive our newsletters, or you know someone who would like to receive them... Click here