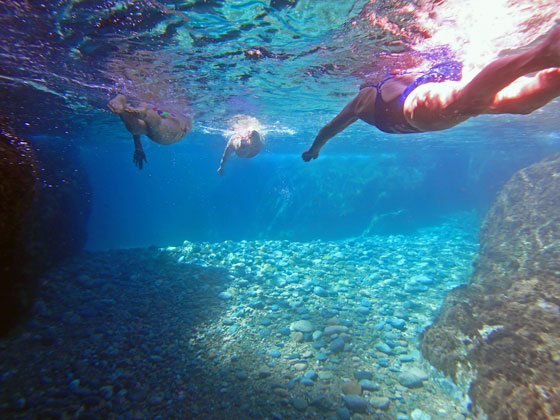 Another in our series, Pitchers to send you crazy, this one from our Secret Spot on Spain's Costa Brava. Our oceanswimsafari to the Costa Brava in 2015 will be in early September. Watch out for dates, coming soon.

Swimming up a storm this weekend
So, here we go... It's on in earnest this weekend. Seven swims around the joint, four of them in NSW, two in New Zealand, and one in the West.
Sat'dee - Bicton, down on the Swan River on the way to Freo, in Perth, Toowoon Bay, on the NSW Central Coast, and a new swim/run event, the Splash and Dash at Bondi, and the Bay of Islands, the first event in the NZ ocean swim series.

Sundee

- the

Island Challenge

at Coogee, in Sydney's Eastern Suburbs, the

Cook Community Classic

at Cronulla, in the Sutherland Shire, and in Auckland, the first event in the

fine ocean swimmers series NZ

, the

Chelsea Swim

.
We're taking online entries to Toowoon Bay on Saturday, and for Coogee and Cronulla on Sunday.
Toowoon Bay is one of the prettiest, gentlest, most benign beaches on the coast. It's a genuine bay protected by rock shelves on both sides of its entrance, which means the swells roll through, but they've been across the reefs by then and they're unthreatening. Remember Toowoon Bay last year? The thunder storm rolling in before the 2km main event, forcing its cancellation? If you entered the 2km last year, you're eligible for discounted entry into that swim this year.
Details on oceanswims.com... Click here
At Coogee on Sunday, the first of the season's two Island Challenges, the main event around Wedding Cake Island. This is one of our fave swims of the season, and having it twice in a season now -- the second time in autumn, in April -- means we get to experience the island circumnavigation in different seasonal conditions. It truly is a glorious swim, and no ocean swimmer worth their salt will leave this off their program. the 1km swim runs around a circuit inside the island, as does the 800m Junior swim. With Coogee protected by the island, and by rock shelves on both sides, it's also a heavily protected beach, although it gets bumpy inside the island with chop and backwash bouncing off the rocks.
Details on oceanswims.com... Click here
Such a pity the Cook Commmunity Classic is running at Cronulla on the same day. Two distances — 2km and 1km — in circuits off South Cronulla beach. It's a noice bit of water out there.
Details on oceanswims.com... Click here
In Auckland, the Chelsea Swim is Auckland Central Masters version of the Harbour Crossing, although this one goes South to North, from Pt Erin Park, at the foot of the harbour bridge, to the Chelsea refinery. It looks a distance, but it's only 2.4km. And it's the first swim in our first inaugural fine ocean swimmers series NZ. Everyone who finishes this swim will earn points in the series based on handicap times weighted for age and sex. Find out more aobut the series...
Details on oceanswims.com... Click here
---
New Zealand fine ocean swimmers series starts this Sundee

First event in the fine ocean swimmers series NZ this Sundee in Auckland -- the Chelsea Swim run by Auckland Central Masters.
There are trips to Vanuatu and Fiji up for grabs. Everyone who qualifies for prizes in the series by finishing four of the series six swims will go into the draw for one of those travel prizes, with the winner choosing one for themselves.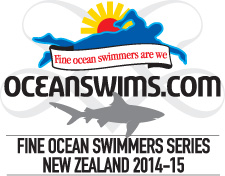 We've pulled together six swims in NZ offering an array of locations, types of water, distances, and spread throughout the season. We'll apply our oceanswims.com handicap system to the results of these swims, as we do in NSW, producing a completely different set of results.
Our handicap system means swimmers of pretty well any age and either sex can compete validly with each other. It's a series that recognises the efforts of rank and file swimmers, not just the usual suspects.
The six swims in the fine ocean swimmers series NZ are -
1. Chelsea Swim, Auckland Harbour (Auckland Central Masters), Sunday, Nov 23 (2.4km)
2. Around the Mount, Mt Maunganui, Sun, Jan 4 (4km)
3. Red Beach Swim, Sunday, February 22 (3km)
4. Across the Lake, Taupo, Saturday, Feb 28 (4.2km)
5. Rangitoto Swim, Auckland, Sunday, March 22 (4.6km)
6. 5 Bridges Swim, Hamilton, Sunday, March 29, (7.1km, effectively 3km with current)
Anyone who finishes any of these swims will earn points in the series, although you must do four of the six swims in order to qualify for places and prizes at the end. You need do nothing to be part of the pointscore. Your participation and finish will earn you the points.
If you'd like to make sure you keep up with progress, register for our emailouts... Click here
To find out more about our fine ocean swimmers series NZ... Click here
---
Our early season special from View
As the season gets going, we're also finding a big uplift in orders for our View Swim goggles and accessories. To celebrate the season, we're offering our first season goggle special: Buy two pairs of View Selene V820A goggles, and you can have them for $25 each. That's $50 for two pairs of the best all-round goggles you'll ever find (save $6!). It's a very good deal.
We were hoping to run a Gogs Shop at Coogee this Sunday, but we're told now, by the organisers, that we may not. Instead, if you order your gogs by Sat'dee night, we can bring them with us to Coogee so you can pick them up there. Select the Selene specials or most any gogs, and we can have them with us for you to collect at Coogee beach (we won't be able to get prescription goggles or some less obvious models unless you order them by Thursday evening). Just look for the oceanswims.com tent on Coogee beach on swim day.We shall be there chillaxing.
To order... Click here
---

Cook Community Classic
Organisers say...
The IMB Cook Community Classic Open Water Swim is on this weekend, Sunday 23rd November, at Cronulla Beach. Now in its 8th year, this swim is proving to be a great fun event for the serious and not so serious swimmers of all ages. The calm waters of Cronulla Beach (south) makes the 1km race a real sprinting event for those who are into short, sharp swims. If you are up for more of a challenge perhaps the 2km swim is your thing. Maybe you can push yourself that bit further and take part in both the 1km and 2km swims.
he low entry fees make this an affordable event and the free caps and goggles make it a real value for money event, not to mention the cash prizes on offer. All the money raised goes to Sutherland Shire charities participating in the fete in the adjacent park.
Find out more and enter online... Click here
---
You Can Too
You've seen their orange caps -- Can Too -- Come one, Come all!
Confident in the ocean but want to improve your technique? Smash your PB to beat that person that always crosses the finish line just in front of you? Can Too welcomes every different type of person -- from ages 18 to 80!
As well as a session in the pool with qualified coaches during the week, training groups meet on Saturday mornings at local beaches to hone their ocean skills! It's a whole lot of fun and a great way to get out of your comfort zone and challenge yourself.
Take up professional coaching twice weekly and a supportive environment; Can Too is all about fun, fitness, friends and fundraising. During training, you fundraise for cancer research through the Can Too Foundation. In the last 10 years, Can Too has raised $13.8 million for research and trained over 9,500 men and women! You Can Too!
This year, Can Too goal events in Sydney are the 1km and 2.5km Palm Beach Big Swim, the North Bondi Classic 1km and 2km swims, and the 3.8km Lake Macquarie Across the Lake swim, south of Newcastle. In Melbourne, Can Too trains for the 2.5km and 5km Melbourne Swim Classic and the 1km and 2km Williamstown Australia Day Swim. In Brisbane, Can Tooers train for two swims at the Tweed River on November 30, both 1.2km and 2.5km.
1km, 2km + 2.5km training goes for 12 weeks. 3.8km training goes for 18 weeks.
Pool and beach training locations all over Sydney. (And they also train for open water swims in Melbourne!!)
For more details, head to the website www.cantoo.org.au or contact Sarah on 02 8072 6188 or email [email protected]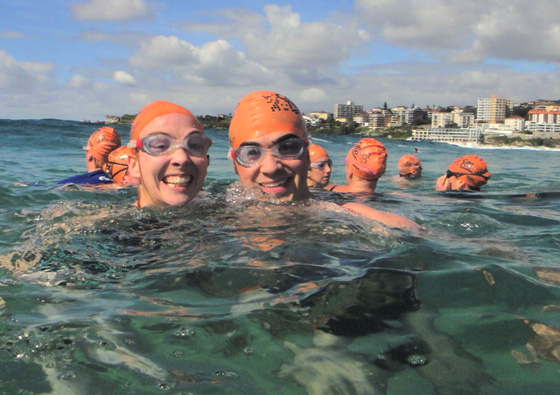 ---
Order Glistening Dave's ocean swims calendar 2015 now!
It's here... Glistening Dave has selected his favourite photograrphs from last season from his "formal" swims and his early morning fraternisations in Bongin Bongin Bay to illustrate his 2015 ocean swims calendar.
The calendar includes every swim date we can find in Stra'a, New Zealand and the Sarth Pacific, and a few more besides that we deem relevant or interesting.
Pin it on your notice board at work, behind the door in the loo, on the wall in the kitchen, in your home office, your men's shed, your sewing and knitting room' the wall in your hallway, so that you can check swim dates each time you leave home or return. Home again, jiggety jog! And where do we swim this weekend...
Or get multiples and mount one in each of those places, so that you're constantly surrounded by images of ocean swimming. Or Dave's perceptions of them.
Triffic for personal use, and especially for presents at Xmas time for the swimmer, or towel carrier, who already has a full quiver of gogs and more than enough cossies.
Orders are already coming in, so don't delay and make sure you're amongst the first batch of mailouts.
More info and to order... Click here
---
REDFEB 2015 is coming...
How will you get involved?
REDFEB is Heart Research Australia's signature fundraising campaign. It promotes a heart healthy lifestyle and raises much needed funds for first-stage innovative research into the prevention, diagnosis and treatment of heart disease.
Be smart. Love your heart.
There are so many ways you can support and participate in REDFEB.
Join our virtual REDFEB Relay and help us lap the map of Australia!
Take part in our REDFEB Challenge and make a heart healthy change to your lifestyle!
Make a difference with REDFEB Fundraising and hold an event at your school or office!
Get your work colleagues to wear red for National Wear Red Day on February 6 for gold coin donation!
So, what will you do to love your heart this February? There are plenty of ways to help raise vital funds for Heart Research Australia!
Visit heartresearch.com.au for further information or call (02) 9436 0056.
---
NSW fine ocean swimmers series events named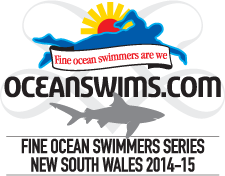 We've assembled nine swims to form the fine ocean swimmers series in NSW this season -
Nov 30 - Dawny's Cockatoo Challenge at Balmain
Dec 14 - Bilgola Ocean Swim
Jan 4 - Captain Christie Classic, Gerringong
Jan 25 - The Big Swim, Palm-Whale
Feb 15 - Murray Rose Malabar Magic
Feb 22 - Bondi Bluewater Challlenge
March 1 - Barney Mullins Classic at Freshwater
March 22 - Stanwell Park Ocean Challenge
April 12 - Island Challenge at Coogee
Finish seven of those nine swims (the longer swim at events which have more than one swim), and you will be eligible for prizes.
This season, we have travel prizes to Vanuatu and Fiji on offer, and at each event, we'll conduct random draws of those who enter online for vouchers from budgysmuggler.com.au and complimentary membership to NSW Masters Swimming.
Find out more... Click here
---
Not getting our newsletters?

If you expect to receive our newsletters, but they're not turning up, or you know someone who isn't getting theres, chances are they're being diverted into your Spam or Trash folders. Some ISPs put them in there because they think they're spam. Gmail does this sometimes, as does Hotmail, Optus, and some of the larger business houses. Hard to believe, but there you go. So check your Spam and Trash folders. That's often where you'll find them.
You could also put oceanswims.com on your email White List of approved senders.
---
List your event
We're getting new season events onto our calendar at a rate of knots. We have much, much info to post in the next few weeks, but if you'd like to tell us about your event, you can complete our List your event form on oceanswims.com, to make sure we don't miss you.
Our policy is that we list all events of which we're aware, free of charge. If you'd like further exposure, as a Featured Swim (which gets you onto our home page), then there is a charge attaching to that. We have to make a buck somehow.
To leave your event details... Click here
---
Stop! Press!

We've set up a new Stop Press section at the top of the oceanswims.com home page where we will post late-breaking news, such as event cancellations and postponements, or venue changes. We use our Twitter feed for these postings, too, so if you follow us on Twitter (@oceanswims) you can get these announcements directly and immeejatly. Or you can check our Twitter feed on oceanswims.com... Just go to What's new/our twitter feed.
---
Swims open to online entry on oceanswims.com...
Toowoon Bay (Sat, Nov 22)... Click here
Coogee (Sun, Nov 23)... Click here
Cronulla (Sun, Nov 23)... Click here
Dawny (Balmain, Nov 30)... Click here
Tweed River (The Killer Swim, Murwillumbah) (Sun, Nov 30)... Click here
North Curl Curl (Sat, Dec 6)... Click here
Bilgola (Sun, Dec 14)... Click here
Nobbys-Newcastle (Sat, Dec 13)... Click here
Yamba (Sun, Dec 28)... Click here
Newport (Sun, Jan 4)... Click here
Avalon (Sun, Jan 11)... Click here
North Bondi (Sun, Jan 11)... Click here
Palm-Whale (The Big Swim, Sun, Jan 25)... Click here
Avoca (Sun, Feb 8)... Click here
North Bondi (Sun, Feb 8)... Click here
Malabar (Sun, Feb 15)... Click here
Evans Head (Sun, March 1)... Click here
Freshwater (Sun, March 1)... Click here
Stanwell Park (Sun, Mar 22)... Click here
Wollongong (Sat, Mar 28)... Click here
Copeton Waters (Inverell, Apr 11)... Click here
Mollymook (Sat, April 11)... Click here
Coogee (Sun, Apr 12)... Click here
---
All that and more at oceanswims.com.
See you on the beach,
os.c
---
Subscribe
If you know someone who would like to receive our newsletters... Click here