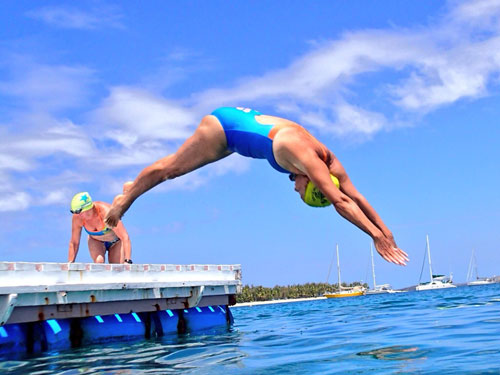 The perfect dive? Mrs Sparkle tries very hard to do it as she teaches her swim pupils. And succeeds. This dive is from the pontoon floating off Nanuya Island Resort, our base for our oceanswimsafaris in Fiji's Yasawas. In the background, a Turtle has difficulty climbing onto the pontoo. But turtles were never meant to climb ladders.

It's on again...
It's just gone October, and the season's first swims in the southern states and New Zealand are just weeks away. In NSW and Victoria, first swims are just days away, with Forresters Beach on the NSW Central Coast, and the Hazelwood Sauna Swim, east of Melbourne, on Saturday week, October 11.
In the west, first swim is at Cottesloe on November 2; in Sou'-Stra'a, it's Seacliff on December 7; in Tassie, first swim is Carlton Park on December 6. Queensland is different, of course: swims run all year 'round up there. Green Island was September 14 and Heron Island is in two weeks (we're looking forward to Heron Island: we've rarely swum in such beautiful water, with so much sea life). And Burleigh Heads is on October 26, Sundee. In NZ, there was a swim last Sundee, in Nelson, called, appropriately, the Blue September Swim. The South Island Masters Games OW swim is on in Timaru on October 16 (wetties compulsory - there's a message there). Otherwise, the calendar doesn't get moving until the Herne Bay Swim in Auckland on October 26.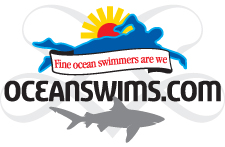 We've been impressed with how early many swims are getting ready for their swims this season. When we started oceanswims.com - this will be our 15th season - we had to chase some events for dates even after the season had started. But now, swims are coming to us before the previous season has finished, some of them with dates several years into the future. Already, we have 20 swims open for online entry through oceanswims.com.
In coming weeks, check out Forresters Beach on Sat'dee week, October 11 - It's a beautiful beach surrounded by steep hills, with a break framed by an offshore reef. The local boardies run the swim with Wamberal SLSC to raise funds for research into bone marrow cancer, in memory of their cobber, Dave "Coke" Wards. Swim organiser, Wayne King, fashions wooden trophies for winners and placegetters, in his shed, the kind of thing that gives an event a unique personality. Online entries close on Fridee, October 10, at noon. More info and enter online... Click here
Two weeks after, you can do Narrabeen, on Sydney's northern beaches, on Sat'dee, October 25, then head to the Goldie to do Burleigh Heads on Sunday. Narrabeen has two distances, 800m and 1.8km, offering something for experienced swimmers and novices alike. Even for the more experienced, the shorter swim can be your warm-up. More info and enter online... Click here
On Sunday, four swims distances at Burleigh, 2km, 1km, a junior 400m and a Dash for Cash. This is one of Stra'a's most legendary beaches, particularly if you were a boardie in your yoof, as we were. You can drift off into day dream as you head around the course, imagining you're surfing Burleigh point in a two metre swell... It's an early start - 7am - so don't be caught unawares. Be there at dawn. More info and enter online... Click here
We have a full list below of swims for which we have online entries open right now. They run as far as April at this point.
For more swims, check the Featured Swims list on oceanswims.com, and for our complete calendar, go to Swims/Calendar on oceanswims.com... Click here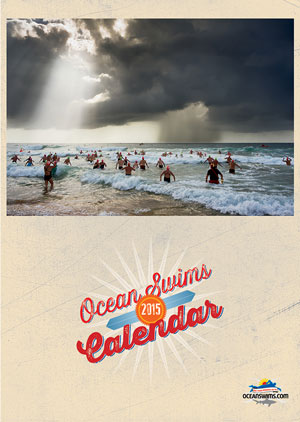 Glistening Dave's ocean swims calendar
Glistening Dave's ocean swims calendar 2015 will be available for order through oceanswims.com very soon. Here's a sneak peak at the cover... ooh, sorry, it's over there...
New payment methods in our Goggles Boutique
We've had a few problems with our shopping cart in recent weeks; we've had a remarkably high number of customers dropping out of orders at the payment stage. Was it something we said? Or they thought we might say? One reason may be that PayPal, whom we've been using to process our shopping cart payments, appear to have changed their rules and now compel customers to create an account with them before processing their payment. In the past, you didn't need to create an account; you just needed to key in your card details.
Some people don't like being forced to create accounts and hand over personal details to websites that we don't wish to join (us included). So we've changed our payment processes. You can still pay through PayPal if you wish, but you also now have the choice of paying by direct funds transfer into our account, or by leaving your card details and we'll process the payment later. In the meantime, we'll be searching for another payment process that allows real time transactions, without you having to create an account with PayPal.
List your event
We're getting new season events onto our calendar at a rate of knots. We have much, much info to post in the next few weeks, but if you'd like to tell us about your event, you can complete our List your event form on oceanswims.com, to make sure we don't miss you.
Our policy is that we list all events of which we're aware, free of charge. If you'd like further exposure, as a Featured Swim (which gets you onto our home page), then there is a charge attaching to that. We have to make a buck somehow.
To leave your event details... Click here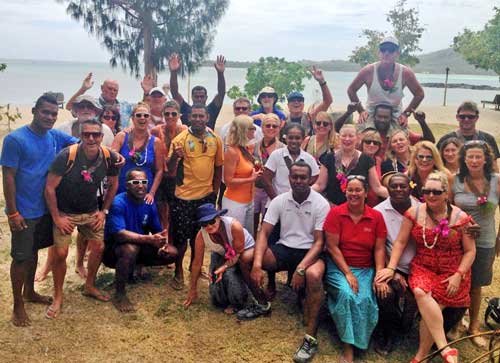 We had 24 Forster Turtles with us in Fiji's Yasawas last month. They know how to have a party. (Parenthetically, this pic was taken with an iPhone. Compare the image with the "Diving Lady" at the top, taken with an Olympus Tough TG2. No comparison. That's why mobile phones are no full replacement for dedicated cameras.
Stop! Press!

We've set up a new Stop Press section at the top of the oceanswims.com home page where we will post late-breaking news, such as event cancellations and postponements, or venue changes. We use our Twitter feed for these postings, too, so if you follow us on Twitter (@oceanswims) you can get these announcements directly and immeejatly. Or you can check our Twitter feed on oceanswims.com... Just go to What's new/our twitter feed.
---
Swims open to online entry on oceanswims.com...
Forresters Beach (NSW, Oct 11)... Click here
Heron Island (Thu-Mon, Oct 23-27)... Click here
Narrabeen (Sat, Oct 25)... Click here
Burleigh Heads (Sun, Oct 26)... Click here
Umina (Woy Woy) (Sat, Nov 1)... Click here
Collaroy (Sun, Nov 9)... Click here
Toowoon Bay (Sat, Nov 22)... Click here
Coogee (Sun, Nov 23)... Click here
Dawny (Balmain, Nov 30)... Click here
Tweed River (The Killer Swim, Murwillumbah) (Sun, Nov 30)... Click here
North Curl Curl (Sat, Dec 6)... Click here
Bilgola (Sun, Dec 14)... Click here
Nobbys-Newcastle (Sat, Dec 13)... Click here
Yamba (Sun, Dec 28)... Click here
Newport (Sun, Jan 4)... Click here
Avoca (Sun, Feb 8)... Click here
Stanwell Park (Sun, Mar 22)... Click here
Wollongong (Sat, Mar 28)... Click here
Copeton Waters (Inverell, Apr 11)... Click here
Coogee (Sun, Apr 12)... Click here
---
All that and more at oceanswims.com.
See you on the beach,
os.c
---
Subscribe
If you wish to receive our newsletters, just let us know. Please tell us your name and the email address at which you'd like to receive our newsletters... click here
If you know someone who would like to receive them... click here