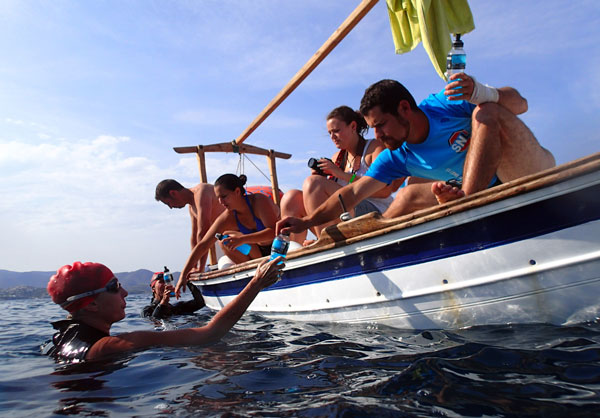 The latte pontoon about the half way point of the Sunset Swim, 5km from Llanca to Puerta de la Selva, on the Costa Brava.

Break the ice this Sundee

It's the first Bondi Icebreaker Swim this Sundee, and there are a couple of things about which we need to let you know.
First, swim start time now is 10am.
Second, You can enter on the beach on race day morn should you wish, but you'll pay a race day premium of $10 if you choose to leave your entry until then. Until online entries close, entry is $40, or $90 to enter all three Bondi Icebreaker Swims over July, August and September. But on race day, this Sunday, the first swim will cost $50.
You also need to enter online to get the discounted rate of $90 for all three swims, which represents a 25 per cent discount to entering all three swims individually.
Online entries close at noon on Sat'dee, July 26.
And minimum age is 15.
Bondi's Icebreaker swims are of 1.5km with ten-year age groups, Newd or Wettie (you can wear your cossies for the Newd division, in fact if you don't you may be arrested).
The 1.5km course is basically straight out towards Peru, and back again, awgies tell us. 10-year age groups, Newd or Wettie.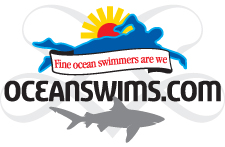 Online entries are open now on oceanswims.com.
It's about time we had more swims over winter, so get out there and support these events. Water isn't that cool (says us, currently on the Sarth of Fronce).
More info and to enter online... Click here
Updates from oceanswims.com and oceanswimsafaris.com...
Check our Twitter feed (@oceanswims) and Instagram (oceanswims) for pics and late-breaking news. Right now, we're focussed on sending you crazy with pic reports from our overseas swims over winter. We've just finished our Costa Brava oceanswimsafari in Spain, and there's more to come
---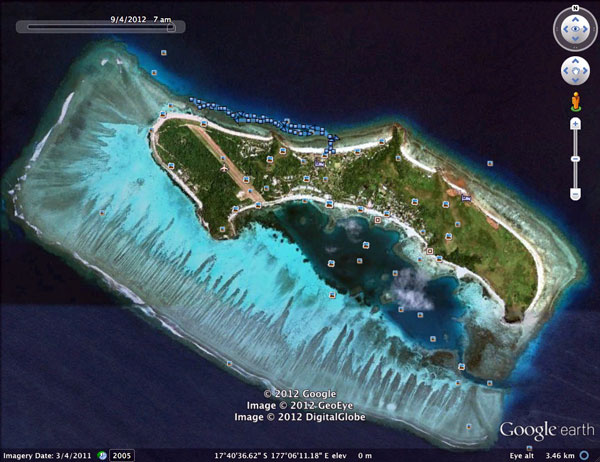 Getting excited about Fiji

The 10km at Mana Island in September is shaping as a very popular event. Almost everyone who's signed up so far to take part in the Mana Fiji SwimFest (core dates September 9-14) have indicated they intend to do the 10km either solo or as part of a relay. It's a terrific personal challenge in a very pleasant aquatic environment. Mana Island offers some of the nicest, most benign ocean swimming conditions available. It's a very good venue to set yourself a unique personal challenge. Mana is unique, too, in that it can run swims in almost any conditions: either North Beach or South Beach, depending upon conditions on race day.
Mana Island organisers have set a new course for the 10km this year, running on a loop between Mana's North Beach and South Beach and back again. With this course, you'll never be far from shore and it omits the 3km reaches out to the Nusa Mana sand cay and back which were terrific ocean swims, but required swimmers to cross some deep water in sometimes very challenging conditions.
The Mana Fiji SwimFest offers two days of swims with social functiions thrown in. It's a good place to immerse yourself in ocean swimming with like-minded journeypersons and to set and achieve new pesonal goals.
After the 10km on Thursday, September 11, there are three swims of 5km, 3km and 1km on SAt'dee, September 13. Take this opportunity to build up your distance for the new season's tallies. You could do 18km over the two days, if you're keen.
The swims take place off Mana's North Beach, along the drop-off 130m out from shore. It's a glorious reef along there, full of colourful coral and sea life.
We recommend the core dates of Tuesday, September 9, through Sunday, September 14. You can book your accommodation and swim entry through oceanswims.com/oceanswimsafaris.com, and if you're quick, you can book an early flight to Fiji which will get you into Nadi in time to catch the last boat to Mana that afternoon, which means you won't need to overnight in Nadi before heading out to the island. Ask us for advice on flights, if you like. We're happy to help.
Be aware that, if you book your accommodation through oceanswims.com/oceanswimsafaris.com, you will get your swim entry package at a discount to the online rate for swim entry only. If you book yoru accommodation separately, you still must enter online through oceanswims.com
Mana Island Resort is offering a special "5 for 4" deal, Stay 5 nights, but Pay only for four nights, available only through oceanswims.com and our sibling site, oceanswimsafaris.com. This also means that, if you stay for six nights, you get them for 5 nights. And stay 8, pay 6.
For more info and to book... Click here
On Sunday, September 14, we're taking a bunch of swimmers oop north on our Yasawas oceanswimsafari. (The Yasawas are the island group that you can see, hazily in the distance, on the horizon from Mana's North Beach.) Unfortunately, all places on that oceanswimsafari are full. But there's always next year...
---
An interesting stat...

An interesting stat from our cobber, James Pittar: Four out of five people who are blind, don't need to be. The corollary is that their blindness is curable, or at least capable of being treated.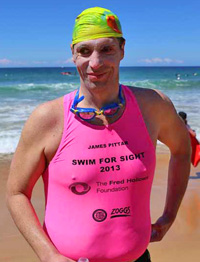 James is a good one to be pointing this out to us, because he is blind himself. That doesn't stop him swimming, though, and it doesn't stop him taking on challenges from which most of us would recoil. We well remember his swim from Palm beach to North Steyne about ten years back. It was through a thunderstorm and heavy seas. He was to be welcomed by the NSW Guv'na, but he arrived so early he had to be spirited to a local caff then back out to sea to swim back in again when she arrived later at the appointed time. He's a remarkable bloke is our James.
James is very active, too, in supporting causes to do with disability, and blindness in particular. For the last couple of years, each year, James does the Swim for Sight in support of the work of the Fred Hollows Foundation. The foundation works to treat blindness due to cataracts, which accounts for 50 per cent of avoidable blindness, according to the foundation. They can be removed in a simple, 20-minute procedure costing as little as $25, the foundation says.
On September 28, 2014, James will be swimming 12km from Long Reef to Shelley Beach, and he needs you to join him for the last 2km from Shelley Beach to North Steyne.
James is calling for 48 swimmers each raising $1,000 to swim the final 2km with him.
The funds raised will restore sight to people who are unnecessarily blind.
Find out more and sign up to help... Click here
---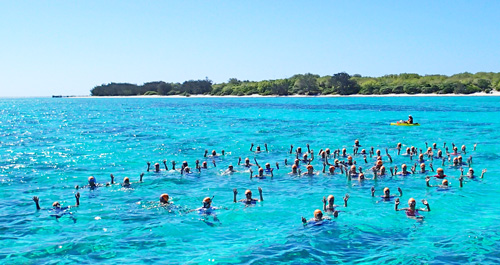 Swim with reef sharks on Heron Island
Bookings are coming in strongly for one of the highlights of the season, the 2014 Great Barrier Reef Swim on Heron Island from October 23-27. Don't miss this one. More of the world's best reef. And sea life. Two main events: 1km around the wreck, and c. 3km around Heron Island itself. This will be a cathartic experience, for you, as anyone who's swum the Heron Island reef will attest.
Coach Graeme Brewer will be there to provide you with open water coaching: there'll be a dry land session and a water session.
Heron Island... click here
---
Swims open to online entry on oceanswims.com...
Mana Fiji (Wed-Sat, Sep 10-13)... Click here
Heron Island (Thu-Mon, Oct 23-27)... Click here
Burleigh Heads (Sun, Oct 26)... Click here
Coming soon...
Forresters Beach (NSW, Oct 11)
Dawny (Balmain, NSW, Nov 30)
Copeton (Inverell, NSW, April 11)
---
All that and more at oceanswims.com.
See you on the beach,
os.c
---
Subscribe/Unsubscribe
If you don't wish to receive our newsletters, just let us know. If unsubscribing, please tell us your name and the email address at which you're receiving our newsletters now... click here
If you know someone who would like to receive them... click here