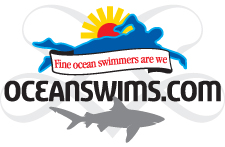 Winter swimming at its best

After the ratty season we've had, particularly towards its end, how good it is to see the forecasts for Sunday, the day of the South Head Roughwater in Sydney: sunny, temps 14-24C, swell 0.5m. The only contrary indicators are that the swell direction is predicted to be from the east-nor'-east, and the wind will be from the north at 8 knots. Which direction will the current be running? We'll have to get in to find out. Water temp still is in the early 20s.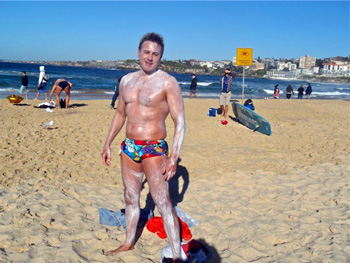 It's looking good for the weekend at last.
This is a spectacular swim. There's still time to enter, although it ain't for everyone: 10km from North Bondi, along the coast, into the harbour, and in to Watsons Bay, where the swim finishes this year at the Watsons Bay Hotel. This means that the course doesn't cross ferry lanes.
It's a triffic swim for speccying, too: follow the coastal path along the clifftop between North Bondi and South Head and get exercise and glorious views as bonuses.
Compulsory briefing is at 7pm on Fridee, May 16, at the Watsons Bay Hotel, and swim start is at North Bondi at 9am on Sundee.
More info... Click here
---
Winter swims at Bondi
An incentive to keep training --if you needed one -- with news from Bondi, where swim organisers are planning to hold three swims over winter, on July 27, August 24, and September 21. The course will be 2km out and back, with the outwards and return reaches about 500m apart.
Good lad(esse)s, yourselves, Bondi! Watch oceanswims.com for more details.
---
Wouldn't you like to swim in this water?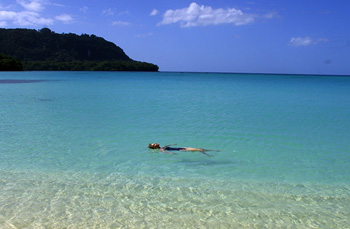 There are still places available at the Vanuatu Open Water Swims and Espiritu Santo Swim Week in June. This is the best ten days of ocean swimming you could do over the next few months, whilst it's winter at home. You'll swim in some of the most beautiful water you'll ever find, including Port Olry, oop north in Santo (see at left).
Luxuriate at Port Olry, Santo.
In Vanuatu, there are two legs of swims -- the Vanuatu Open Water Swims in Port Vila on Sat'dee, June 14, and Espiritu Santo Swim Week, five days of relaxed, tropical swimming on Vanuatu's Adventure Island, Espiritu Santo, oop north, from Monday, June 16 through Friday, June 20. We have accommodation and swim entry packages available to both legs available now on oceanswims.com
In Port Vila, we've obtained a very good deal for accommodation at our partner resort, Warwick Le Lagon Resort & Spa, for the Vanuatu Open Water Swims, and in Santo, we have Stay 6/Pay 5 deals at a number of resorts for Espiritu Santo Swim week. These deals are available only through oceanswims.com/oceanswimsafaris.com. If you book your accommodation through us, your swim entry package will be included at a discount to online rates.
Vanuatu... click here
---
James Squire Brewery Night
We've conspired with Chuck Hahn, and we've set our annual Organoleptic Evaluation and Presentation Night at the Malt Shovel Brewery in Sydney for Thursday, June 5.
This is when we'll finalise awards for the fine ocean swimmers series 2014 and our fine ocean swimmers tallies for the season just ending. We'll gasbag about the season, and we'll sample an array of Chuck's James Squire beers, matched with finger food of Chuck's selection.
Entry is free, but you need to book because space is limited. Thank you very much to Chuck, our favourite ocean swimming brewer, and the Malt Shovel Brewery for having us along.
To find out more and to book... Click here
---
Winter View specials from our new Gogs boutique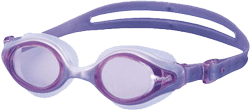 It's season's end, pretty well, but to keep you interested, we've discounted some of our most popular gogs, and loaded them into a new shopping cart to make it easier for you to order them from us. Buy the world's best all-'round goggle, the View Selene, for $25 -- that's more than 10% off -- or our specialist open water goggle, the View Xtreme, for $34 -- also more than 10% off -- and/or our prescription goggles, View Platina, for $46.50 -- again, more than 10% off.
To view our View goggle range and order... Click here
---
Fiji beckons

We also have Mana Fiji open for booking with a deal offering Stay 5/Pay 4, or Stay 10/Pay 8. This also means, Stay 6, Pay 5, etc. This deal also is available only through oceanswims.com/oceanswimsafaris.com. And if you book through us, this swim entry package also is included at a discount to the online rates. Mana Fiji is a new format this year: the 10km Nusa Mana swim is on Thursday, and distances of 5km (a new event), 3km, and 1km on Saturday. So you have a day to recover and enjoy being on a tropical island in Fiji between swim days.
Mana Fiji... click here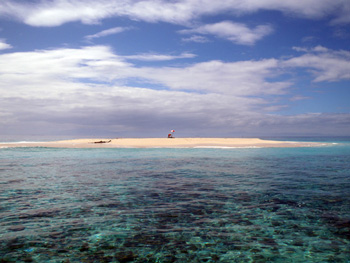 After the Mana Fiji SwimFest, come with us on our oceanswimsafari to the Yasawas, past the horizon up north, for five days of magical swimming in some of the world's best water and reefs. Swimming in the Yasawa is a very special experience. It's where the movie, The Blue Lagoon was filmed.
Yasawas oceanswimsafari... click here
Nusa Mana Sandbar, off Mana Island, turning point in Mana's 10km swim.
Swim Samoa
Starting July 29... Three swims over three days, with a couple more tacked on at either end. This is a terrific opportunity to live cheek-by-jowel with like-minded ocean swimming enthusiasts as you bus out to different swim venues each day from swim HQ in Apia. Samoa is a beautiful place, largely untouched by tourism. If you have time, add a few days on the neighbouring island of Savai'i, where you find a new definition of remoteness.
We'll have land packages for Samoa online now.
Samoa... click here
---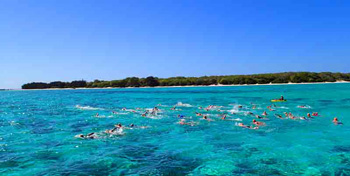 Great Barrier Reef Swim, Heron Island
Bookings are open for the 2014 Great Barrier Reef Swim on Heron Island from October 23-27. Don't miss this one. More of the world's best reef. And sea life. Two main events: 1km around the wreck, and c. 3km around Heron Island itself. This will be a cathartic experience, for you, as anyone who's swum the Heron Island reef will attest.
Coach Graeme Brewer will be there to provide you with open water coaching: there'll be a dry land session and a water session.
Swim back to Heron Island.
Heron Island... click here
---
Swims open to online entry on oceanswims.com...
South Head (Sun, May 18)... click here
Vanuatu - Santo (Mon-Fri, Jun 16-20)... click here
Mona Vale (Sun, June 22)... click here
Mana Fiji (Wed-Sat, Sep 10-13)... click here
Heron Island (Thu-Mon, Oct 23-27)... click here
Burleigh Heads (Sun, Oct 26)... click here