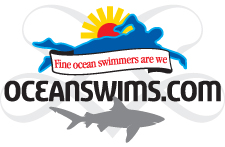 Hi [firstname]

Vanuatu, Fiji open for booking


Bookings are coming in for the Vanuatu swims in June, and for the Mana Fiji SwimFest and our Yasawas oceanswimsafari in September.
In Vanuatu, there are two legs of swims -- the Vanuatu Open Water Swims in Port Vila on Sat'dee, June 14, and Espiritu Santo Swim Week, five days of relaxed, tropical swimming on Vanuatu's Adventure Island, Espiritu Santo, oop north, from Monday, June 16 through Friday, June 20. We have accommodation and swim entry packages available to both legs available now on oceanswims.com
In Port Vila, we've obtained a very good deal for accommodation at our partner resort, Warwick Le Lagon Resort & Spa, for the Vanuatu Open Water Swims, and in Santo, we have Stay 6/Pay 5 deals at a number of resorts for Espiritu Santo Swim week. These deals are
available only through oceanswims.com/oceanswimsafaris.com. If you book your accommodation through us, your swim entry package will be included at a discount to online rates.
Vanuatu... click here
We also have Mana Fiji open for booking with a deal offering Stay 5/Pay 4, or Stay 10/Pay 8. This also means, Stay 6, Pay 5, etc. This deal also is available only through oceanswims.com/oceanswimsafaris.com. And if you book through us, this swim entry package also is included at a discount to the online rates. Mana Fiji is a new format this year: the 10km Nusa Mana swim is on Thursday, and distances of 5km (a new event), 3km, and 1km on Saturday. So you have a day to recover and enjoy being on a tropical island in Fiji between swim days.
Mana Fiji... click here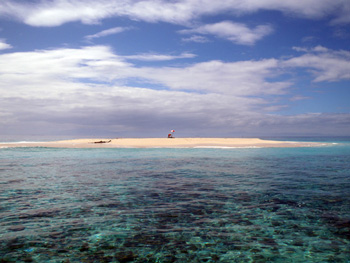 After the Mana Fiji SwimFest, come with us on our oceanswimsafari to the Yasawas, past the horizon up north, for five days of magical swimming in some of the world's best water and reefs. Swimming in the Yasawa is a very special experience. It's
where the movie, The Blue Lagoon was filmed.
Yasawas oceanswimsafari... click here
Swim Samoa
Starting July 29... Three swims over three days, with a couple more tacked on at either end. This is a terrific opportunity to live cheek-by-jowel with like-minded ocean swimming enthusiasts as you bus out to different swim venues each day from swim HQ in Apia. Samoa is a beautiful place, largely untouched by tourism. If you have time, add a few days on the neighbouring island of Savai'i, where you find a new definition of remoteness.
Samoa... click here
---
Great Barrier Reef Swim, Heron Island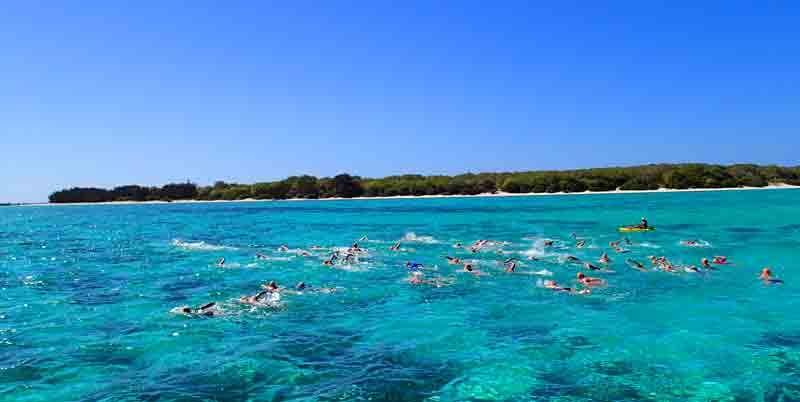 Bookings are open for the 2014 Great Barrier Reef Swim on Heron Island from October 23-27. Don't miss this one. More of the world's best reef. And sea life. Two main events: 1km around the wreck, and c. 3km around Heron Island itself. This will be a cathartic experience, for you, as anyone who's swum the Heron Island reef will attest.
Coach Graeme Brewer will be there to provide you with open water coaching: there'll be a dry land session and a second session in the water.
Heron Island... click here
---
The peak of autumn swimming

There are six swims scattered around the joint this weekend, although the scattering is pretty much all on Sat'dee. On Sundee, there are three micro-scattered around NSW -
Sat, April 12 - Leighton-Swanbourne (WA), Auckland (NZ), North Haven (SA)
Sun, April 13 - Coogee, Forster, Mollymook (NSW)

We're taking entries to Coogee, Forster and Mollymook.
Swell predictions for Sundee in NSW are for heights of between 1.1m and 1.4m from the south, which is eminently unworriable at all three locations. There may be a little rain, according to the predictors, but winds are expected from the sou'west. So, provided it's not stormy -- and that's not predicted -- it should be a triffic day for swimming.
As we note above, the new swim in the West, Leighton-Swanbourne, will be of particular interest to that very intense bunch of mugs who are chasing the budgysmuggler.com.au fine ocean swimmers' tallies. It offers 7km solo and a relay of three legs. Because those three legs are measurable, we can include them in the tallies. (Normally, we don't include team swims because we can't be sure how far each team member actually swims.) It's run by WA Swimming, who deserve an award for the swim options they provide these days to mug public ordinary swimmers through their annual series. Oh, that other branches of Swimming Australia should be so self-starting!
We'll be at Coogee for the final round in the fine ocean swimmers series in NSW. Main swim is 2.4km around Wedding Cake Island, an autumn iteration of the swim that's been taking place in November since 2000. April is a very good time to do this swim, as is the rest of autumn and through winter. Conditions at this time of year lend themselves to swims around reefs.
Coogee entrants - Check your name is on our lists

We have a special request of all Coogee entrants who entered online using our old entry system. Please check both lists of progress online entries to ensure your name is there (link at the end of this paragraph). We switched entry systems just after the November swim, and we want to make sure we haven't missed your entry. If you know someone who entered around this time, please tell them and ask them to check the online lists.
(There are two lists of progress online entrants, one for those who entered under our new online entry system or as part of a Double-Up entry in November, and the other of those who entered just this Sundee's swim using the old system. Please check both lists to ensure your name is there.)
To check the progress online entry lists for Coogee this Sundee... Click here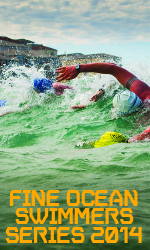 fine ocean swimmers' climax
Coogee is the final leg in the fine ocean swimmers series, too. Who will/may/might win the series? Find out more... click here
Entry link
Find out more about Coogee and enter online... click here

We're holding a cap amnesty at Coogee this Sundee, too. Turn in your old, unwanted caps for recycling. Find out more below...

On the lower north coast, it's the Club to Club swim from Cape Hawke to Forster. This is one of the epics of the season: out from Cape Hawke, a kilometre to the northern point at Cape Hawke, then three kilometres in to Forster Main Beach. It's a glorious swim, and eminently doable as a day trip if you don't wish to overnight: the road from Sydney is expressway virtually all the way nowadays.
Find out more and enter online... click here
Down south, you can swim Mollymook, another of the great weekends away of ocean swimming in autumn. It's a beatiful beach. If you stay overnight, and conditions are appropriate, swim early around the rock shelf at the southern end of the beach. It's a lovely morning swim. The main swim runs from the northern end of Mollymook beach to the southern end. Use the country club as your marker, although the way the course will bring you in near the half-way reef, then back out again, as it describes, roughly, an "M" (for "Mollymook").
Find out more and enter online... Click here
Amnesty for old caps
Since the start of the 2013/2014 Ocean swimming season, around 20,000 swimming caps have been handed out to competitors at the various ocean swims in NSW. If you are a regular ocean swimmer, it doesn't take too long before you have more caps than you know what to do with. Some may be used again in the pool, and some given to friends and family, but the vast majority of these caps will end up in land-fill having spent most of the season at the bottom of your swimming bag.
This year, at the 2014 Coogee Island Challenge on April 13, we are running a swimming cap "amnesty". Bring down your old caps that you no longer use, or donate after your swim, and we will save your caps from an ignominious end in land-fill or as rubbish scattered on the beach.
Find out more... Click here
Shellharbour, Culburra show low cost option for timing small swims

It pains us to see small swims shelling out thousands for chip timing when they really don't need to, and certainly can't afford to. Last Sundee's Shellharbour swim showed how small swims also can get the benefit of electronic timing without paying several thousand dollars. As Culburra has done for the last few years with the Tilbury Classic on Easter Sat'dee, and Heron Island has done following their example, Shellharbour used an iPad app, RaceSplitter, to time the swim, then to upload and display the results on the electric internet.
With RaceSplitter, organisers use an Excel spreadsheet to input their entrants' data, then download the spreadsheet onto their iPad or iPhone. Finishers are recorded directly into the app on the iPad or iPhone, whilst a real person notes the sequence with which swimmers cross the line. Organisers then match the finishing times with the finishing sequence. Last Sunday, Shellharbour also uploaded the results to the RaceSplitter websitse, and bingo! Off to the bar! (We're not suggesting any Shellharbour organisers actually went to a bar on Sundee post-race. This simply is an example to illustrate some of the app's benefits.) When we checked just now (at the time ofwriting), RaceSplitter was selling for $A43.99 on the App Store.
Check out Shellharbour's results posted online... Click here
And check out the RaceSplitter website... Click here
---
So French
Our cobber, Dominic Dwyer, who wears a stethoscope around his neck when he's not swimming, is living in Paris for a few months. He went for a swim in a Parisian pool the other day, which left him tearing his hair out... Click here
If you're heading to France, and you want to swim, check out nageurs.com, the website for swimmers in France. It has a directory of pools around the country, reviews of them, race listings, discussions, and lots of other stuff, too... click here
---
Chateau d'If and Marseille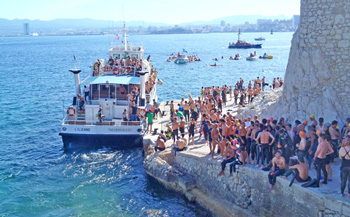 June 20-23... We're doing a long weekend in Marseille this year, the same weekend as Marseille's Solstice Festival, when the city gets a'jumpin'. Package includes accommodation at Hotel Carre Vieux Port and entry to the Escape from Monte Cristo swims, 1km and 2km on Saturday, and 5km, from Chateau d'If (above) into Marseille beaches, on Sunday. Great opportunity for a long weekend in France's second city.
Marseille... click here
Dali, food, and swim France to Spain on the Costa Brava
July 2-10... One of our favourite oceanswimsafaris, a week on Spain's Costa Brava swimming, eating, and soaking up the local history and culcha, of which there is oodles. We'll do five very special swims, including the course of the Transfronterera Swim, from France to Spain (or Spain-France-Spain, if you're up for it), the Sunset Swim, Cala Montgo, Tamariu and Our Secret Spot (above). We'll visit Dali's home in Port Lligat, and his museum in Figueres, and we'll have some of the finest food this world-leading culinary destination can offer. A week-long oceanswimsafari.
Costa Brava... click here
---
Swims open to online entry on oceanswims.com...
Coogee (Sun, April 13) fos series... click here
Forster (Sun, Apr 13)... click here
Mollymook (Sun, Apr 13)... click here
Nowra Culburra (Easter Sat, Apr 19)... click here
Terrigal (Easter Sat, Apr 19)... click here
Pacific Palms (Easter Sun, Apr 20)... click here
Inverell (Sat, Apr 26)... click here
South Curl Curl-Freshwater (Sun, Apr 27)... click here
Warriewood (Sun, May 4)... click here
South Head (Sun, May 18)... click here
Vanuatu - Santo (Mon-Fri, Jun 16-20)... click here
Mona Vale (Sun, June 22)... click here
Mana Fiji (Wed-Sat, Sep 10-13)... click here
Heron Island (Thu-Mon, Oct 23-27)... click here
Burleigh Heads (Sun, Oct 26)... click here
---
All that and more at oceanswims.com...
See you on the beach,
os.c