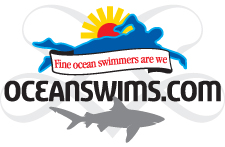 A bit of a fright as we started the week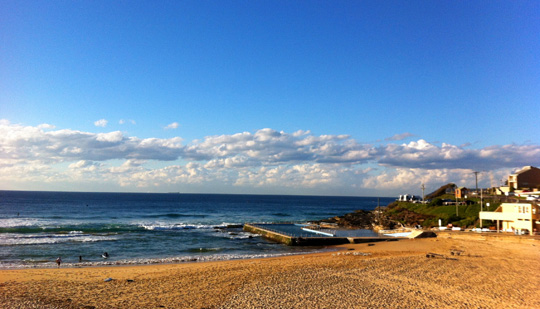 We started out the week with a fright: on Tuesday morning, we tweeted that all was looking good for this weekend's swims, in Sydney at least, with forecast swell at that stage of around one metre, and light offshore breezes. Lovely stuff. Then, on Tuesday evening, @GregintheWater tweeted that some weather sites were forecasting swell of 2.4m. Where did that come from?
It's hard to be certain that far out how accurate any weather or swell forecast is likely to be. Take last weekend, for example: Most weather sites and apps agreed that we should expect swell of 2-3m+ on Sat'dee and Sundee. That's what we got on Easter Saturday, but by Sunday, the sea was a well-fed, neutered pussycat, lazing in the sun. Pacific Palms awgies had been expecting to take their event on Easter Sunday from Elizabeth Beach, which faces north, across the isthmus to Wallis Lake.
But Sundee dawned clear, sunny and peaceful. Elizabeth Beach, home of Pacific Palms SLSC, was almost flat, clear, benign, and caressing. The water was silken.
So what do we make of forecasts about this coming weekend? One thing is clear: only time will tell, as they say on the TV news. But there is little prospect of surf disrupting the Copeton Freshwater Swim, near Inverell on the NSW Northern Tablelands. It's over 200km from the coast as the crow flies, in the waters behind a dam wall in the countryside. There is no swell there, no stingers, and no noahs, so the awgies tell us. there mnight be a few eels in the mud, and trout, or pike, or whatever fish live in water like that. On the other hand, South Curl Curl is not quite so protected.
But first, what's on this weekend?
Sat, April 26 - Copeton Freshwater Swim (west of Inverell, NSW)
Sun, April 27 - South Curl Curl-Freshwater (NSW)
Those who travelled to Inverell last year loved it. Some are returning this year, lured in part by the addition of a 5km swim to the existing program of 2km and 600m. You can enter on the banks of Copeton Waters on swim day, but if you wish to take online entry -- and you are not risking the seas with this one -- then online entries close on oceanswims.com at 5pm on Anzac Day, Friday, April 25. Entry to the 5km and 2km events includes event t-shirt, but not for the 600m swim.
Find out more and enter online... Click here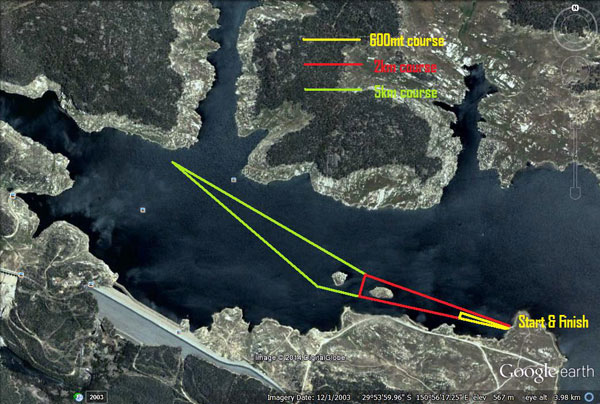 Sunday in Sydney, it's one of the most interesting swims on the calendar: South Curl Curl to Freshwater. The swim has an early start (9am). It heads out from Sarf Curly beach, and heads south, along the cliff, around the point and in to Freshie. It's one of those swims that must be done, but it's much better doing it at this time of year, when the seas are more likely to be smooth and clear, than in high summer. We remember the old days, when the South Curly swim used to be on the first Sundee of the New Year: it was almost invariably bumpy and into a rollicking sou'-easter, although in those days, the swim didn't go sarth. It followed a circuit from south to north Curly and back again.
South Curly is a beach that's not pretty in any kind of real swell: it loses its beauty easily. But it's always fun.
Anyway, after the heads up from @GregintheWater we spent part of Wedsee morning checking the competing sites for swell forecasts for Sunday: Our favourite app, Willy Weather, still predicts swell of 2.4m from the Sarf at South Curly at 10am on Sundee morn. Swim start is 9am -- it's early - be warned -- but everything else -- including Hurley, seabreeze.com.au, and magicseaweed.com, all forecast around 1m. The Bureau of Meteorology's swell forecast map reaches three days ahead, so it's not up to Sundee morning just yet. But just over the course of today, its swell forecast for Sat'dee has lifted: it expects swell of 3-4m just off the coast the day before swim day, with a patch of 5m-plus swirling around Tassie and 4m+ heading up the NSW south coast.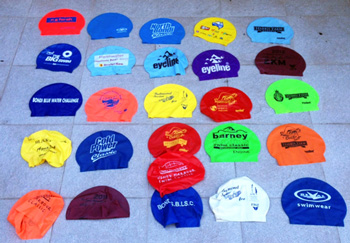 It's your job to keep abreast of these developments and forecasts, remember. So keep your eyes out, sharp and bright.
Find out more about South Curl Curl-Freshwater and enter online... Click here
Amnesty for old caps now at Sarf Curly

Our Cap Amnesty is on at South Curl Curl on Sunday, April 27.
Since the start of the 2013/2014 Ocean swimming season, around 20,000 swimming caps have been handed out to competitors at the various ocean swims in NSW. If you are a regular ocean swimmer, it doesn't take too long before you have more caps than you know what to do with. Some may be used again in the pool, and some given to friends and family, but the vast majority of these caps will end up in land-fill having spent most of the season at the bottom of your swimming bag.
This year, at South Curl Curl, we are running a swimming cap "amnesty". Bring down your old caps that you no longer use and we will save your caps from an ignominious, even environmentally destructive end in land-fill or as rubbish scattered on the beach, ready to be swallowed by sea birds and dolphins.
Find out more... Click here
---
End of season View special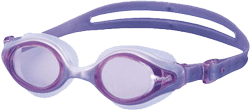 It's nearing the end of the season, and we have a few pairs of View goggles available. So, to mark the occasion, we're staging an End-of-Season special: Buy the world's best all-'round goggle, the View Selene, for $25 -- that's more than 10% off -- our specialist open water goggle, the View Xtreme, for $34 -- also more than 10% off -- and our prescription goggles, View Platina, for $46.50 -- again, more than 10% off.
To view our View goggle range and order... Click here
---
Come with us on an oceanswimsafari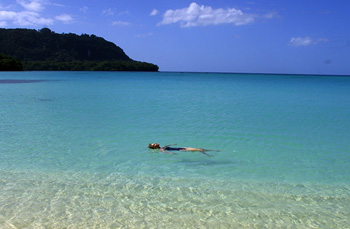 Bookings are coming in for the Vanuatu swims in June, and for the Mana Fiji SwimFest and our Yasawas oceanswimsafari in September.
Luxuriate at Port Olry, Santo.
In Vanuatu, there are two legs of swims -- the Vanuatu Open Water Swims in Port Vila on Sat'dee, June 14, and Espiritu Santo Swim Week, five days of relaxed, tropical swimming on Vanuatu's Adventure Island, Espiritu Santo, oop north, from Monday, June 16 through Friday, June 20. We have accommodation and swim entry packages available to both legs available now on oceanswims.com
In Port Vila, we've obtained a very good deal for accommodation at our partner resort, Warwick Le Lagon Resort & Spa, for the Vanuatu Open Water Swims, and in Santo, we have Stay 6/Pay 5 deals at a number of resorts for Espiritu Santo Swim week. These deals are
available only through oceanswims.com/oceanswimsafaris.com. If you book your accommodation through us, your swim entry package will be included at a discount to online rates.
Vanuatu... click here
We also have Mana Fiji open for booking with a deal offering Stay 5/Pay 4, or Stay 10/Pay 8. This also means, Stay 6, Pay 5, etc. This deal also is available only through oceanswims.com/oceanswimsafaris.com. And if you book through us, this swim entry package also is included at a discount to the online rates. Mana Fiji is a new format this year: the 10km Nusa Mana swim is on Thursday, and distances of 5km (a new event), 3km, and 1km on Saturday. So you have a day to recover and enjoy being on a tropical island in Fiji between swim days.
Mana Fiji... click here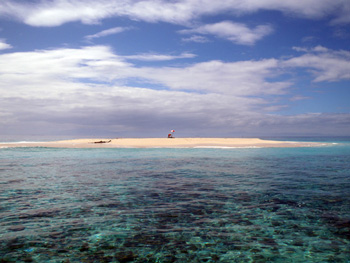 After the Mana Fiji SwimFest, come with us on our oceanswimsafari to the Yasawas, past the horizon up north, for five days of magical swimming in some of the world's best water and reefs. Swimming in the Yasawa is a very special experience. It's where the movie, The Blue Lagoon was filmed.
Yasawas oceanswimsafari... click here
Nusa Mana Sandbar, off Mana Island, turning point in Mana's 10km swim.
Swim Samoa
Starting July 29... Three swims over three days, with a couple more tacked on at either end. This is a terrific opportunity to live cheek-by-jowel with like-minded ocean swimming enthusiasts as you bus out to different swim venues each day from swim HQ in Apia. Samoa is a beautiful place, largely untouched by tourism. If you have time, add a few days on the neighbouring island of Savai'i, where you find a new definition of remoteness.
We'll have land packages for Samoa online in the next couple of days.
Samoa... click here
---
Last weekend

Despite the seas, it was a weekend full of swims: All three scheduled for NSW took place, despite the seas, and Denmark, way down on the sarth coast in the West, enjoyed what they described as "calm ocean conditions" with record entries. Terrigal was up, Pacific Palms was up there, but Culburra was down. That said, Culburra did well to get their swim on at all: They're at the point on the coast which is closest to the edge of the continental shelf. It's a very exposed beach. But they have the luxury of the sheltered Tilbury Cove on the northern, lee side of Tilbury Headland, and they ran a pleasant 2.5km circuit there.
The 1st Inaugural 10km from Burleigh Heads to Surfers Paradise, on the Gold Coast, was delayed two days, but went ahead, and the 1st Inaugural Auckland Harbour 10km swim went ahead on Easter Sat'dee, despite storm conditions two days before.
Well done, all of them!
Results... Click here
---
Driven
Driven is a movie about three swimmers who train then attempt to swim the Catalina Channel off the coast of Los Angeles. It's a triffic movie and it's winning praise all around the place as it does the festival circuit. We were lucky enough to see it at Govinda's, our favourite cinema, in Kings X, at a special showing organised by one of Sydney's most active contributors to ocean swimming culcha, @LizzieCanToo.
Now, Lizzie tells us, Driven is available online through DVD and download... Click here
---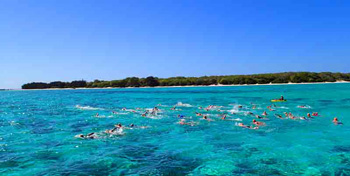 Great Barrier Reef Swim, Heron Island
Bookings are open for the 2014 Great Barrier Reef Swim on Heron Island from October 23-27. Don't miss this one. More of the world's best reef. And sea life. Two main events: 1km around the wreck, and c. 3km around Heron Island itself. This will be a cathartic experience, for you, as anyone who's swum the Heron Island reef will attest.
Coach Graeme Brewer will be there to provide you with open water coaching: there'll be a dry land session and a water session.
Swim back to Heron Island.
Heron Island... click here
---
Leave your mobile with your online entry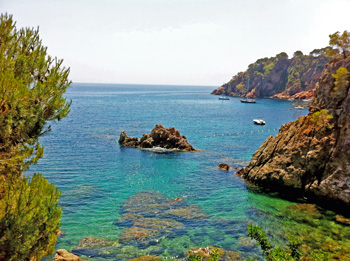 When swims are cancelled or postponed, we offer organisers the opportunity to let entrants know through SMS. If they ask us to send out an SMS, we can do it within minutes. It's an effective means of communicating late breaking news. But we can do it only if we have a valid mobile number to send to.
Our Secret Spot, Costa Brava. You can swim here with us on our Costa Brava oceanswimsafari... Click here for more

In our first few attempts to send a bulk SMS, we've run into problems. In order to SMS to your contact phone number, we need a valid Stra'an mobile number. The SMS won't go to landlines, and it won't go to mobile numbers which have been keyed in with the international dialling prefix (+61 for Stra'a). We're not sure why some punters would put an international dial code ahead of their number when they're entering a swim being run in their own city, but there you go.
So here's the go: if you want to receive an SMS update, then key in with your online entry a valid Stra'an mobile number. No international codes and no landlines.
Not all events will choose to contact you this way, of course. There is a cost involved and some won't wish to pay it.
---
Swims open to online entry on oceanswims.com...
Inverell (Sat, Apr 26)... click here
South Curl Curl-Freshwater (Sun, Apr 27)... click here
Warriewood (Sun, May 4)... click here
South Head (Sun, May 18)... click here
Vanuatu - Santo (Mon-Fri, Jun 16-20)... click here
Mona Vale (Sun, June 22)... click here
Mana Fiji (Wed-Sat, Sep 10-13)... click here
Heron Island (Thu-Mon, Oct 23-27)... click here
Burleigh Heads (Sun, Oct 26)... click here
---
All that and more at oceanswims.com.
See you on the beach,
os.c